For wine aging and displaying remarkable wines.
Like each of our maturing cabinets, Revelation reproduces an environment that allows your wine to reach its full potential and also offers them refined highlighting.
Usage
Maturing
Single-temperature
Capacity
74 - 234 bottles
All bottle sizes
Country of production
Origine France Garantie label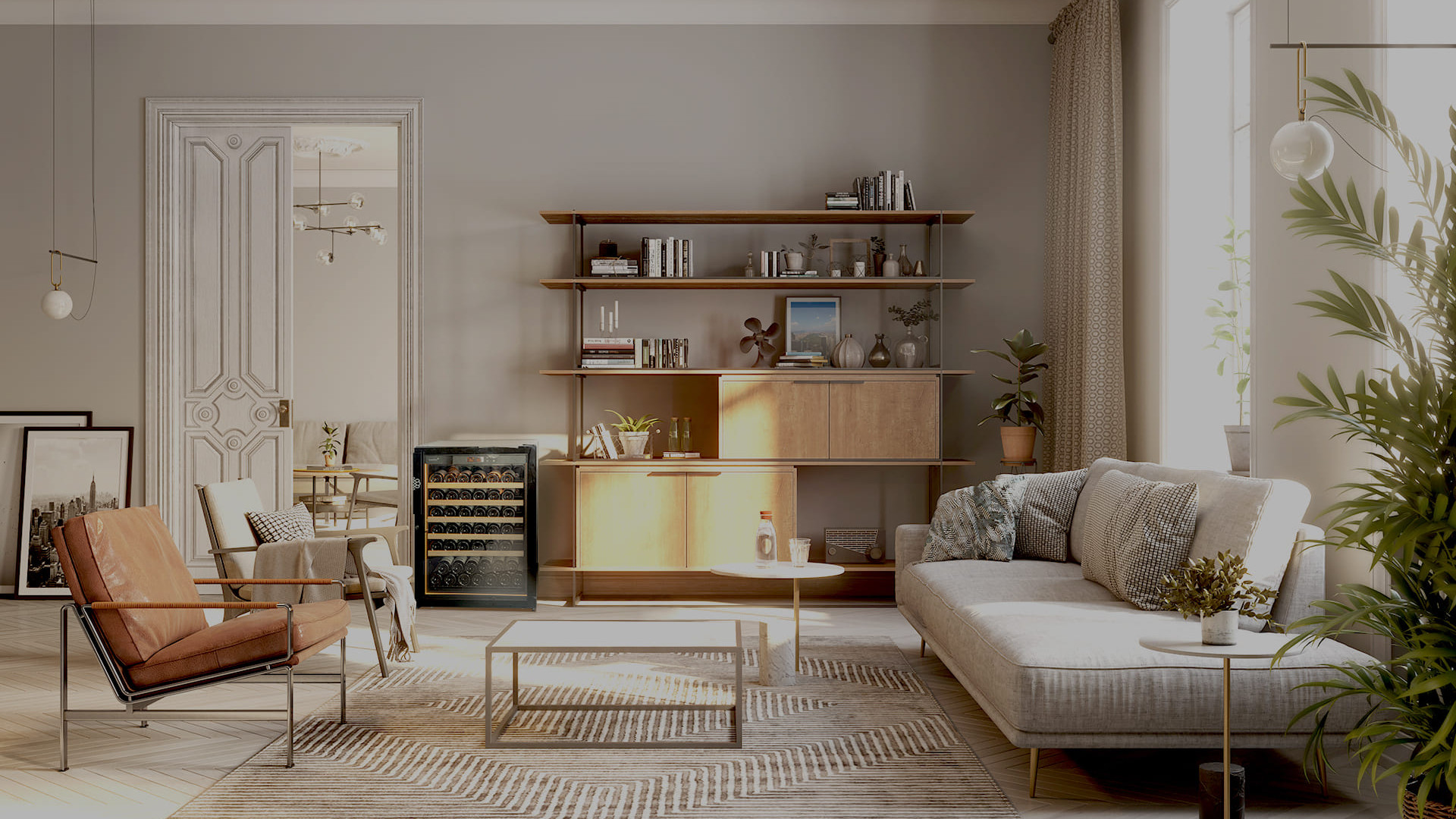 Between light and shade.
A strip of light runs around the cabinet and bathes your bottles in a gentle amber halo.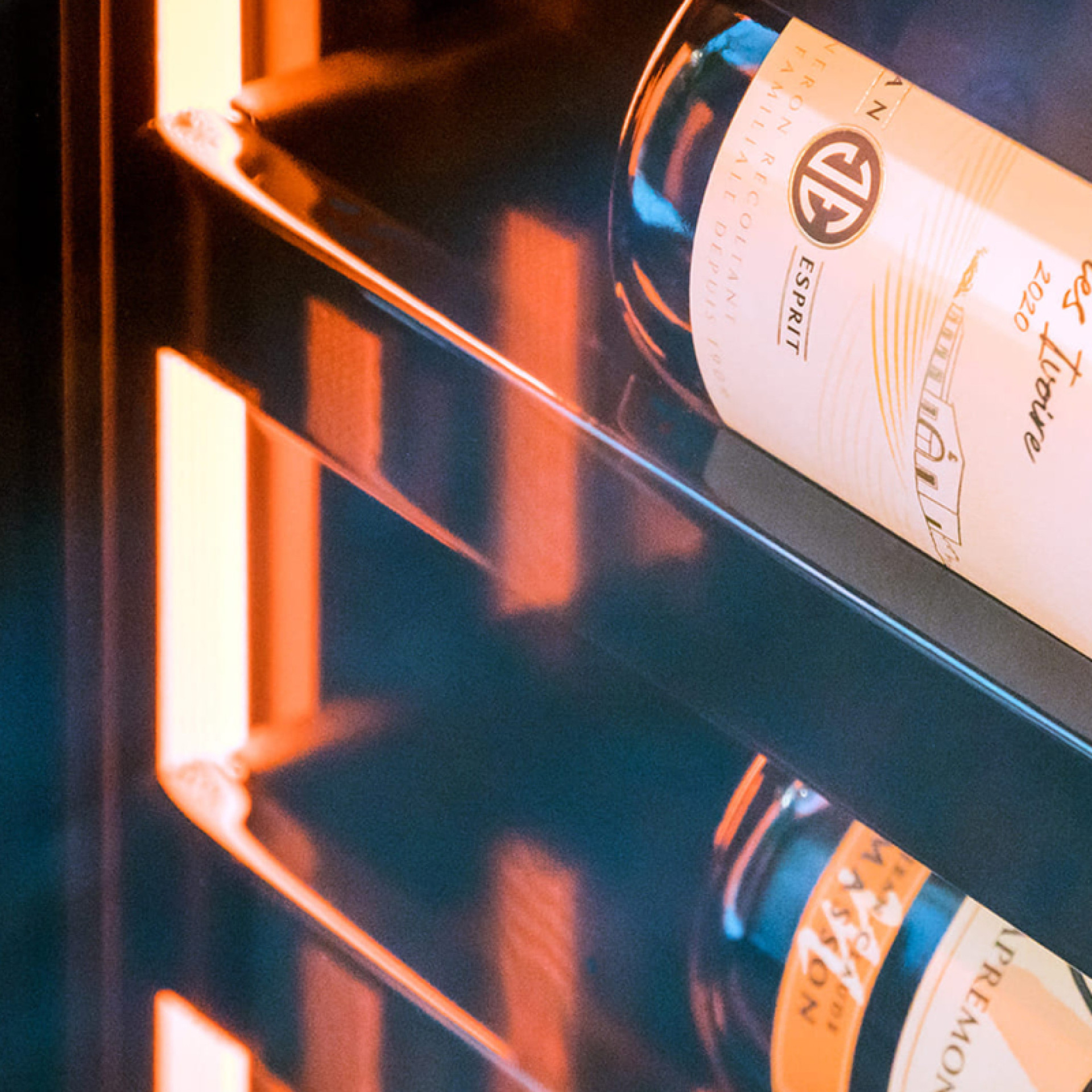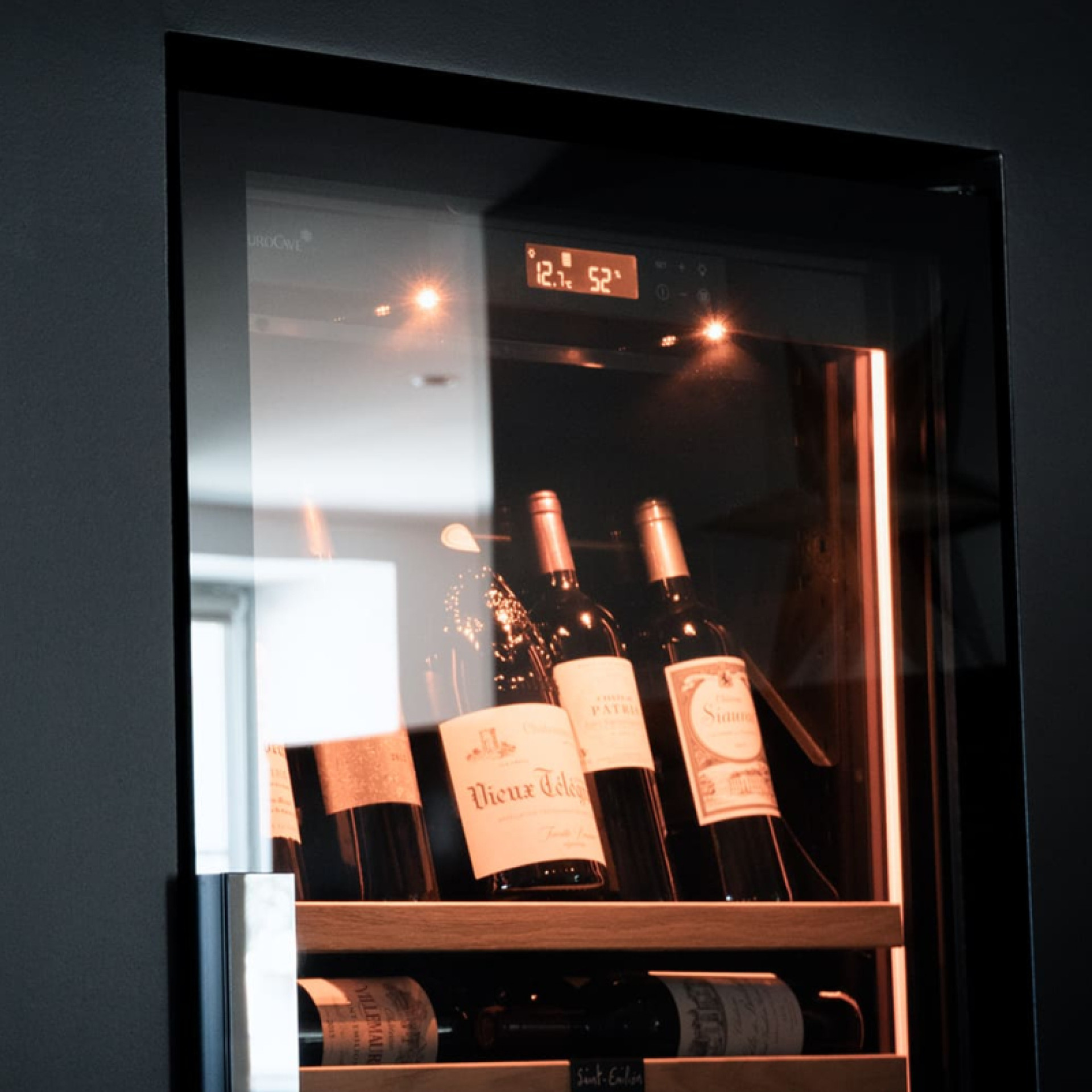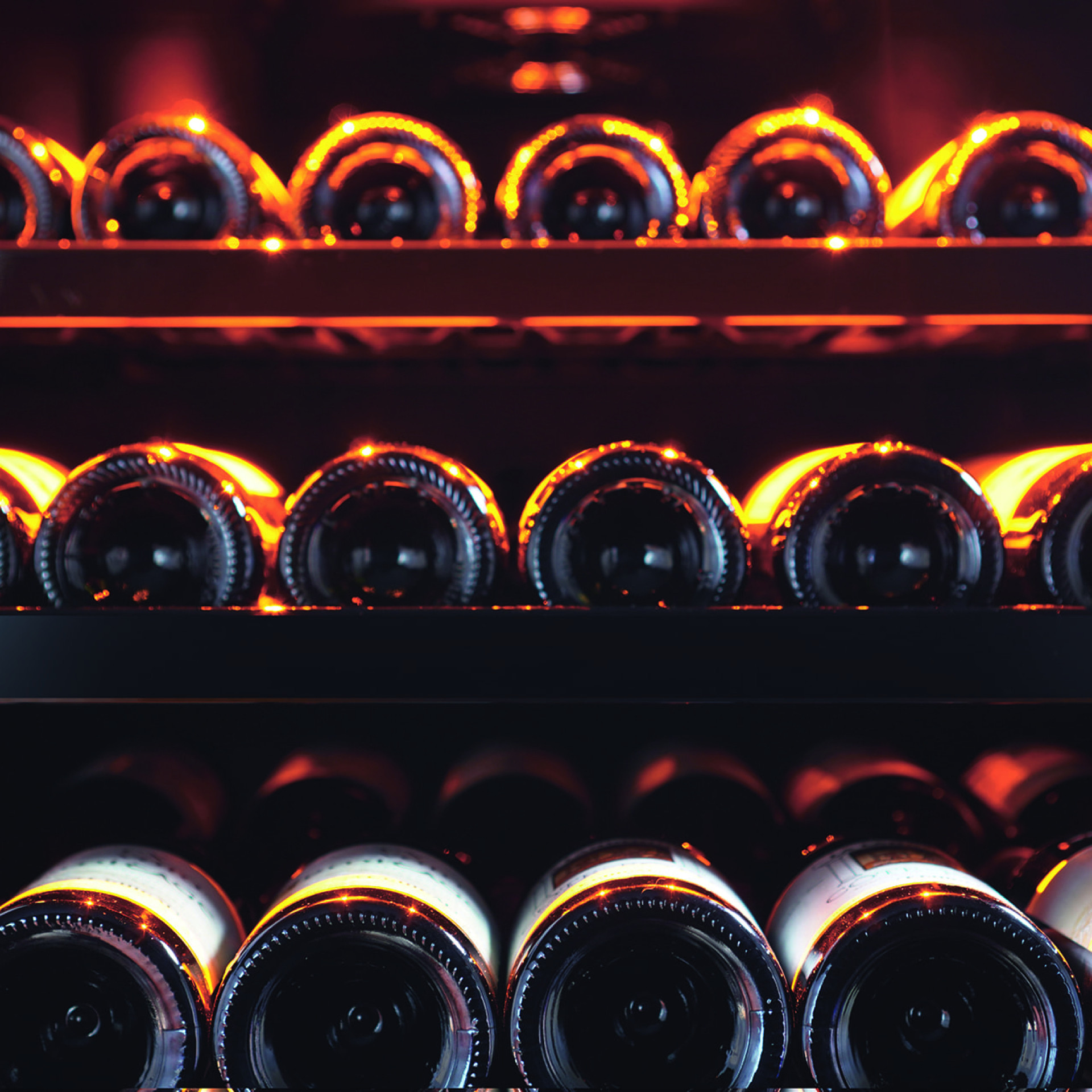 All in the detail.
Light oak or glossy black finish shelves to come alive in your home.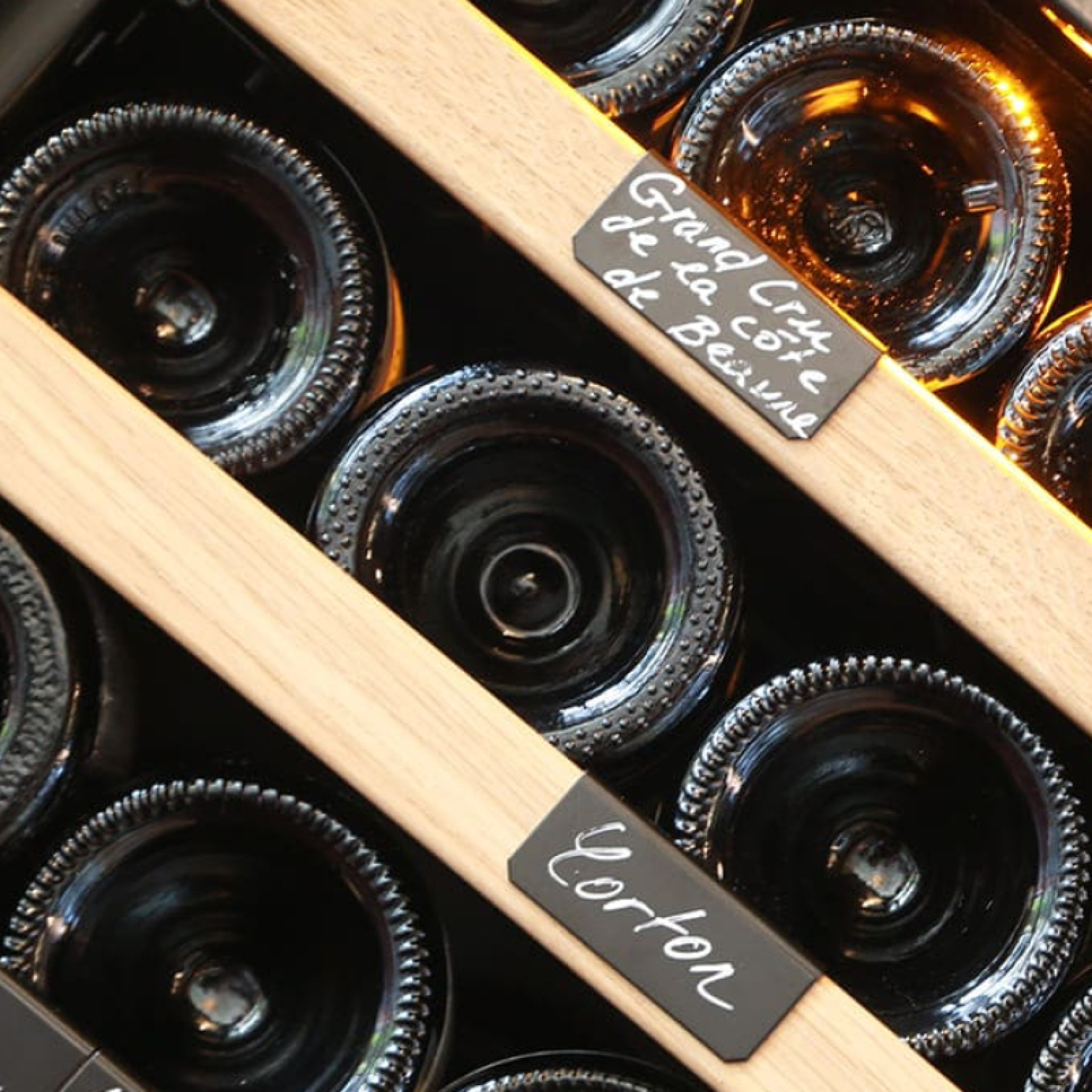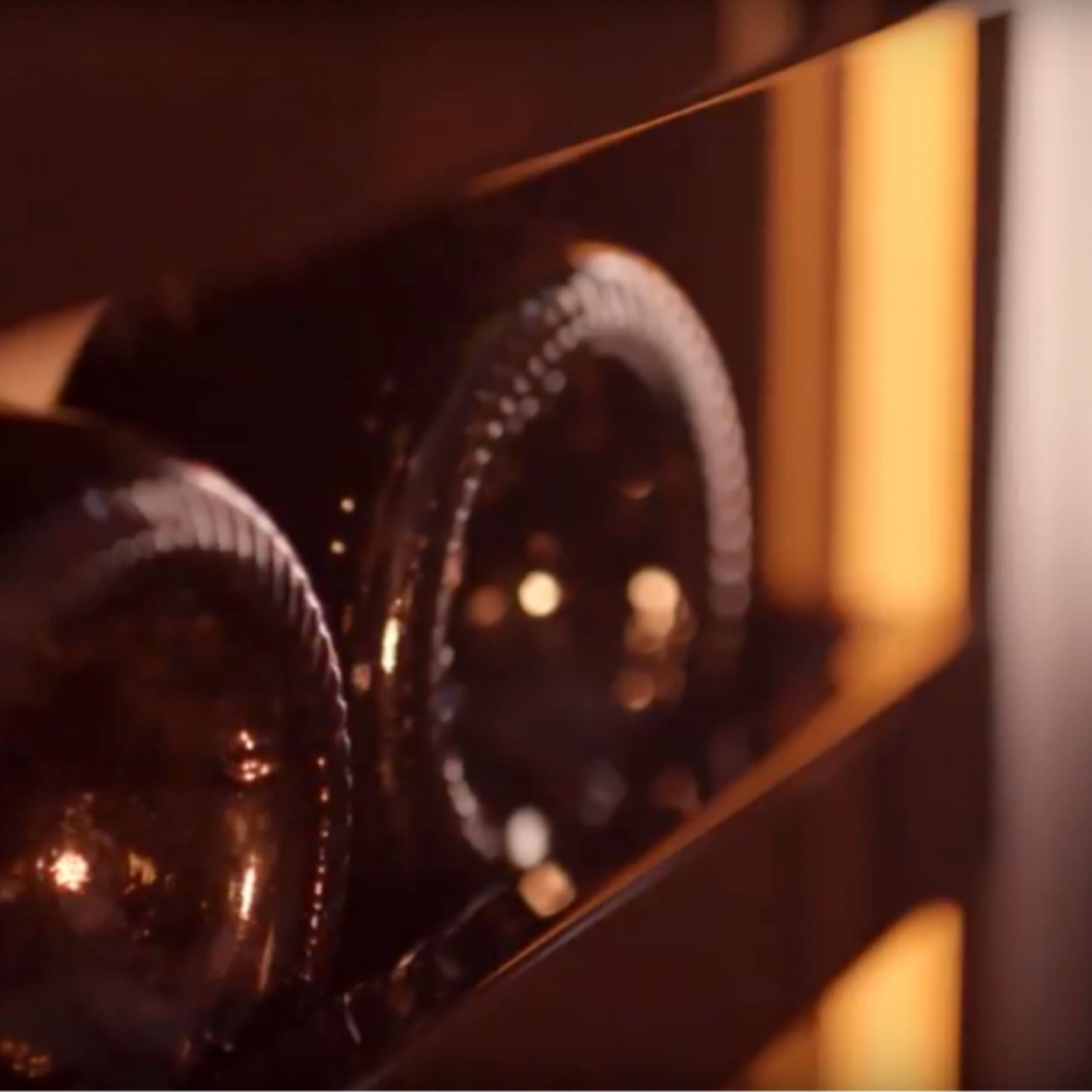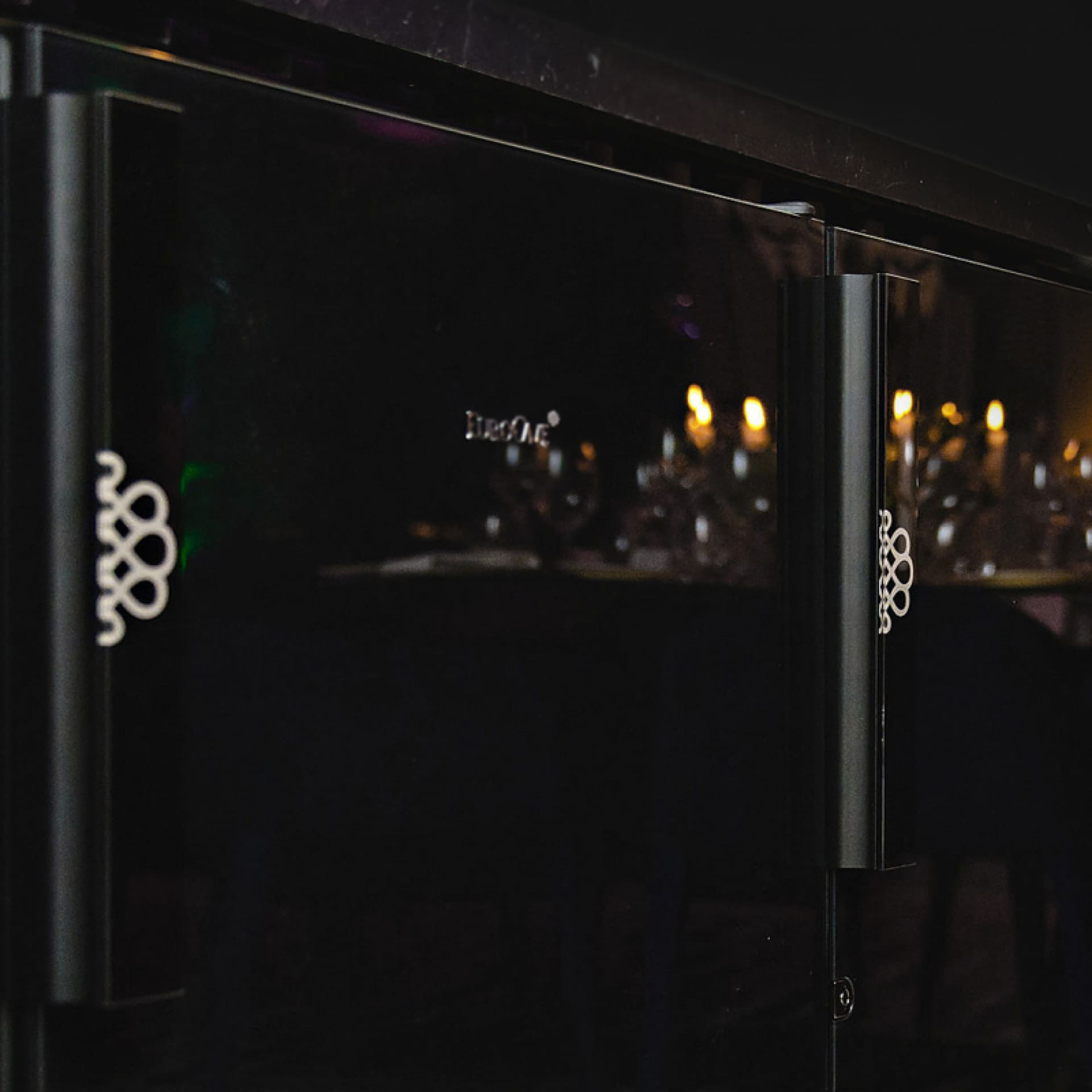 Elegant doors.
Full glass, Black Piano or glass door with stainless-steel frame with a removable signed glass handle.

The luxury of changing your mind.
Imagine standing in front of your wine cabinet in the morning, admiring the labels of your finest wines. In the evening, reorganise your cabinet to store your newly acquired bottles.
The two bottle supports, placed at the front of the Revelation shelf, allow you to freely choose how to display your bottles: horizontal with the label at the front, on the right, central or on the left.
Interior layout
Ergonomic shelves.
For your daily comfort, Revelation's sliding shelf has a soft-close device that allows quiet and smooth handling for your bootles. Bottle protection is enhanced further by the Main du Sommelier bottle support, a structure in two materials which surrounds and protects your bottles.
Be won over by our articulated display display kit, for maximum impact when serving your wine!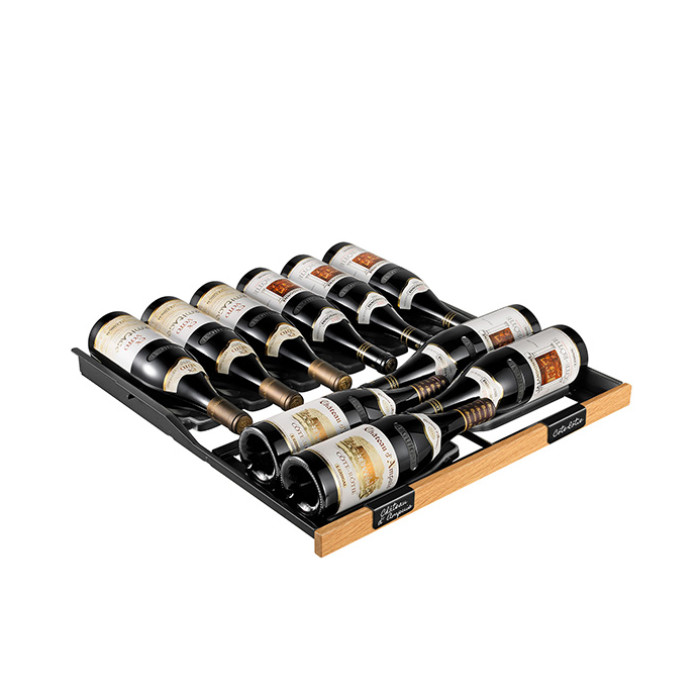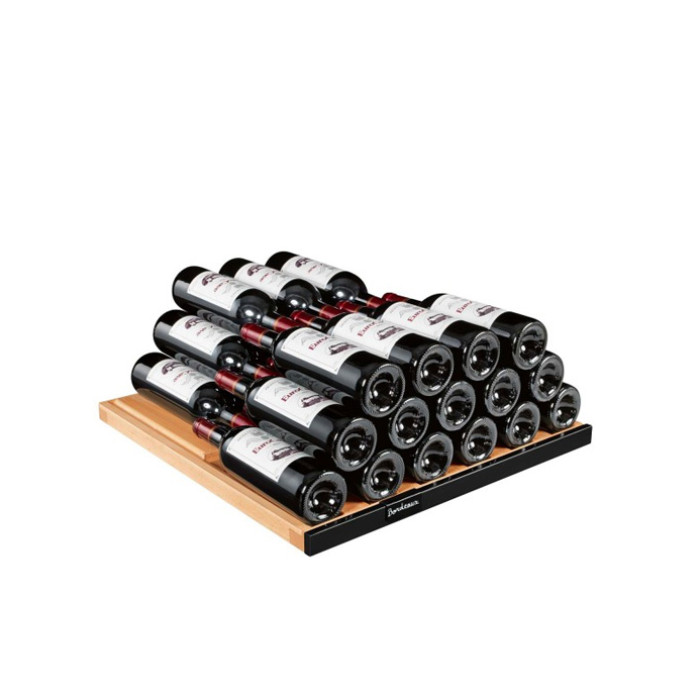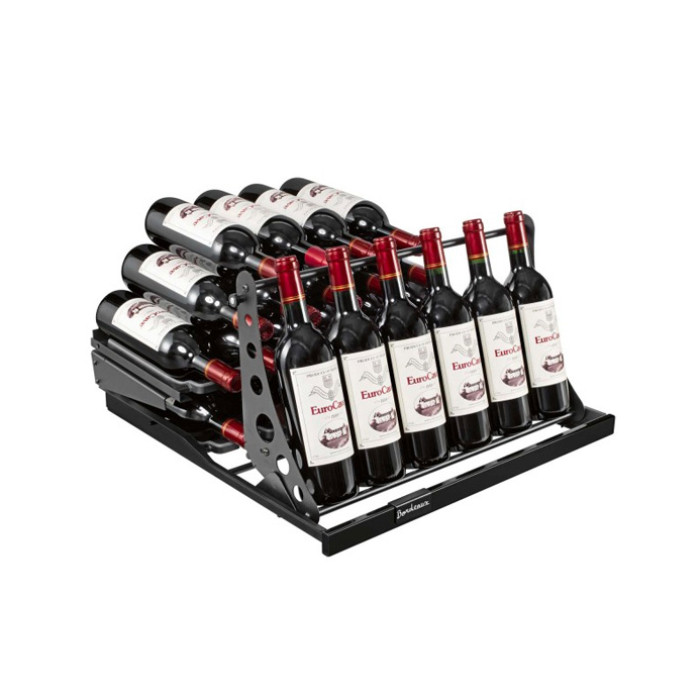 Presentation shelf
32 bottles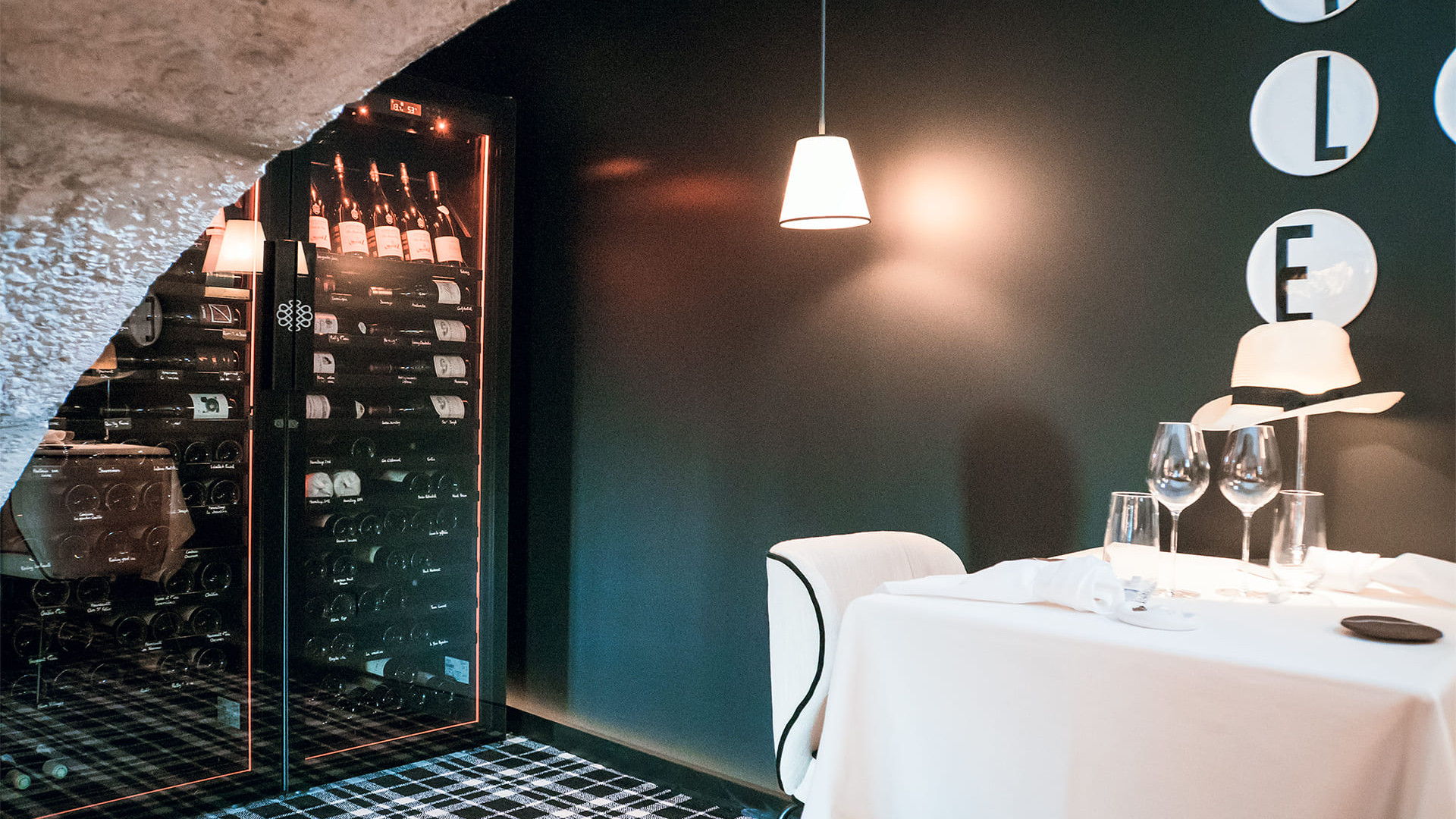 Function
Devoted to maturing your wine.
1-Temperature, can be set from 5-20 °C / 41-68°F.
Revelation recreates the exact same conditions found in a natural cellar to mature your wines in the best possible conditions: controlled temperature, suitable humidity thanks the walls in embossed aluminium, constant ventilation, UV protection, extra protection from vibration owing to the actual design of the cabinet.
Available in size S and L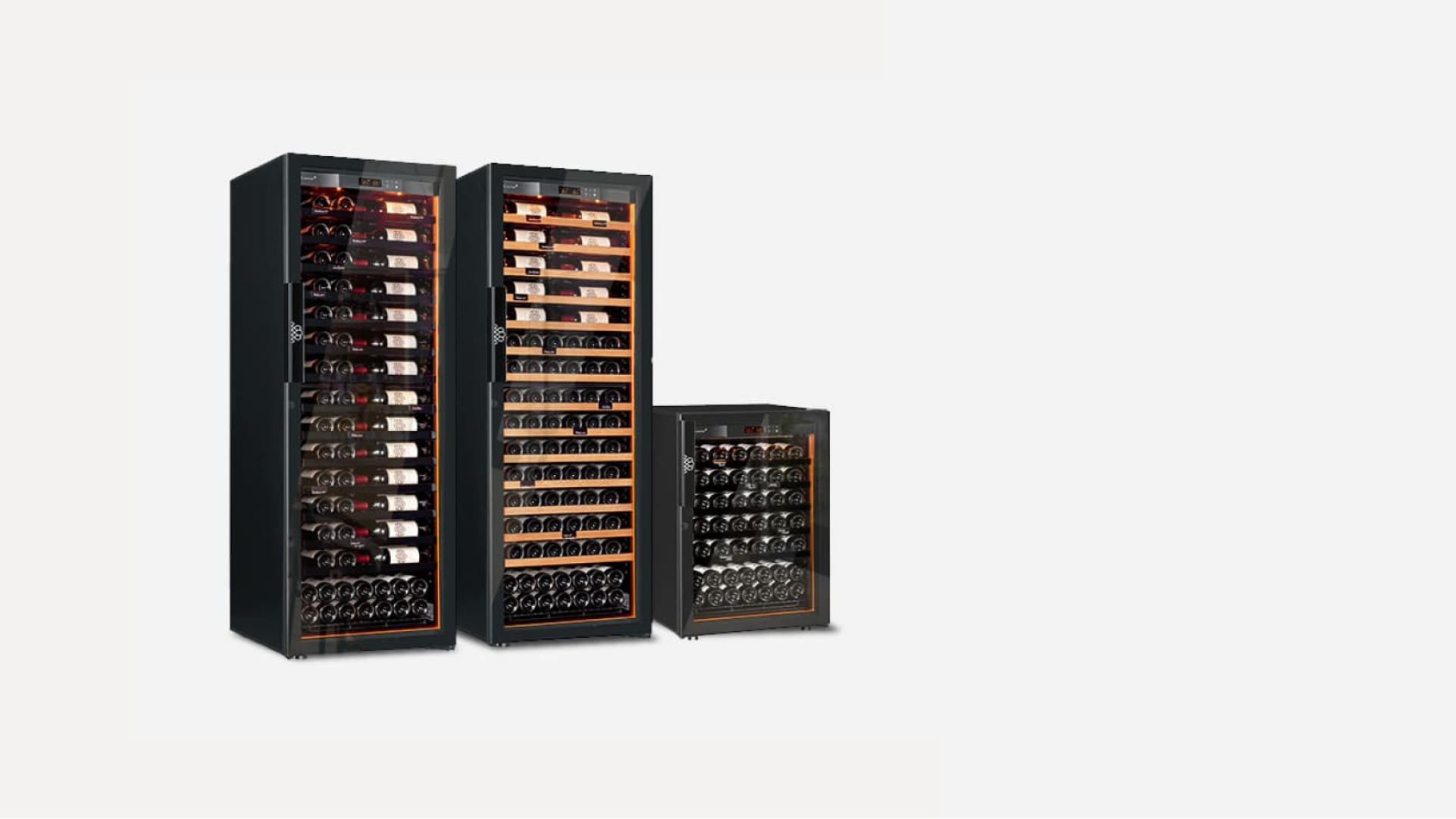 Because choice is a luxury.
For all cabinets in the Revelation collection, it is possible to choose the size and door finish. With a high degree of customization possible, Revelation also allows you to select and position the racking inside the cabinet according to your requirements.
Performance & safety
Let technology do the work for you.
The display of the actual temperature and humidity inside your cabinet, together with 5 visual alarms, are there to warn you if something is not right.
controlled temperature
controlled humidity
UV-screened door
sensor fault alarm
temperature alarm
open door alarm
charchoal filter alarm
double frost protection
humidity level alarm
37dB noise emission
wintering function
lock
5-year warrranty
individual bottle support
Additional information.
Our "free-standing" cabinets can also be flush fitted but there are certain rules that need to be followed, notably in terms of air circulation and electrical installation. We recommend that you contact your store and our wine experts for further details.