Built-in wine cabinet to suit your home.
Inspiration is compact, it brings together discretion and elegance, so it is perfect for fitting inside a custom-made unit.
Usage
Maturing
Single-temperature
Serving
2-temperature
Multi-temperature
Size
Flush-fitting
Built-in
Large
Medium
Small
Capacity
29 - 89 bottles
All bottle sizes
Country of origin
Origine France Garantie Label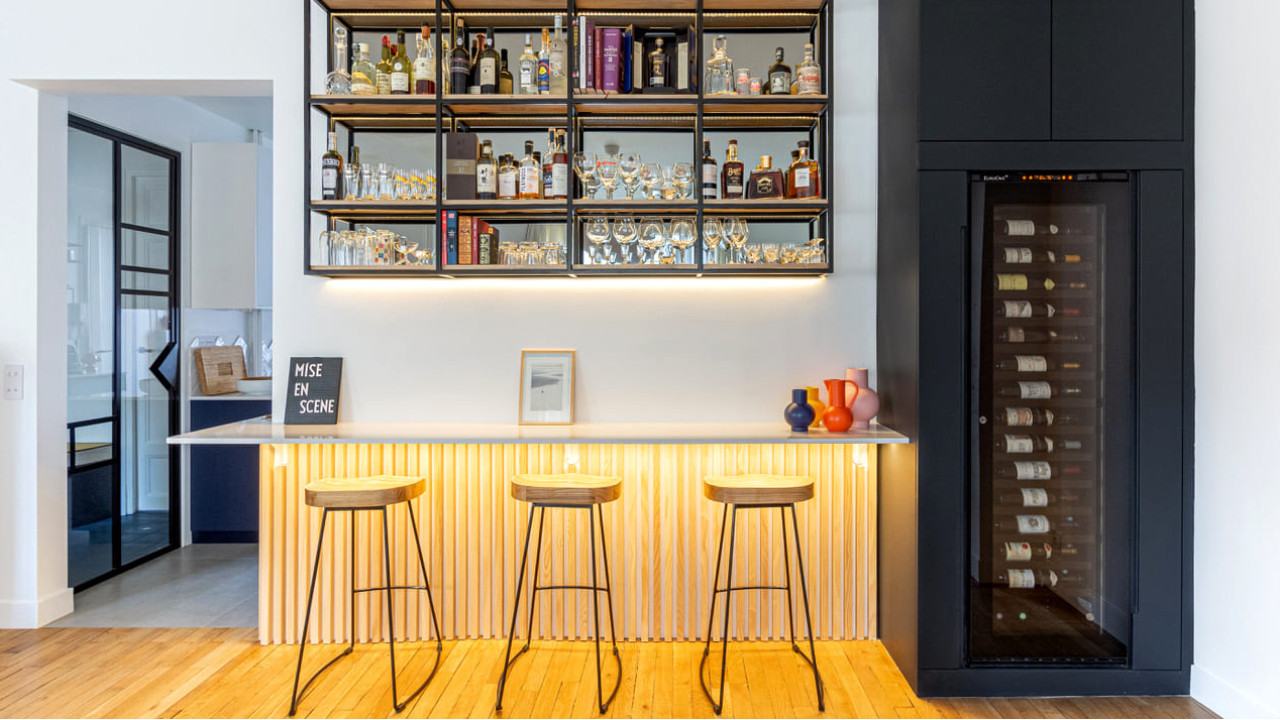 Elegantly complements your interior.
Clean lines, ergonomic curves for a recessed installation flush with the facade... Inspiration was designed to share space, whether in a kitchen or a living room.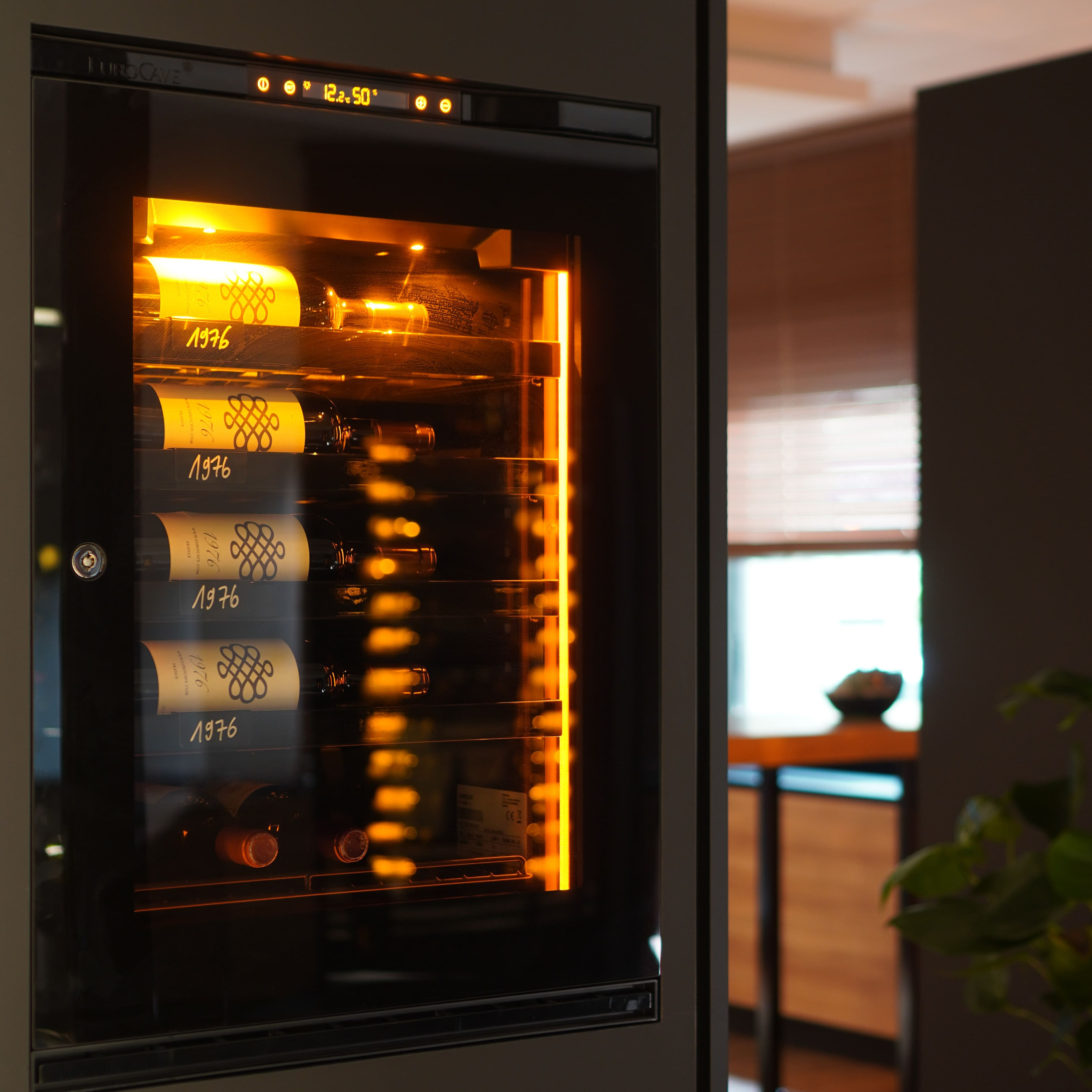 All in the detail.
The air vents are invisible, handles disappear, the grip is subtle.
Make way for your precious bottles revealed by a delicate luminous ribbon.
Designed to enhance interiors.
Amber transparency with the glass or full glass doors.
Or minimalist design with a door which matches the elements of the unit it is built into.
Full Glass door, glass door with stainless steel frame, glass door with a technical frame or solid door with technical front panel.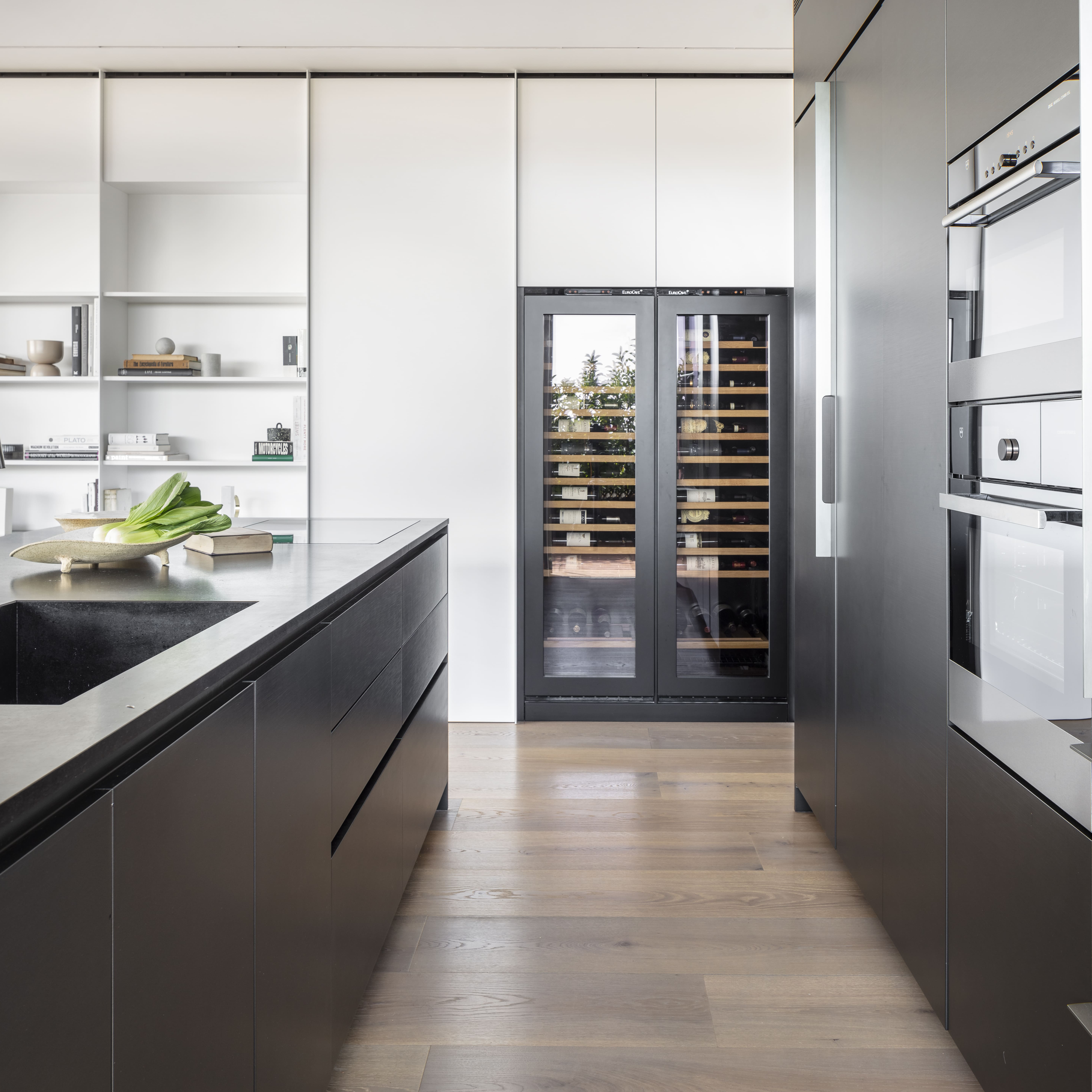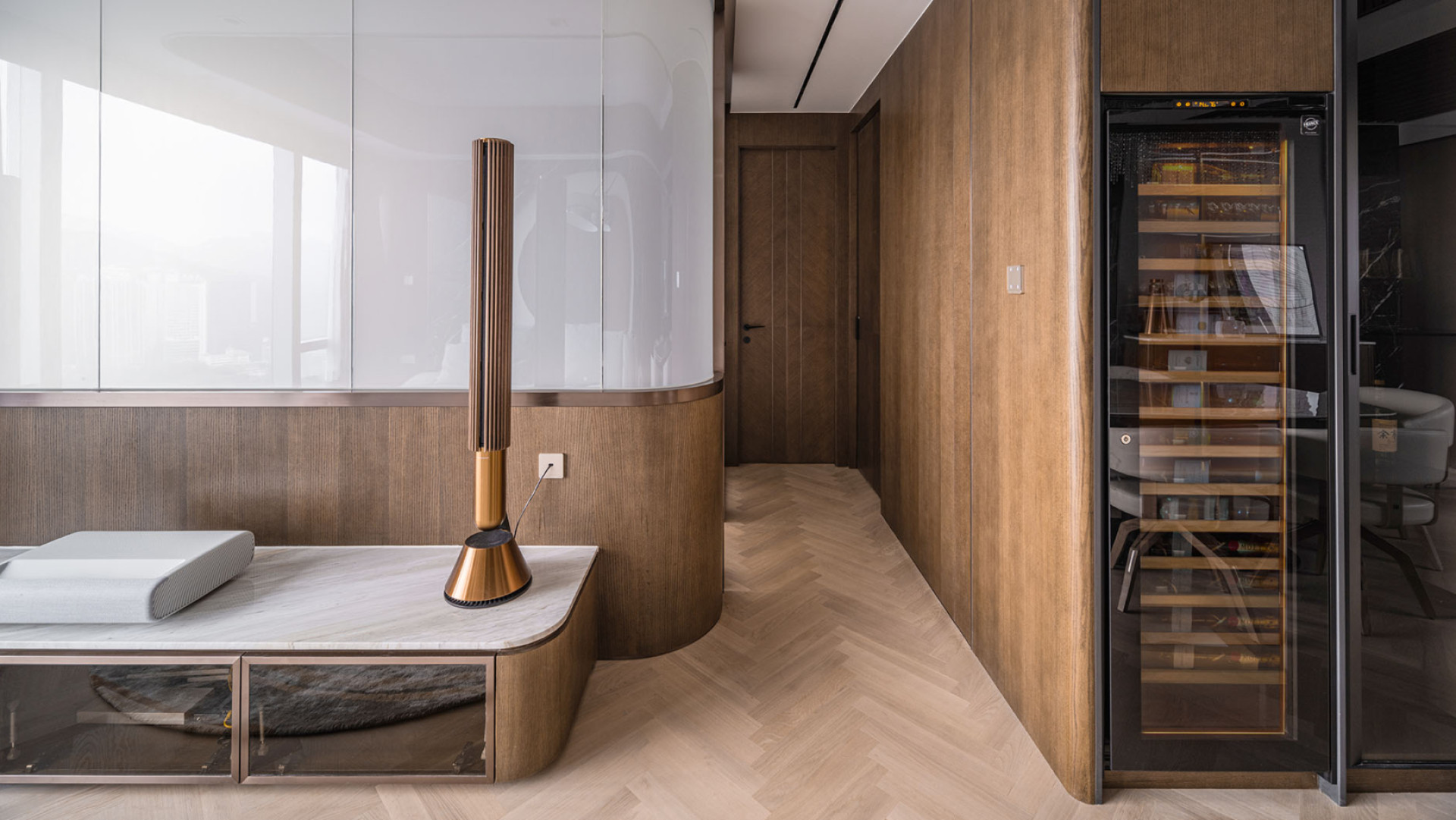 Interior layout
Bottles are displayed.
Store or display, the choice is yours, since Inspiration allows you the freedom of choosing between three different shelf types.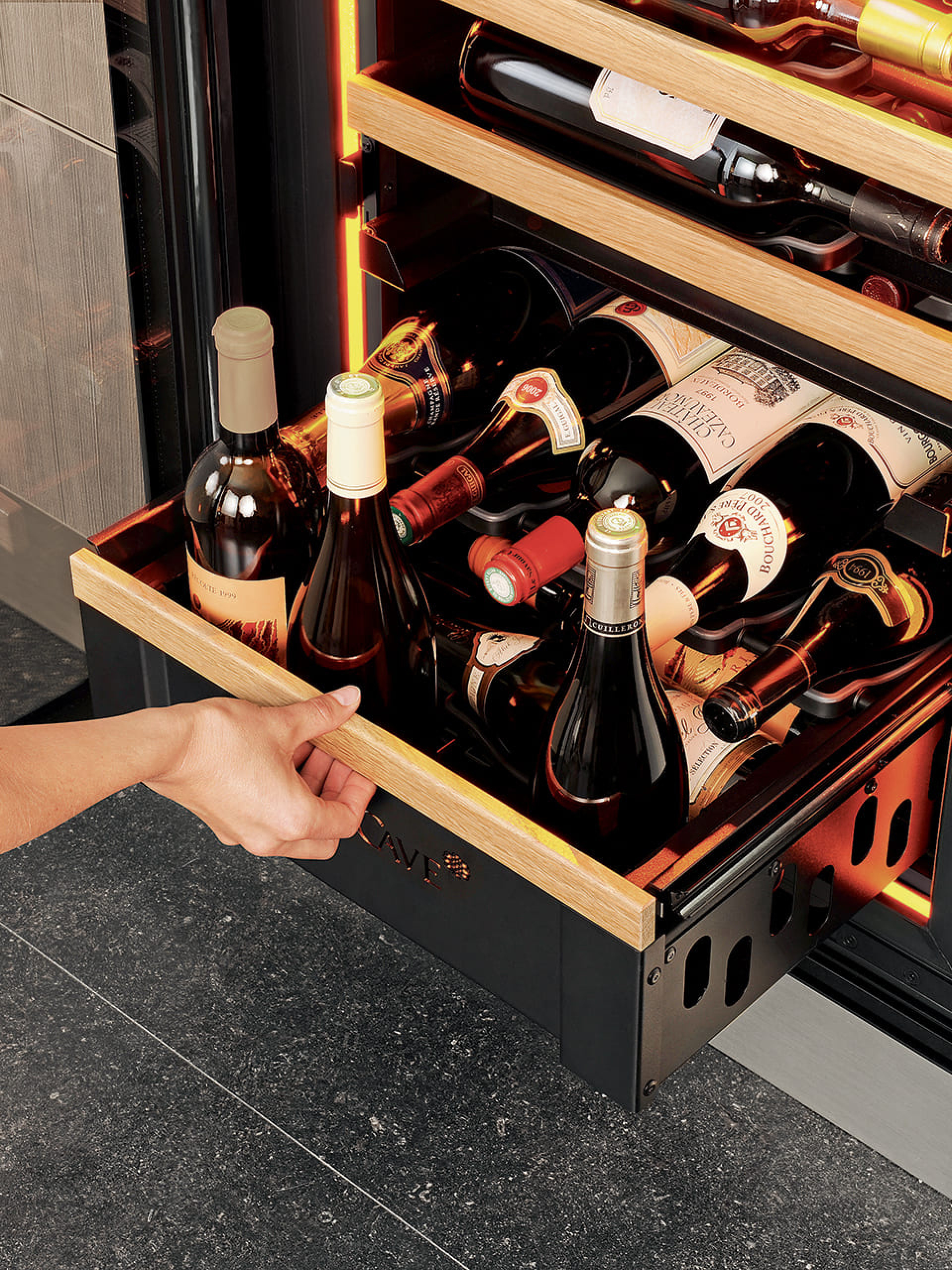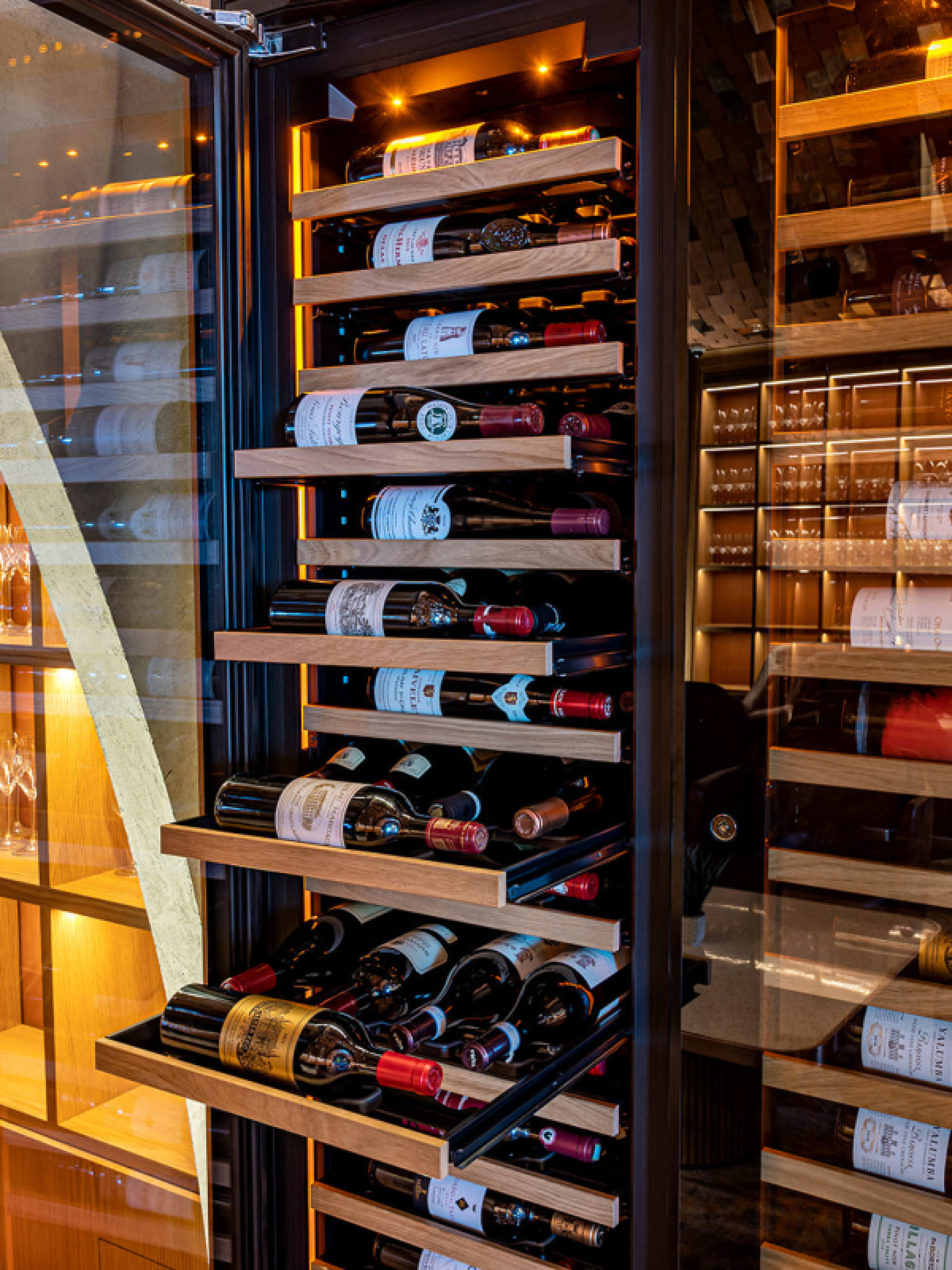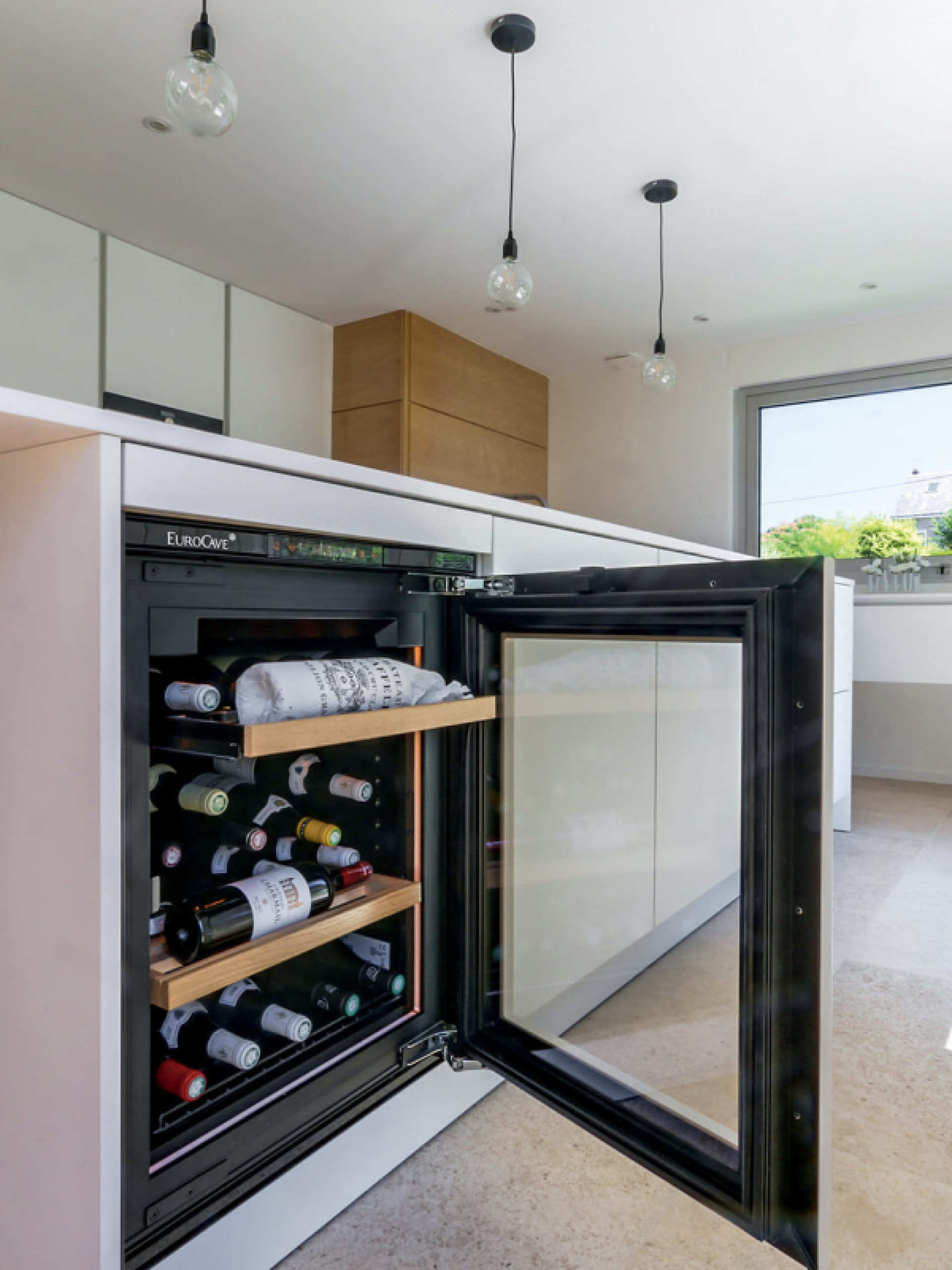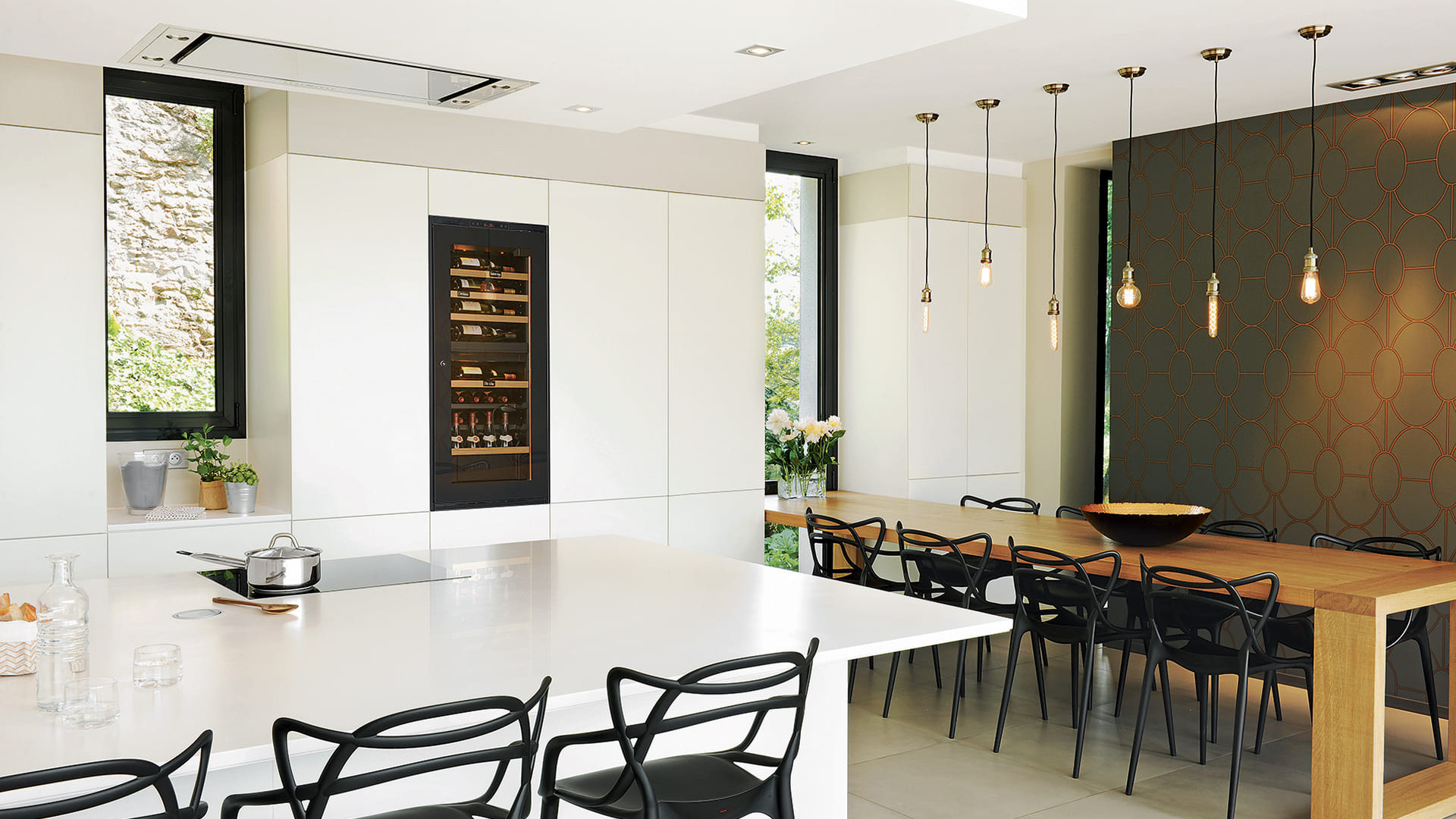 Innovation
Prolong the pleasure.
Don't think twice about opening a good bottle!
The 2-temperature Inspiration model is fitted with a vacuum sealing system to preserve an open bottle, for up to 10 days*.
*Depending on the type of wine and its vintage.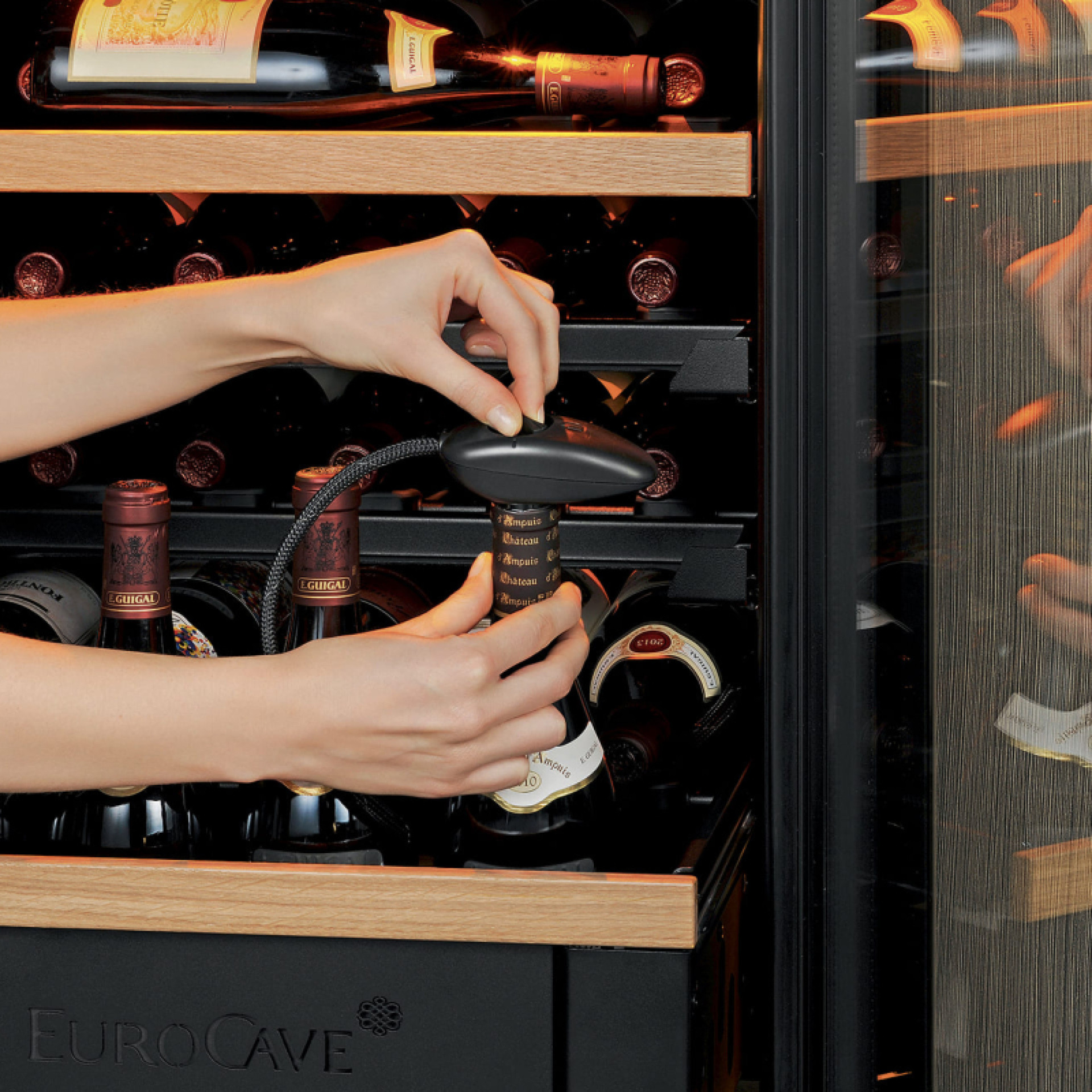 Functions
Do you need to mature your wine or bring it to the correct temperature?
The Inspiration wine cabinet is offered with 3 temperature functions to best meet your requirements.
1-temperature.
Bring your wines gently to their prime.
The single-temperature Inspiration model, which can be set from 5-20°C / 41-68°F, reproduces the exact same conditions found in a natural cellar : controlled temperature, suitable humidity thanks the walls in embossed aluminium, constant ventilation, UV protection, extra protection from vibration owing to the actual design of the cabinet.
Available in size S, M and L
2-temperature.
Wines served as close as possible to their serving temperature.
A compartment dedicated to white wine, which can be set from 6-11°C / 43-52°F and a compartment for red wine, which can be set from 13-18°C / 55-64°F.
Available in size M. Ideal for professionals or serious wine enthusiasts who are looking for good storage capacity, with wine at the right temperature.
Multi-temperature.
Store, in one single cabinet, several wine colours close to their ideal serving temperature.
The multi-temperature Inspiration model offers several temperature zones (temperature staggered from 5-20°C / 41-68°F).
Available in size S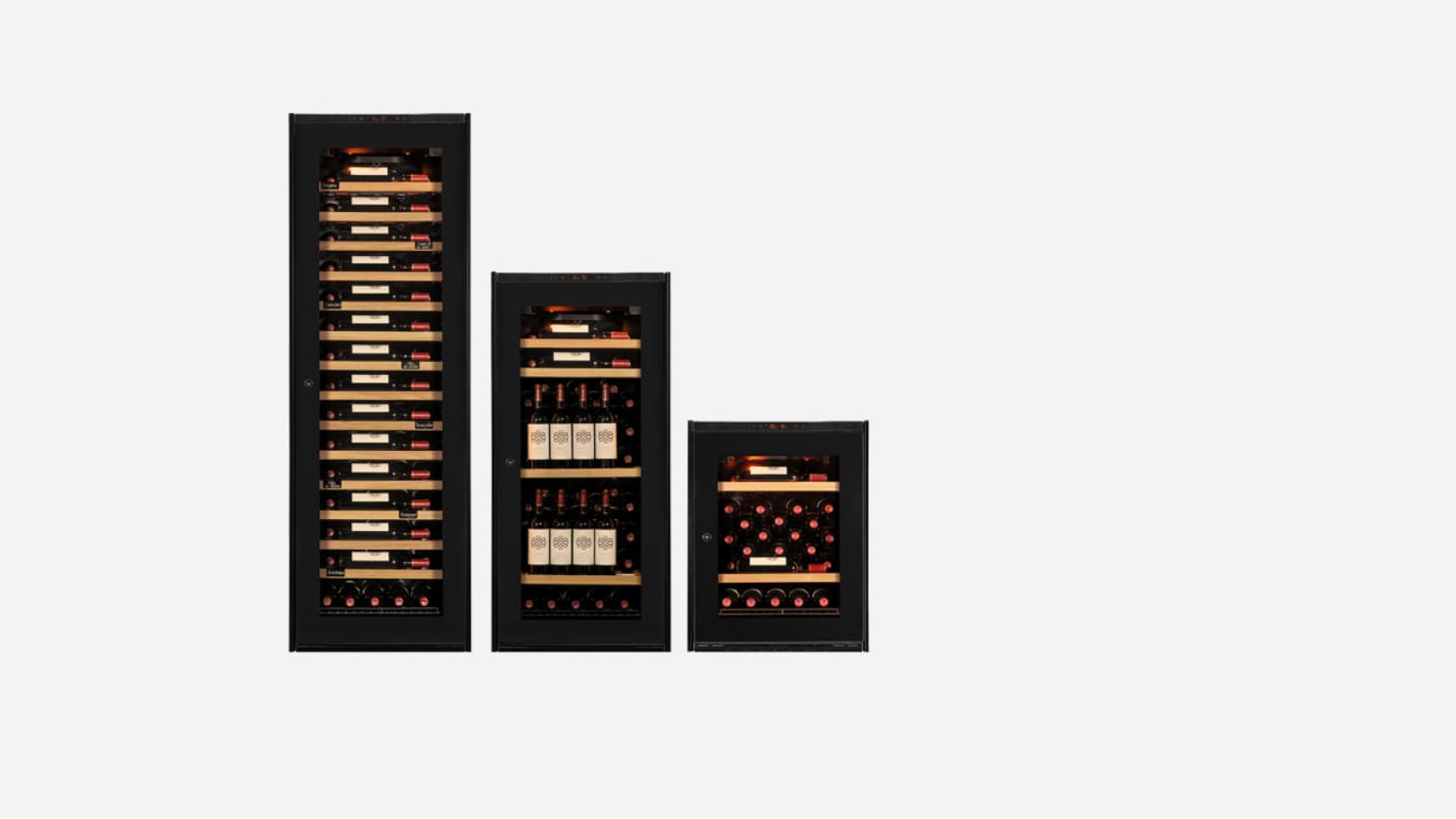 Because choice is a luxury.
For all cabinets in the Inspiration collection, it is possible to choose the size and door finish. With a high degree of customization possible, Inspiration also allows you to select and position the racking inside the cabinet according to your requirements.
Performance & safety
Let technology do the work for you.
For your peace of mind, the display of the actual temperature and humidity inside your cabinet, together with 5 visual and audible alarms, are there to warn you if something is not right.
controlled temperature
controlled humidity
UV-screened door
sensor fault alarm
temperature alarm
open door alarm
charcoal filter alarm
humidity level alarm
37dB noise emission
vacuum sealing
wintering function
lock
flush-fitting
built-in
5-year warranty
individual botlle support
Our products in situ.
Discover how our wine cabinets come to life. Projects with a lot of character.
An invitation to share fine wines and discover new flavours.