The Crossing restaurant, Dubai, United Arab Emirates
Wine cabinets for serving wine
Offer your customers an unforgettable wine drinking experience.
Our ranges of wine cabinets and storage solutions bring together all the elements you require: robust equipment, shelves that allow labels to be displayed, large storage capacity for a maximum number of bottles at an ideal serving temperature.
Your customers enjoy a glass of wine ready to be tasted, a detail which equates to high-quality service. Make wine a central part of the dining experience.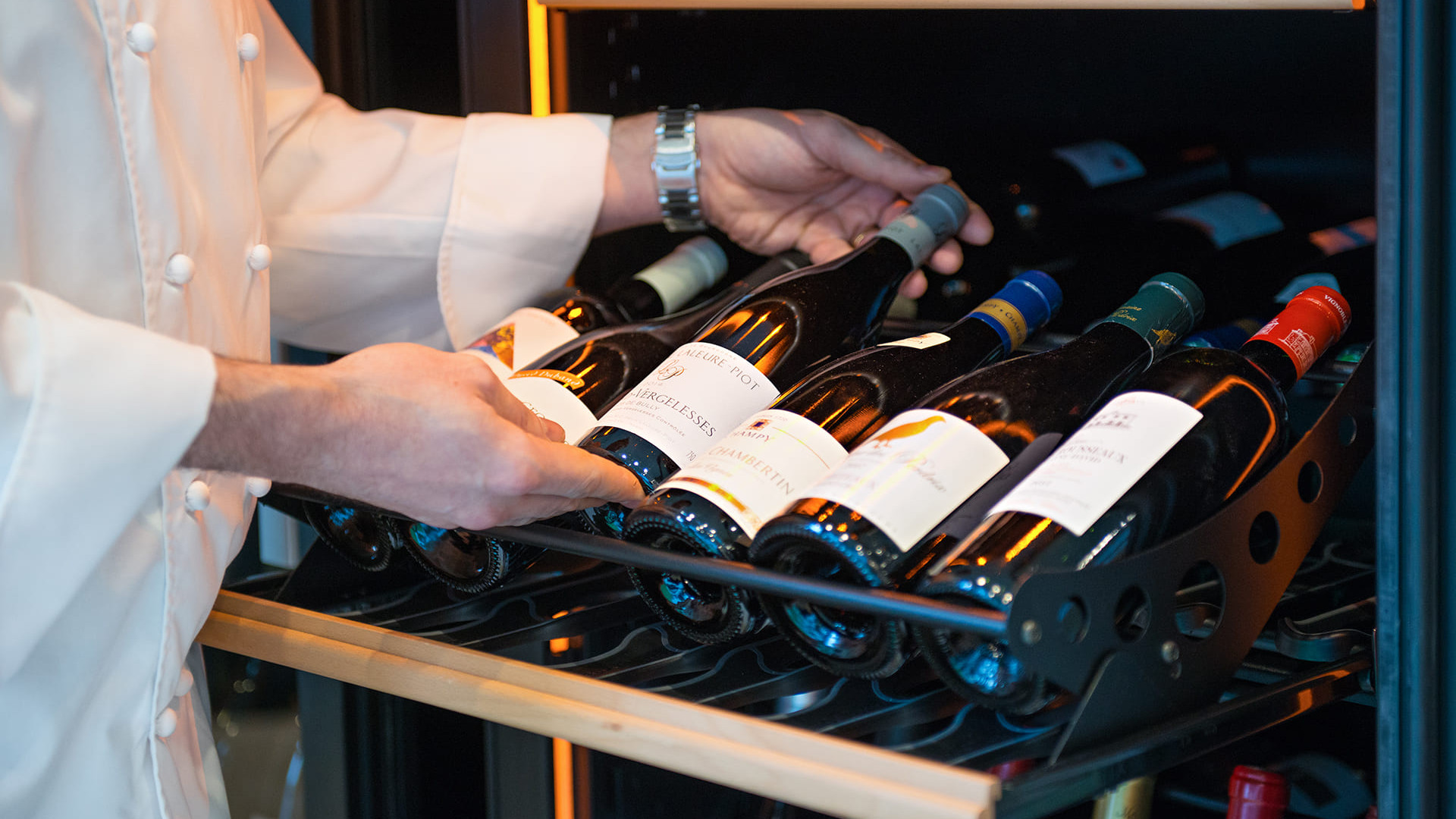 Hotel, Thalasso & SPA Valdys Resort, Douarnenez, France
The different uses of EuroCave service cabinets.
1-temperature.
Fill your wine cabinet with all white OR all red wines and have bottles close to their ideal serving temperature.
Wine cabinet which can be set from 5°C-20°C / 41°F-68°F.
2-temperature.
Serve your red wine AND white wine at a perfect serving temperature.
Two separate temperature zones set between 5°C-11°C / 41°F-52°F for the cooling section and 15°C-20°C / 59°F-68°F for the red service section.
3-temperature.
Simultaneously store different colours of wine and also champagne with 3 independent zones:
- Red service section which can be set from 15°C-22°C / 59°F-72°F,
- Storage section which can be set from 9°C-15°C / 48°F-59°F,
- Cooling section. Temperature determined by the temperature of the storage zone.
Multi-temperature.
Store all your bottles at an ideal serving temperature in one same cabinet.
The temperature staggered over the entire height of the cabinet, from 5°C-20°C / 41°F-68°F allows you to separate a Bordeaux stored at the top of the cabinet, from a Pinot gris stored at the bottom of the cabinet.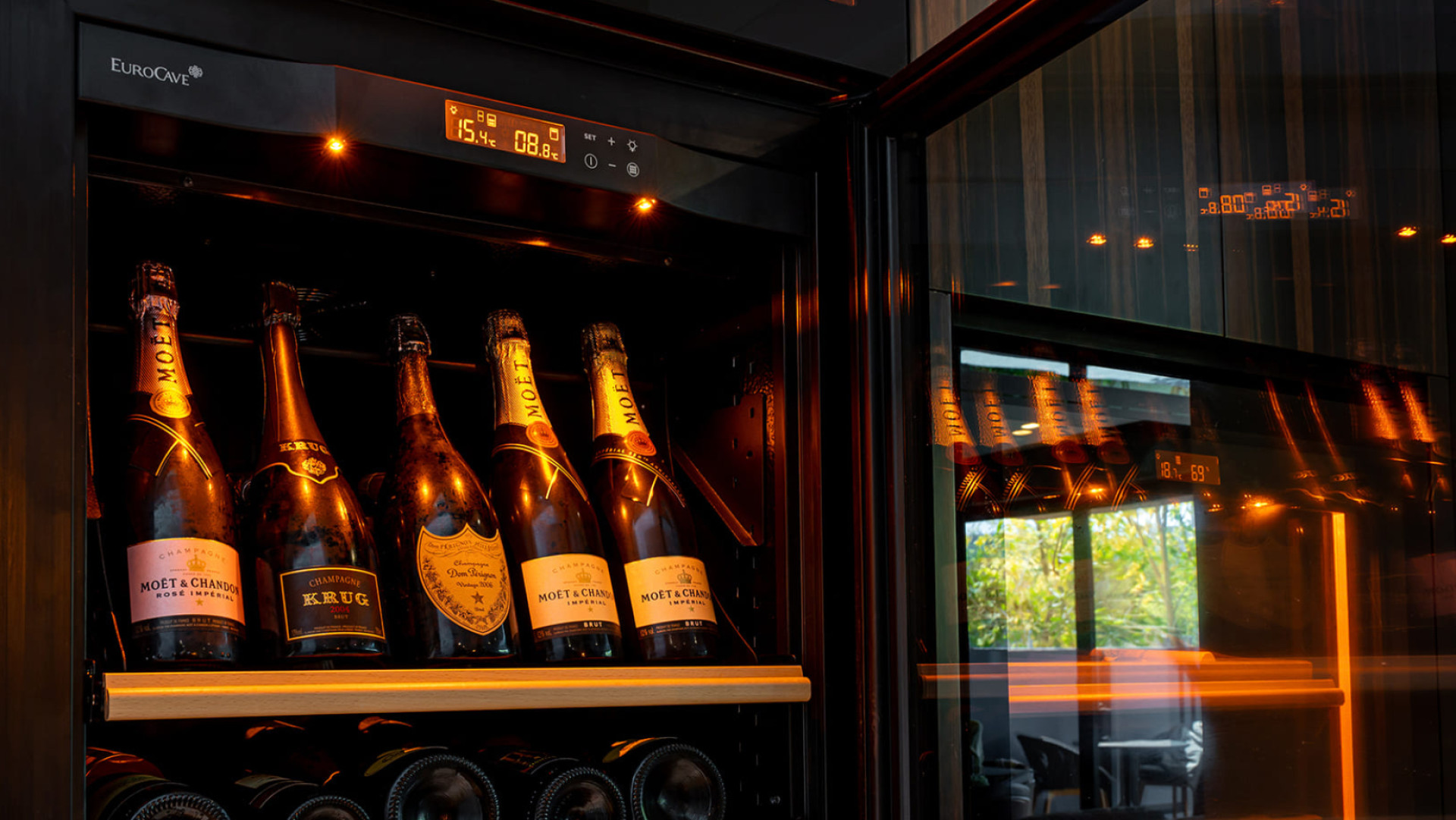 Make the difference.
Your wine lists and bottles will be perfectly showcased.
Our shelves are fixed to store and arrange a maximum number of bottles, or sliding to facilitate individual access to each bottle.
And because details are important, you decide whether your bottles are displayed upright, inclined, or flat and whether labels are visible or not...
Our serving cabinets' series.
Pure
Storing, cooling, bringing your wine to room temperature, all this is possible.
Single-temperature
2 or 3-temperature with independant zones
Multi-temperature
3 sizes
4 doors
Revelation
Move upmarket with a cabinet with outstanding aesthetics
Single-temperature
2 sizes
3 doors
You are looking for a large wine storage.
You are looking for a beautiful wine scenography.
Our products in situ
Discover our most impressive installations.
A beautiful scenography around wine is essential to arouse desire and invite the customer to discover. We are proud to present you the most beautiful installations in restaurants, hotels,...