An exceptional wine cabinet to spark new emotions.
Royale passionately embodies the brand's core value of excellence. This exceptional wine cabinet was designed to offer you the very best in terms of design and performance.
Usage
Maturing
Serving
1-temperature
Capacity
Up to 124 bottles
All bottle sizes
Country of production
Origine France Garantie Label
Spectacular and very desirable, this cabinet has a lot of charisma. Royale single-handedly redefines the contours of a room.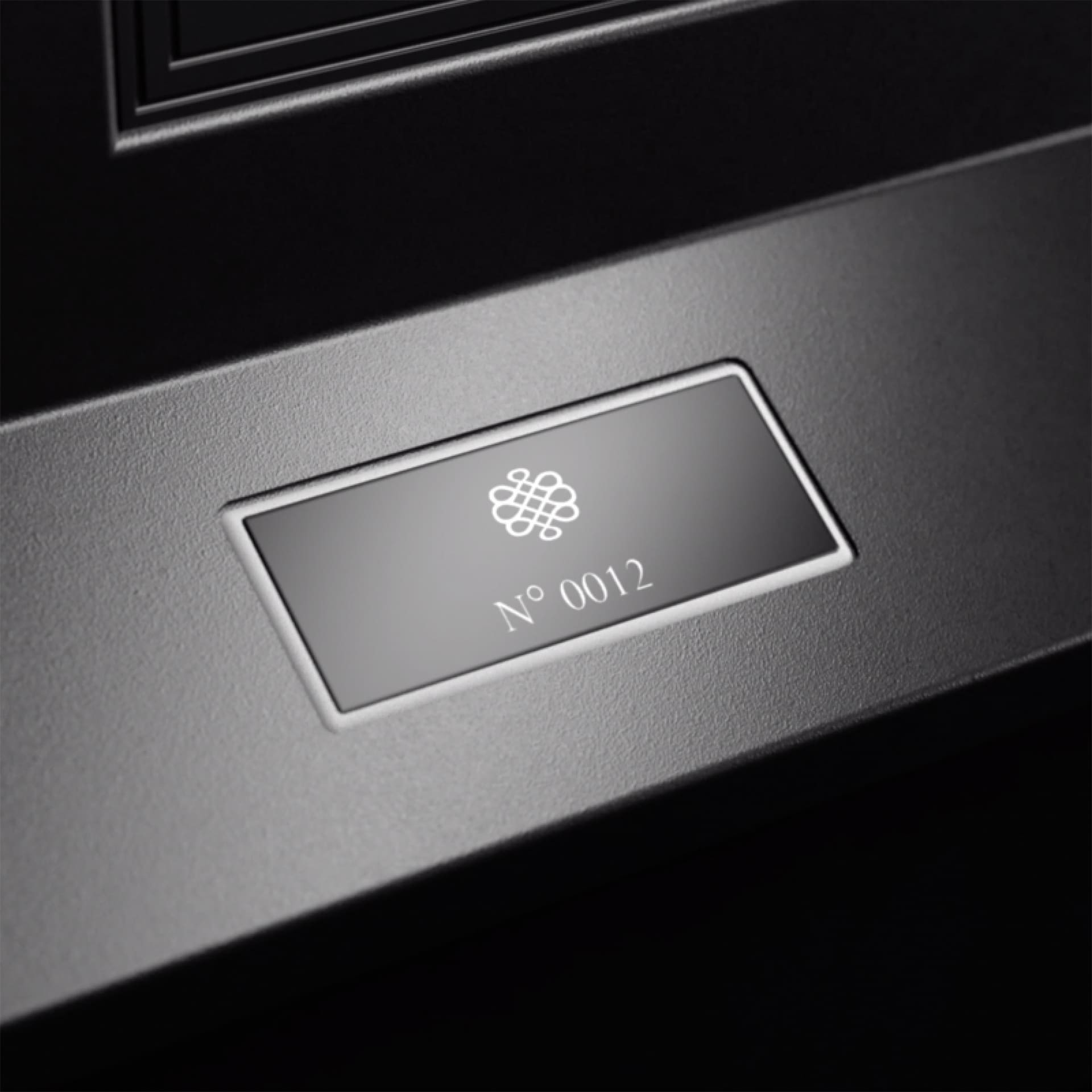 A piece of art.
Royale is the result of unique collaboration between artisans, engineers and designers.
Every Royale model is numbered in the French brand's factory.
Vintages beautifully displayed.
Bottle labels subtly displayed by amber lighting fitted on all the shelves, with an ash wood front to highlight your fine wines.
Individual protection of your bottles and an exceptional ease of use with Main du Sommelier bottle supports.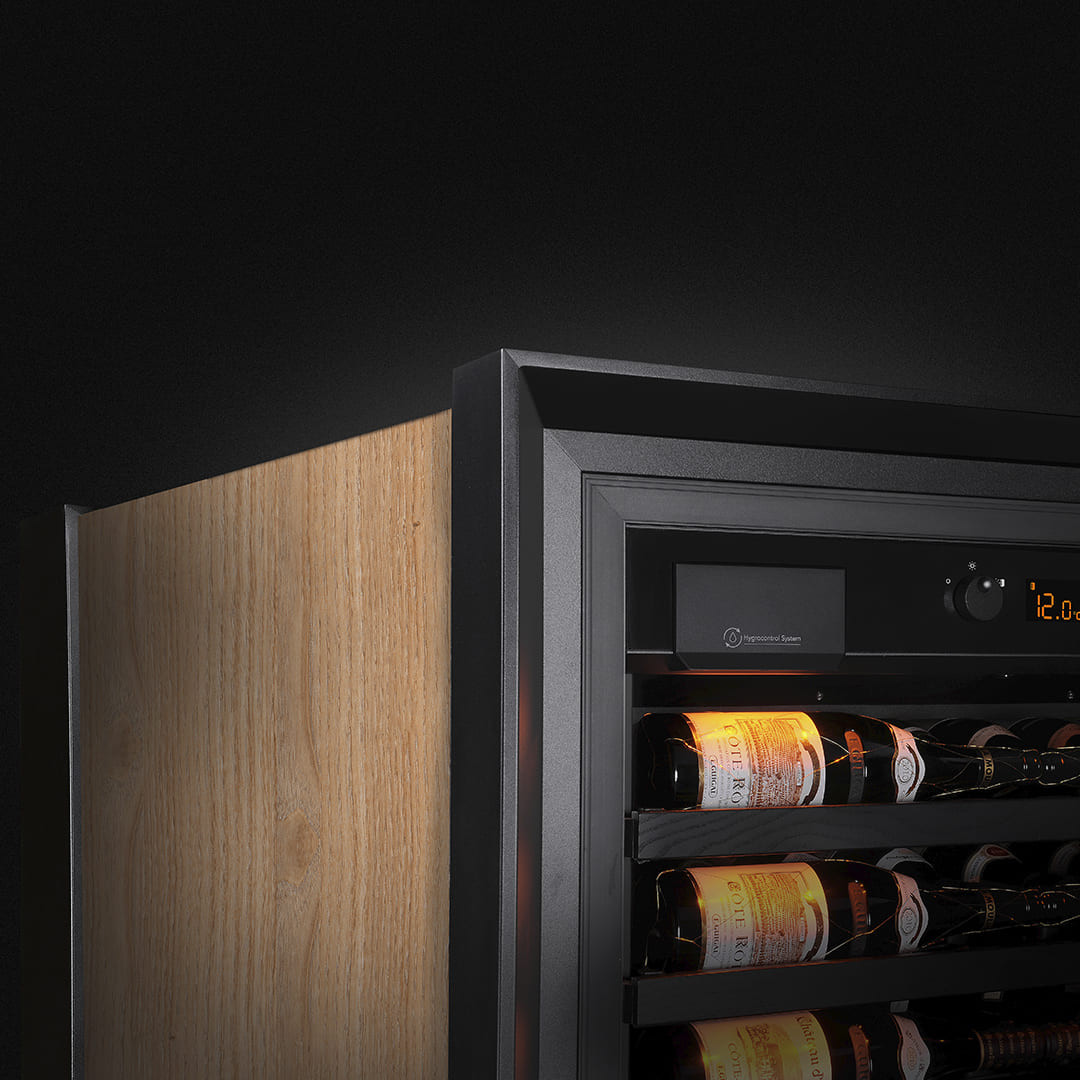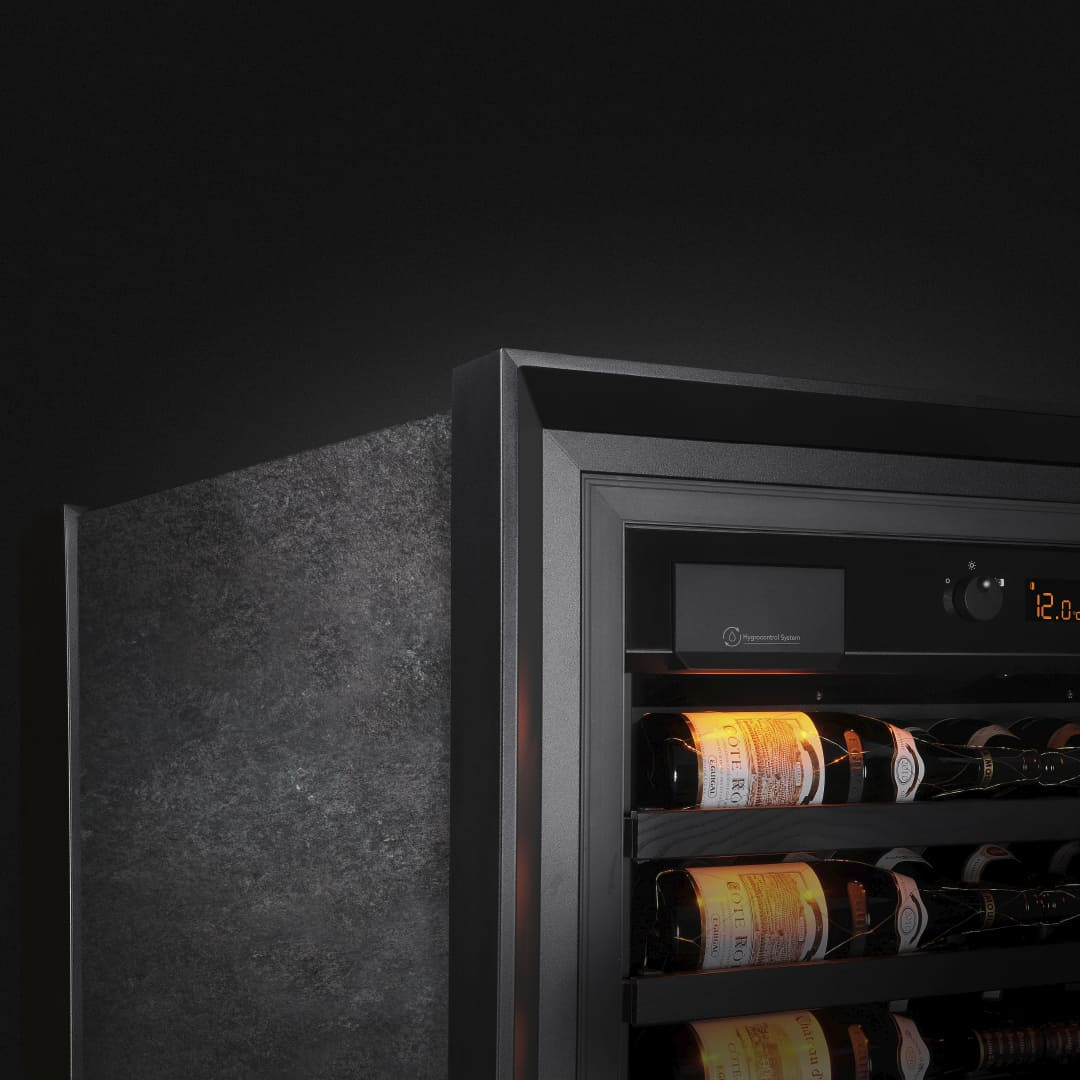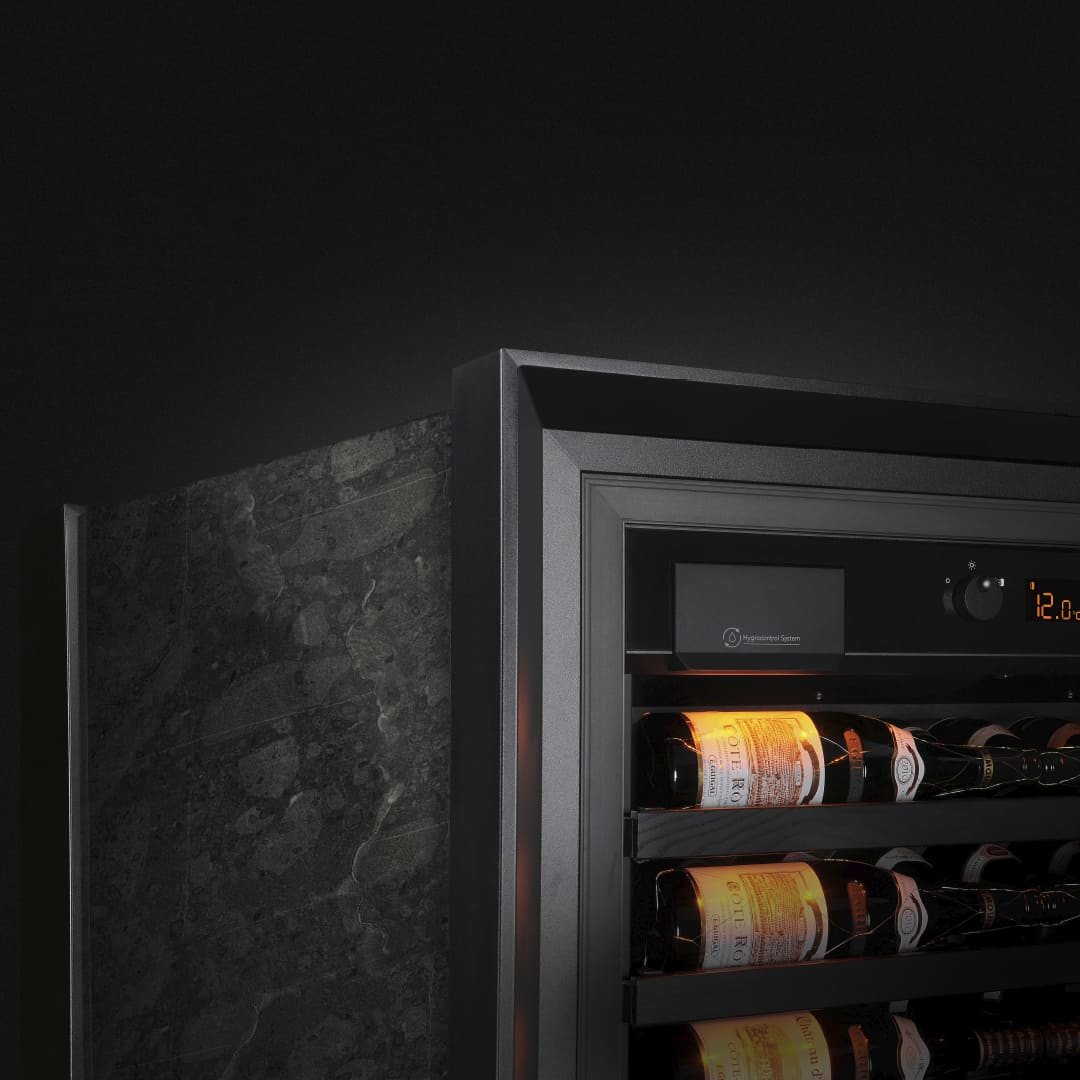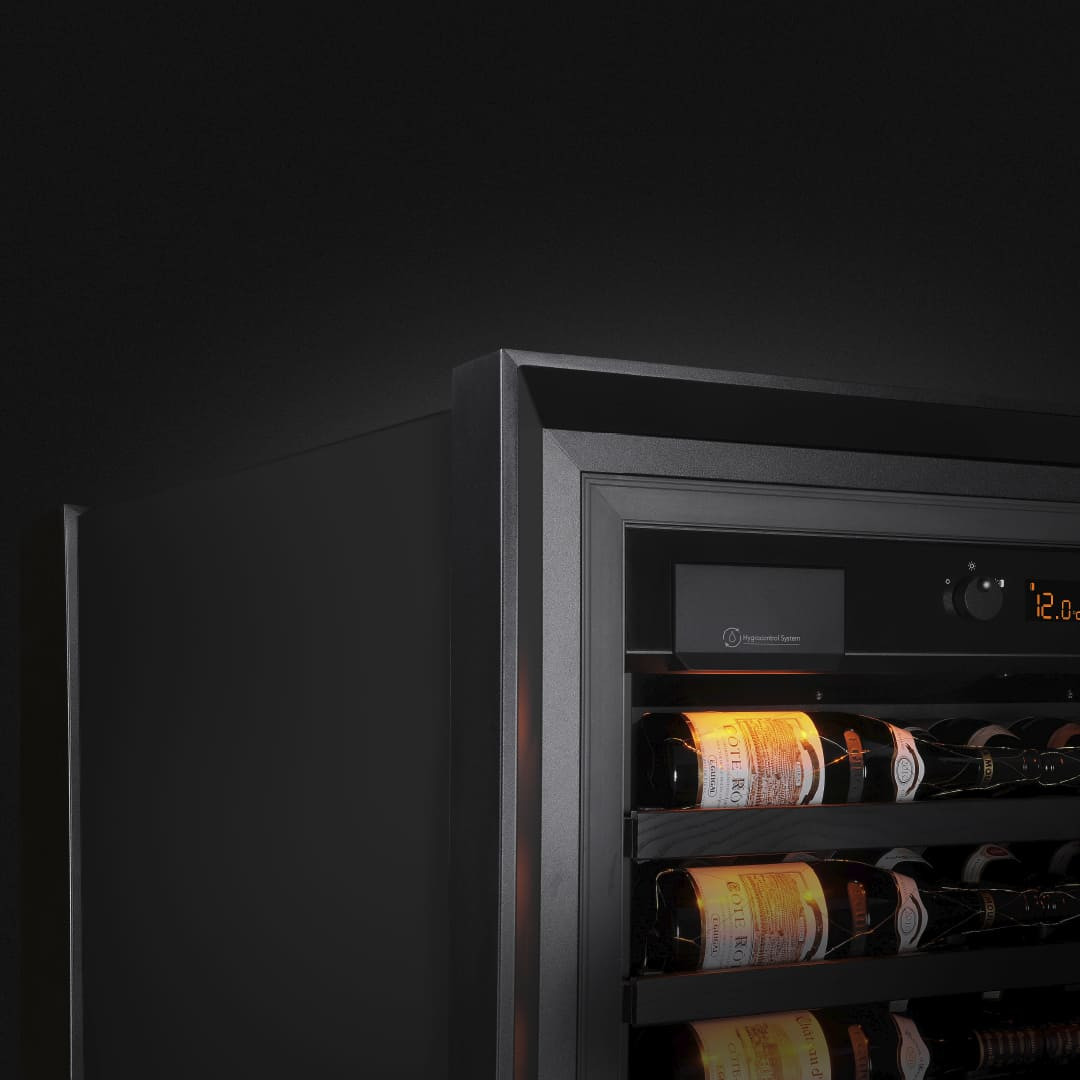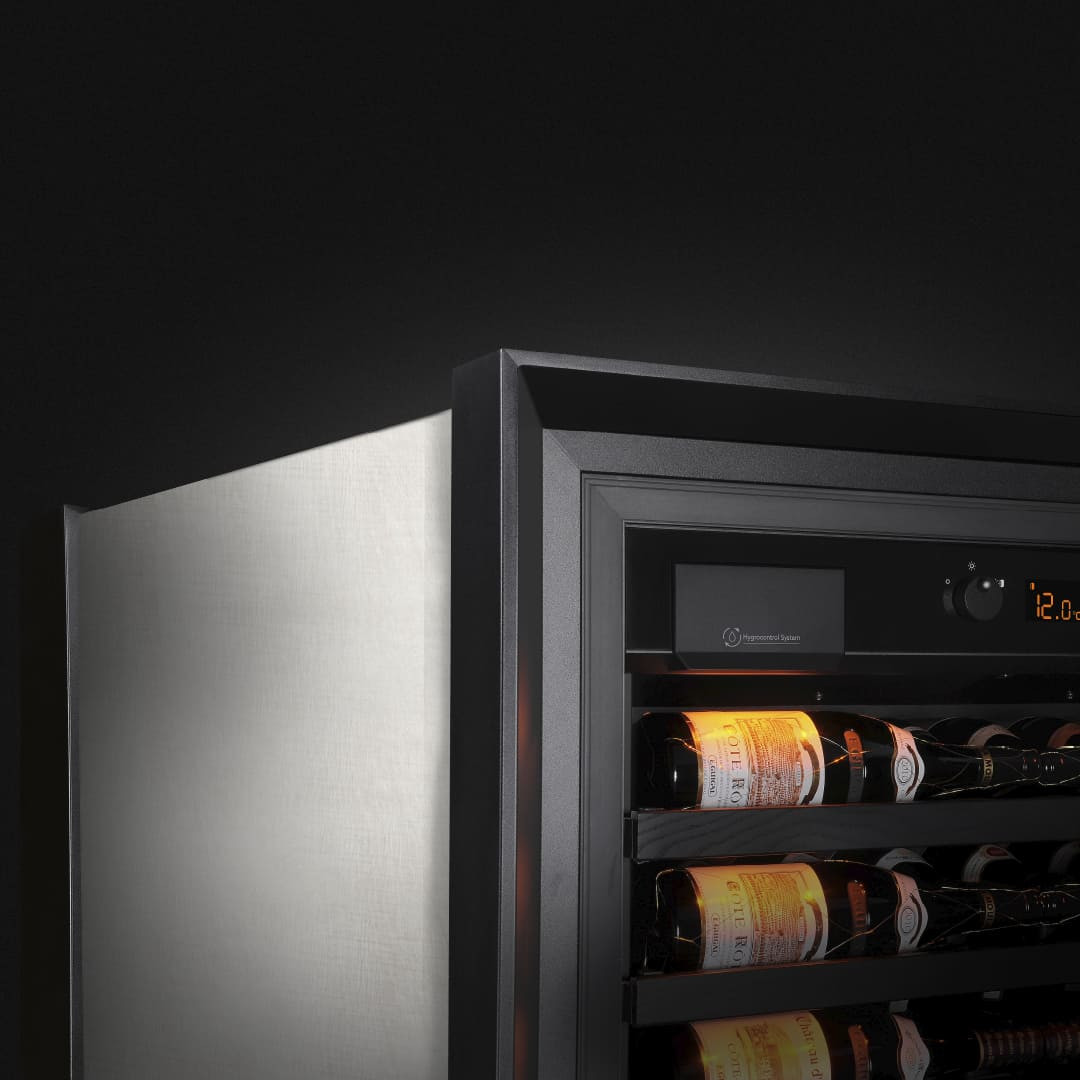 Audacious customization.
With a mineral, wood or custom-made finish, customization of Royale is bold and unlimited, for a unique object.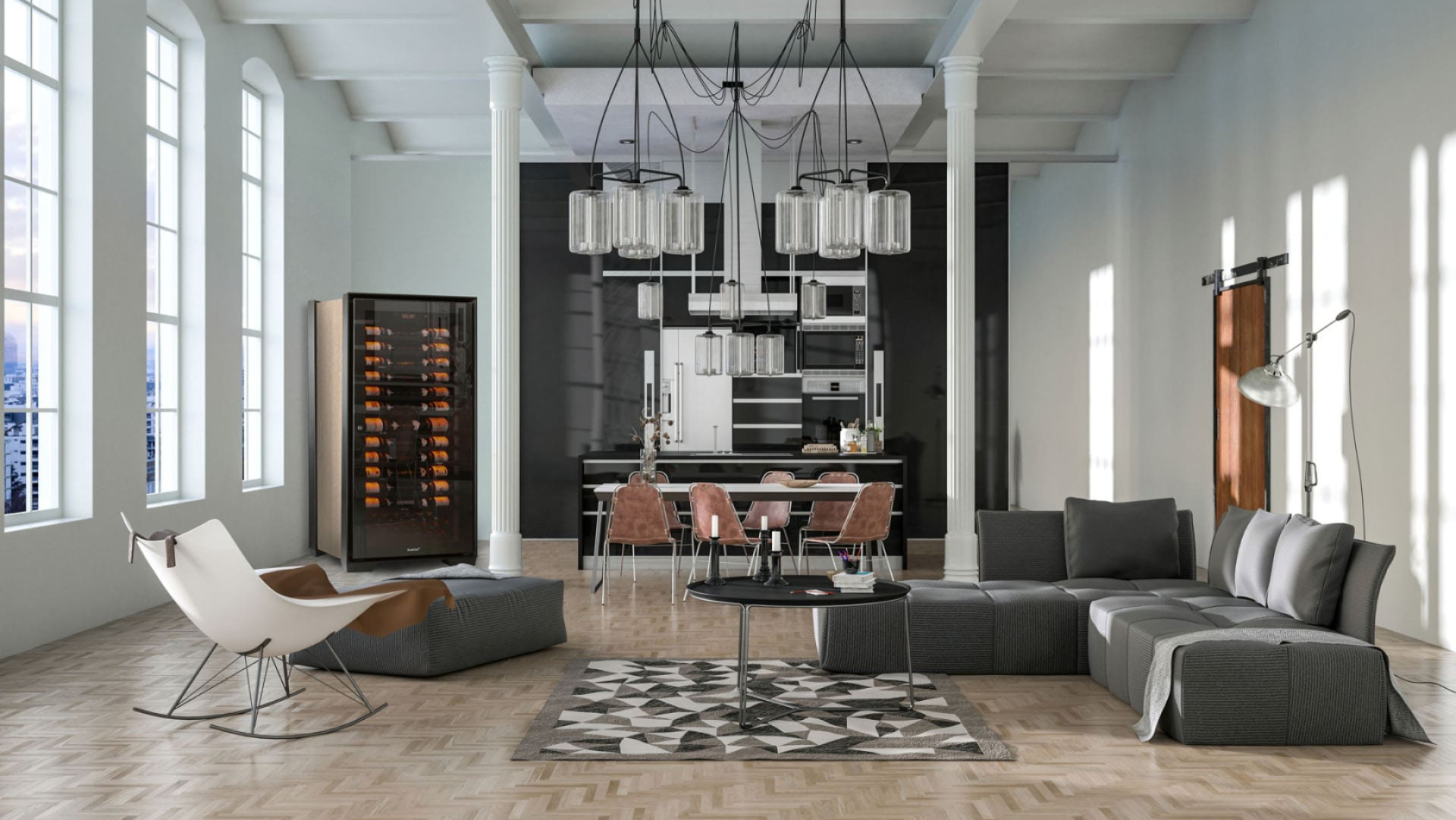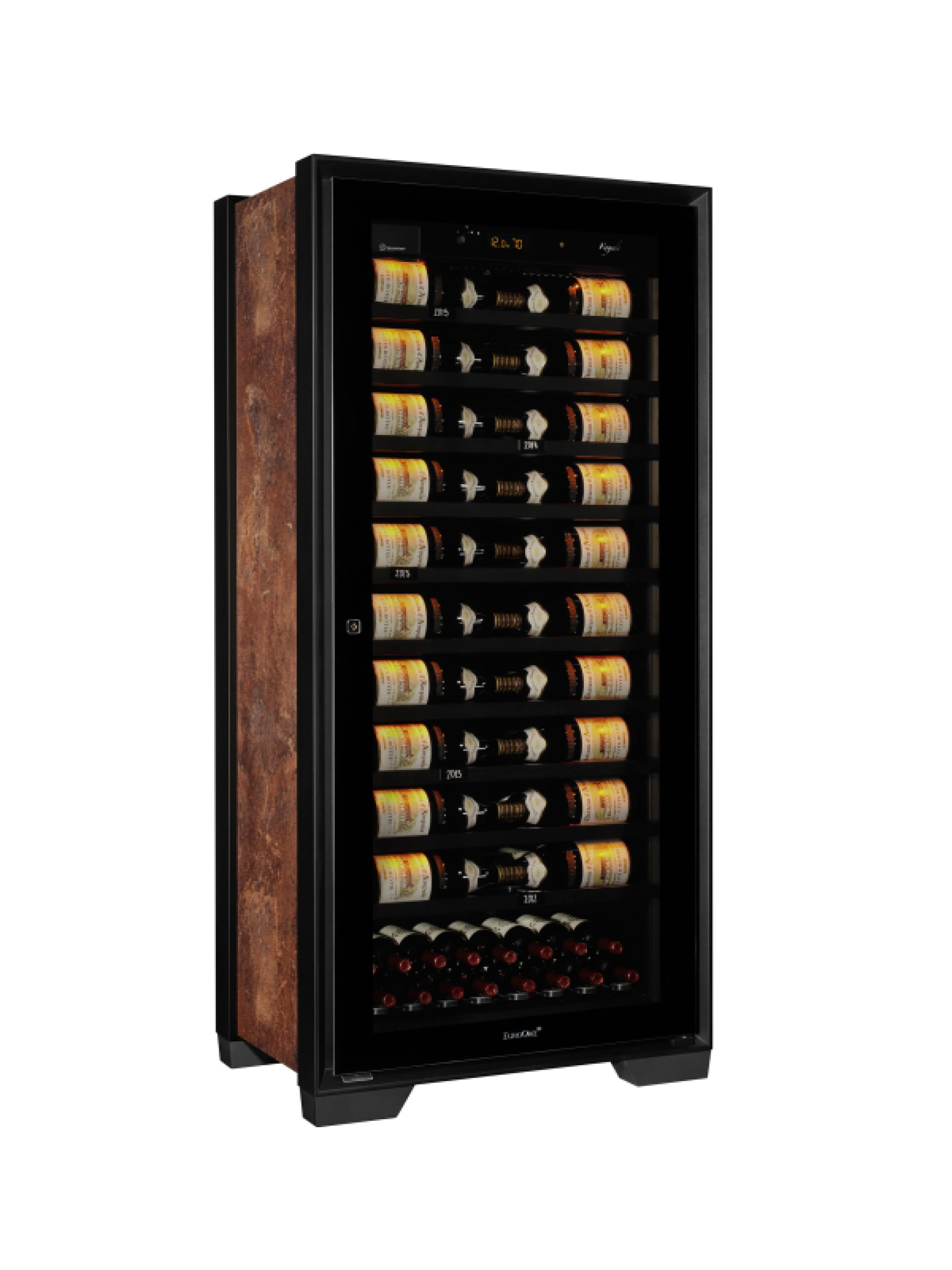 Royale offers you the best.
Cutting-edge solutions for optimised performance: full glass door with 99% U.V. screening, a patented woven filter for controlled air quality and external vibration absorbed by the actual structure of the cabinet body and a variable speed compressor.
The result? Optimal wine protection, an extremely low noise level 34 db(A) and reduced energy consumption (Class E).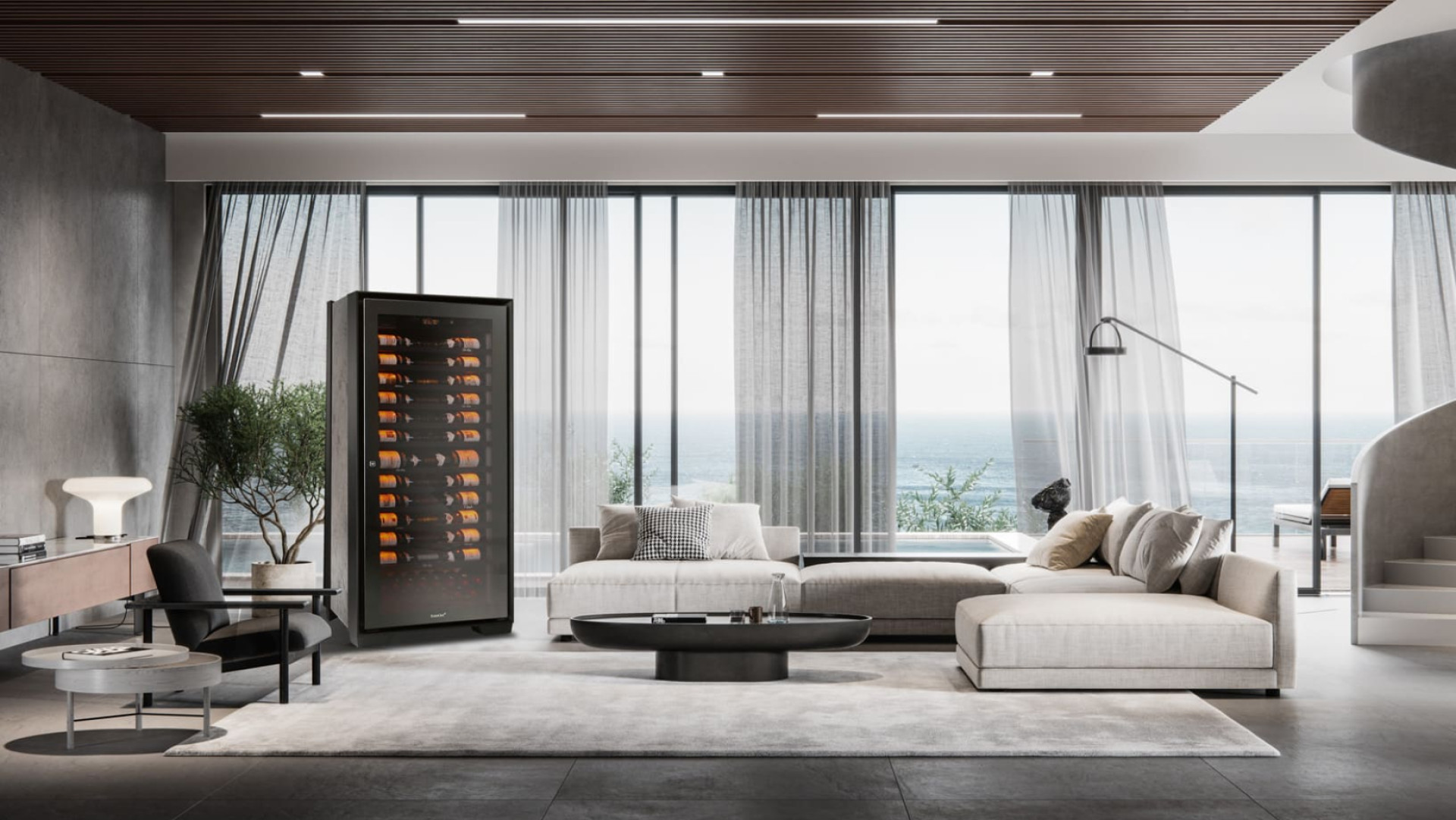 Royale offers the luxury of choice.
We thought it was important to offer you a choice, starting with the use you make of your wine cabinet.Adapt the storage features of your Royale to your requirements thanks to 2 modes.
Maturing mode
Bringing your wine to their prime.
A wine cabinet which is 100% independent for perfectly maturing your Romanée Conti, Clos Vougeot, Hermitage, Château Margaux and other fine wines.
How?
- The temperature is pre-set at 12°C / 54°F,
- Humidity is controlled at 70% (Hygrocontrol patented system).
Serving mode
Caring for your fine wine.
The serving mode stores your red, white or champagne wines at one ideal tasting temperature.
The humidity regulation and control system is then no longer active to allow you to set the temperature yourself between 6 and 18°C / 43 and 65°F, while maintaining the cellar's exceptional performance.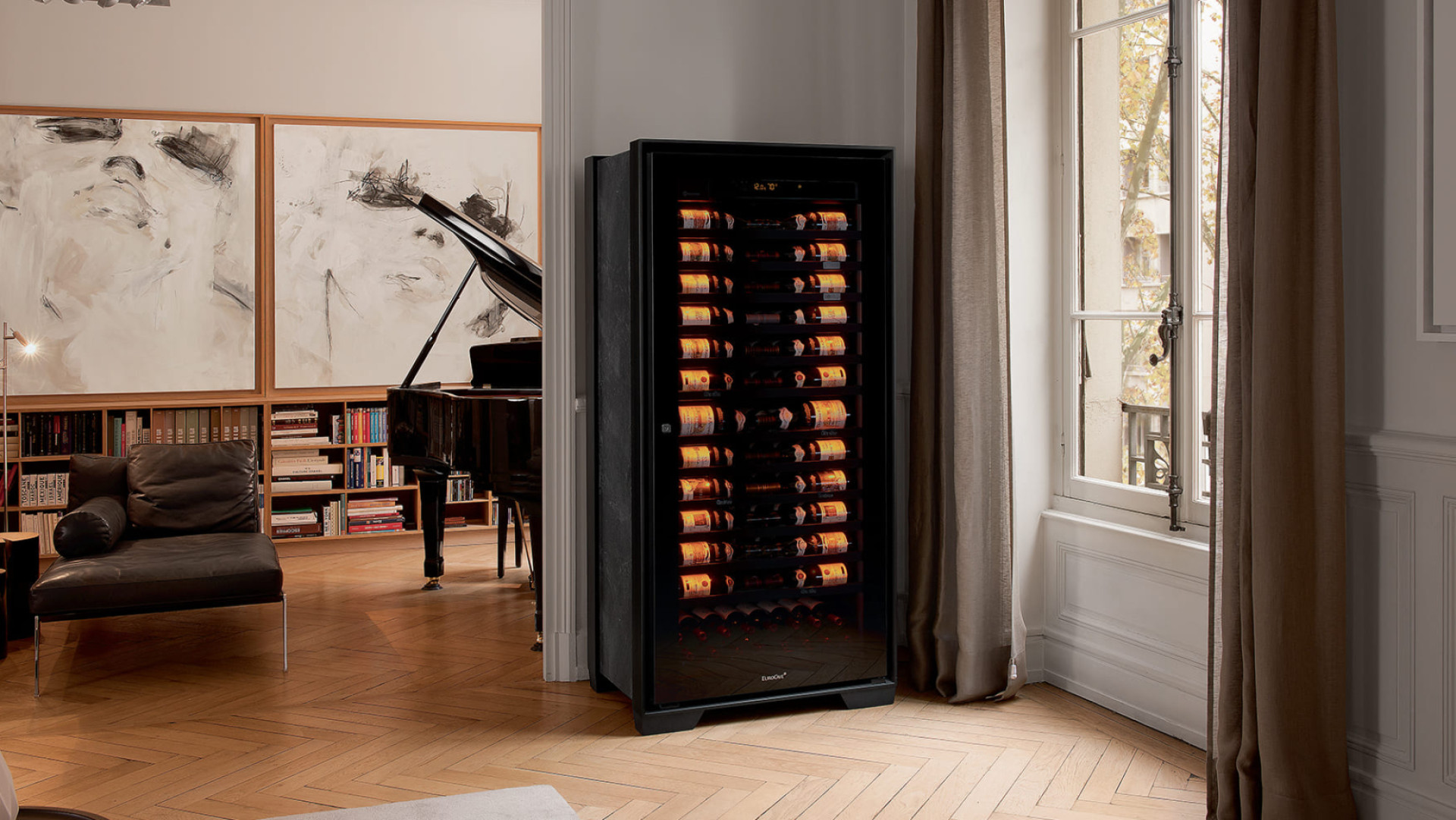 Safety
Let technology do the work for you.
For your peace of mind, the display of the actual temperature and humidity inside your cabinet, together with visual and audible alarms, are there to warn you if something is not right. And a 10-year warranty!
controlled temperature
Hygrocontrol patented system
UV-screened door 99%
patented charcoal filter
sensor fault alarm
temperature alarm
open door alarm
charcoal filter alarm
humidity level alarm
34dB noise emission
wintering function
lock
10-year warranty
individual bottle support
Additional information.
Our "free-standing" cabinets can also be flush fitted but there are certain rules that need to be followed, notably in terms of air circulation and electrical installation. We recommend that you contact your store and our wine experts for further details.