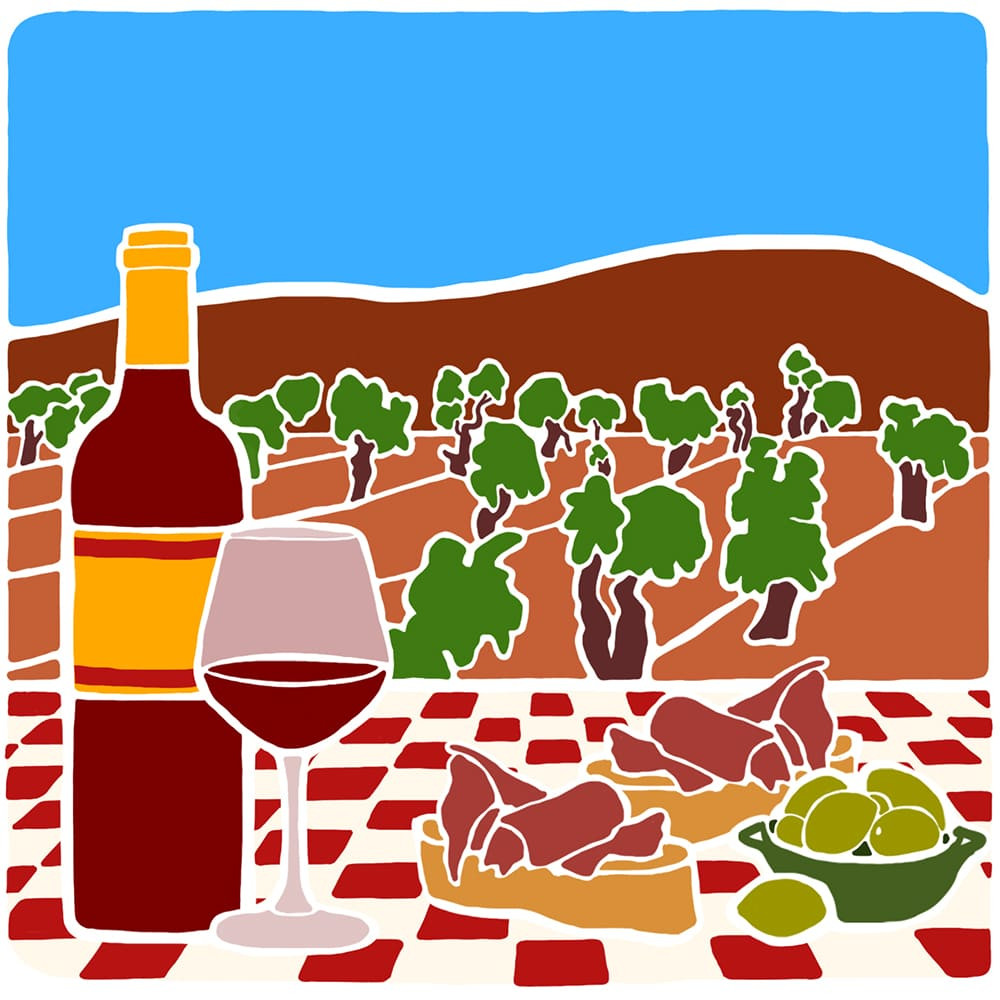 [ WINES ]
4 wines to serve with Basque tapas.
by Cynthia Pereira and Santiago Torres Carrossia (Arenales, San Sebastian)
In San Sebastian, Arenales is the go-to place for some great little dishes. A wine bar-cum-bistro, we love its modern approach to cooking but also its friendly atmosphere and its selection of natural wines.
01.
Jon Goenaga, 'G-1200', (D.O. Getariako Txakolina)
"This Txakoli epitomises the spirit of its owner Jon Goenaga. A young, bright wine, it shows intense aromas with clear mineral and fruit notes. It glides nicely across the palate and ends with a persistent, fresh finish and great volume."
Grape variety - Hondarribi Zuri - Region - Getaria, Guipuzcoa (Basque Country)
Drink with raw red mullet, creme fraiche, pomegranate vinegar and fermented celeriac.
02.
Oxer Wines, 'Marko Skin' (D.O. Bizkaiko Txakolina)
"Marko Skin delivers aromas of quince and baked apple. On the palate, the lively acidity is nicely balanced by flavours of dried orange zest and apricot. It is vibrant with balanced acidity, and has a good firm structure."
Grape variety - Hondarribi Zuri, Hondarrabi Zerratia - Region - Biscay (Basque Country)
Drink with roasted carrots (from Astigarraga), cream cheese (made in Aia, by Iker from the Elkano 1 cheese shop), and anchovy and almond vinaigrette.
03.
Pequeños y Salvajes, 'Bailando en el filo'
"The find of 2022 and what a great surprise! It is a funky, bold wine, showing herbal notes and aromas and distinctively well-balanced acidity."
Grape variety - Garnacha - Region - Sierra de Gredos (Madrid)
Drink with pumpkin ravioli, pesto and xixa hori.
04.
Imanol Garay, 'Altannativa' (Vin De France)
"French Tannat. It is slightly tannic on the palate, tense yet lush, nervy and flavourful, with aromas of red and rock, the colour of Pinot or Gamay and good length".
Grape variety - Tannat - Region - South-West France
Drink with ox tongue, mashed potato and homemade mustard.
Illustration - Blandine Lamy
Blandine Lamy graduated from the Paris Higher School of Graphic Arts in 2018 and is steeped in two cultures – that of the Basque Country, where she was born and grew up, and that of Senegal and other African countries where she has travelled and lived. They have had a profound influence on her signature style, defined by its very broad, graphic, sun-filled flat tints outlined in white.