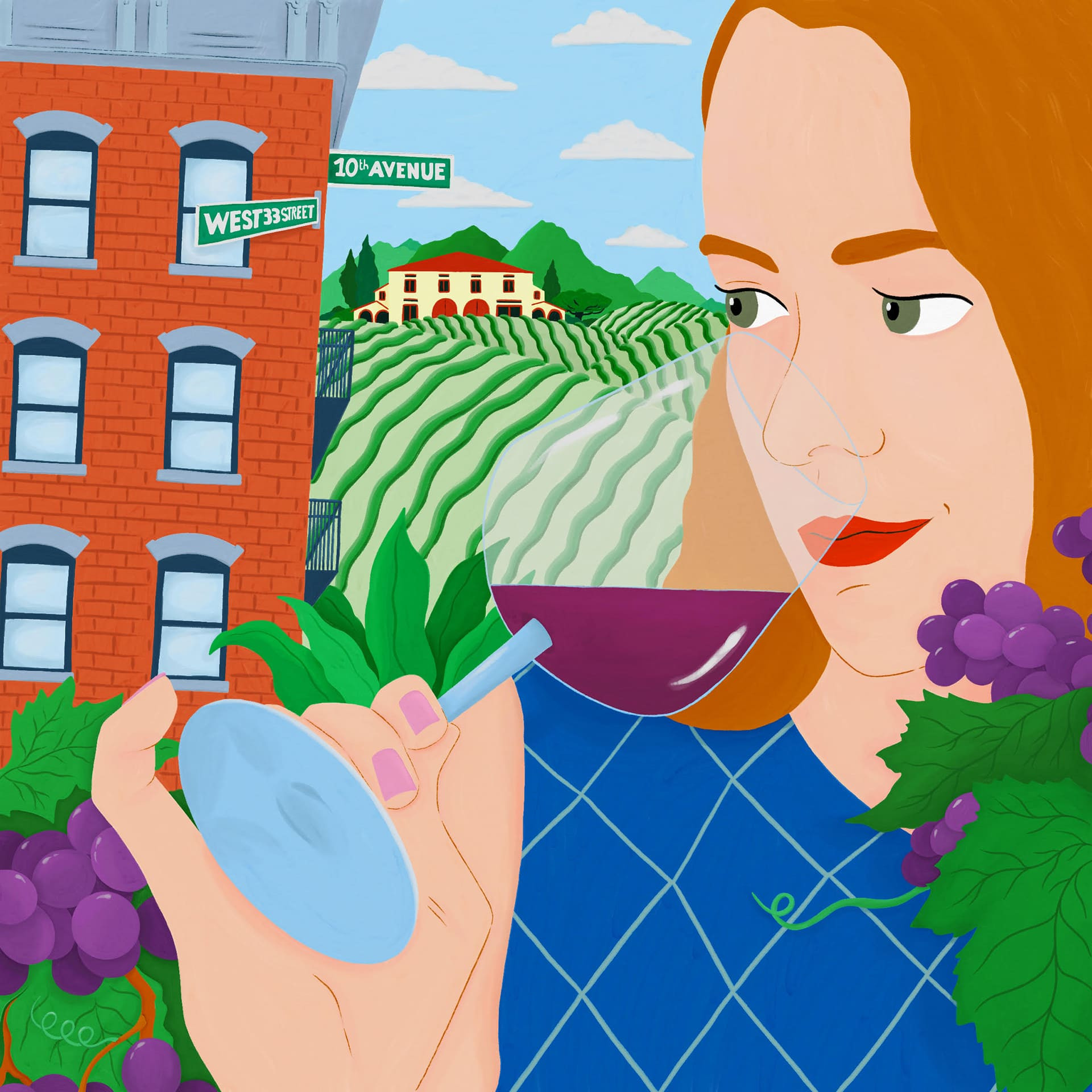 [ WINES ]
My Journey to New York City and Beyond in 7 Wines.
by Robin Wright, Ci Siamo, New York, USA
There's no shortage of places to drink Italian wine in New York City, but the list at Ci Siamo outpaces expectations. Located near Manhattan's Hudson Yards, the restaurant offers everything from boldfaced Barolos to lesser-heralded Italian bottles and even some cult Champagnes.
The sweeping cellar is the work of Robin Wright, an alumnus of such New York City fine dining institutions as Daniel and The NoMad. "I moved to New York ten years ago from Florida, where I grew up," she says. "Right away, I noticed there's this amazing drinking culture in New York. You really think about what you're drinking and where it's coming from."
Wright has an expert, inclusive approach to wine, making Ci Siamo's list equal-parts accessible and insidery. Her experiences span downtown wine bars and Manhattan's finest dining rooms, with top producers from Italy, Germany, and more guiding the way.
Here, seven wines that shaped her journey from Florida to New York and beyond.
01.
Riesling Egon Müller (Any Vintage)
"When I started studying at the American Sommelier Association, my mentor there, Andrew Bell, who is super old-school, told me, 'If you want to become a somm, you should work at a Michelin-starred restaurant.' I found Aureole on 42nd Street. I arrived there and had never even been an evening server, I'd only ever worked breakfasts, but I told everyone I wanted to be a sommelier in six months. I didn't think it was actually going to happen! But I became a captain after five months, and one month later there was an opening on the somm team.
"One of the first wines that I really, really fell in love with was Riesling—especially Riesling from the Mosel. The stone fruit, the aromatics, the petrol, the crazy acidity. I became so in love with high-acid whites. I always wanted to sell Egon Müller Riesling. It's so cool that they only make sweet wines. Those wines, even when incredibly sweet, the acidity just rocks your face off. I can't tell you a certain vintage, I just love the acidity with the sweetness and this certain, nervy minerality. Egon Müller's wines are strange in a way, they're refreshing and so delicious."
02.
Domaine de la Romanée Conti Romanée-Saint-Vivant 2001
"This was the first bottle that I sold from Domaine de la Romanée Conti. I still have that bottle to this day because it was a big moment. This guy came into Daniel as a solo diner, and he's actually still a regular of mine now, he comes in all the time. He came in alone, and the more senior somm was off that day and I was still so new. He ordered this wine with me and I was like, "Oh my god! I just sold Romanée-Saint-Vivant !" I was so excited about it.
"Somms get super obsessed with selling very expensive bottles of wine, but then you learn that you don't have to spend that much yourself personally to enjoy a wine that's amazing. Still, it's fun to sell a bottle that costs a couple of thousands of dollars. It gets you excited, and you want to learn more."
03.
Domaine de la Romanée Conti La Tâche Grand Cru 1985
"I sold this bottle to Jeff Bezos. He came into The NoMad and said, 'I'm looking for a nice bottle of wine to go with the chicken.' [The restaurant's signature dish was a roast chicken that the servers finished and plated tableside.] The woman he was with didn't want to drink a whole bottle, so I told him he could take the rest home. He said, 'Oh, great! In that case, what would you recommend with the roast chicken?' This is one of the richest men in the world. So, I said. 'Well, do you want the best.' 'Show me the best,' he said.
"I turned to the Domaine de la Romanée Conti page, pointed to the '85 La Tâche, and said, 'You should drink that.' And he was like, 'Okay.' I was so excited! It was a true sell. Someone asks for your opinion, and you say, 'Oh, this $9,000 bottle of wine? You should drink that with your chicken. That's a great pairing.' It was so New York.
04.
Emidio Pepe Trebbiano d'Abruzzo 2004
"One thing I really loved about working at The NoMad was Thomas [Pastuszak, The NoMad's executive wine director] had a lot of great wine that was relatively affordable and approachable. Everything was small, small families, young winemakers doing something different in their region, making really humble, lovely wines. I really loved that.
"When I started this wine program at Ci Siamo, I found that Italy is just full of those sorts of wines. A great example is this Emidio Pepe we have on our list right now. It's beautiful. When it comes to Italian wine, I love how, even when they're expensive, they seem within reach. This wine is so easy to love, and it's absolutely gorgeous."
05.
Montenidoli Vernaccia di San Gimignano Tradizionale 2020
"Elisabetta [Fagiuoli, owner of Montenidoli] is an amazing producer of Vernaccia. She arrived in Tuscany in the 1960s from Verona. She wasn't even from Tuscany, but she went there and started making wine and she's still kicking—she's in her 80s now. She makes beautiful Vernaccia and Sangiovese, and she's so connected to her terroir.
She came to Ci Siamo, and she just understood what we were doing. She did a dinner there and got totally drunk, and she was hugging me and hugging Chef, and hugging our staff. She's just such a great person. She's the sort of winemaker that inspires me."
06.
Ar.Pe.Pe Buon Cosiglio Grumello Valtellina Superiore Riserva 2009
"Italians make it easy to love them and love their wines. There are so many big producers and cooperatives in Valtellina that sometimes overshadow the smaller ones. But, for me, Ar.Pe.Pe. is the highest quality, making the most amazing wines. Isabella, the fifth-generation winemaker at Ar.Pe.Pe., is so sweet and so lovely, the sweetest angel in Valtellina. The people of Italy really inspire you to try all their wines."
07.
Dislivelli Rosso di Valtellina 2021
"I'm obsessed with this Rosso di Valtellina. It's such an ethereal expression of Nebbiolo. It's so cool because, when you have Nebbiolo in Barolo and Barbaresco, and you compare it to the Nebbiolo from Valtellina, the wines are so vastly different. I am really into the Valtellina version. love the Barolo, too, but I just find it so interesting how the grape expresses itself differently in other ways and from different producers. Depending on where it's grown and who is making the wine, the grape can become more aromatic and almost Pinot Noir-like. I'm hoping to go to Valtellina in July 2023, and I want to see these producers. That's how much I love these wines—and how much I love these people who make them."
Article - Emily Saladino
Emily Saladino is a writer, editor, and recipe developer based in New York. Previously the Digital Managing Editor of Wine Enthusiast and Editor in Chief of VinePair, she currently works as a Writer at Large at Wine Enthusiast, where she contributes articles and reviews wines from Greece and Georgia. She also contributes to Bon Appetit, The Washington Post, Bloomberg, Food & Wine, and others. A former professional cook and bartender, she holds a Culinary Arts Degree from The French Culinary Institute and Level II Certification from The Wine & Spirit Education Trust. She is a member of the Circle of Wine Writers and Les Dames d'Escoffier.
Illustration - Marie Pellet
Marie Pellet is an illustrator and lay-out designer based in Paris. She paints with gouache or designs using digital media and also produces ceramic objects. She likes to draw women, nature, animals and plants but also everyday objects which she likes to make unique by using an endless variety of colours and compositions. Marie is proud to call her style naïve and timeless, with a child-like vision that allows her to cast everything around her in a fresh light.
Prolong the experience
Discover the profiles of creative and influential personalities explaining their relationship with wine, the secrets of sommeliers or legendary establishments.
When you subscribe to the magazine, your email address is only used to send you our content newsletter. You can unsubscribe at any time by clicking the unsubscribe link included in each newsletter. To find out more about management of your data and your rights, click here .