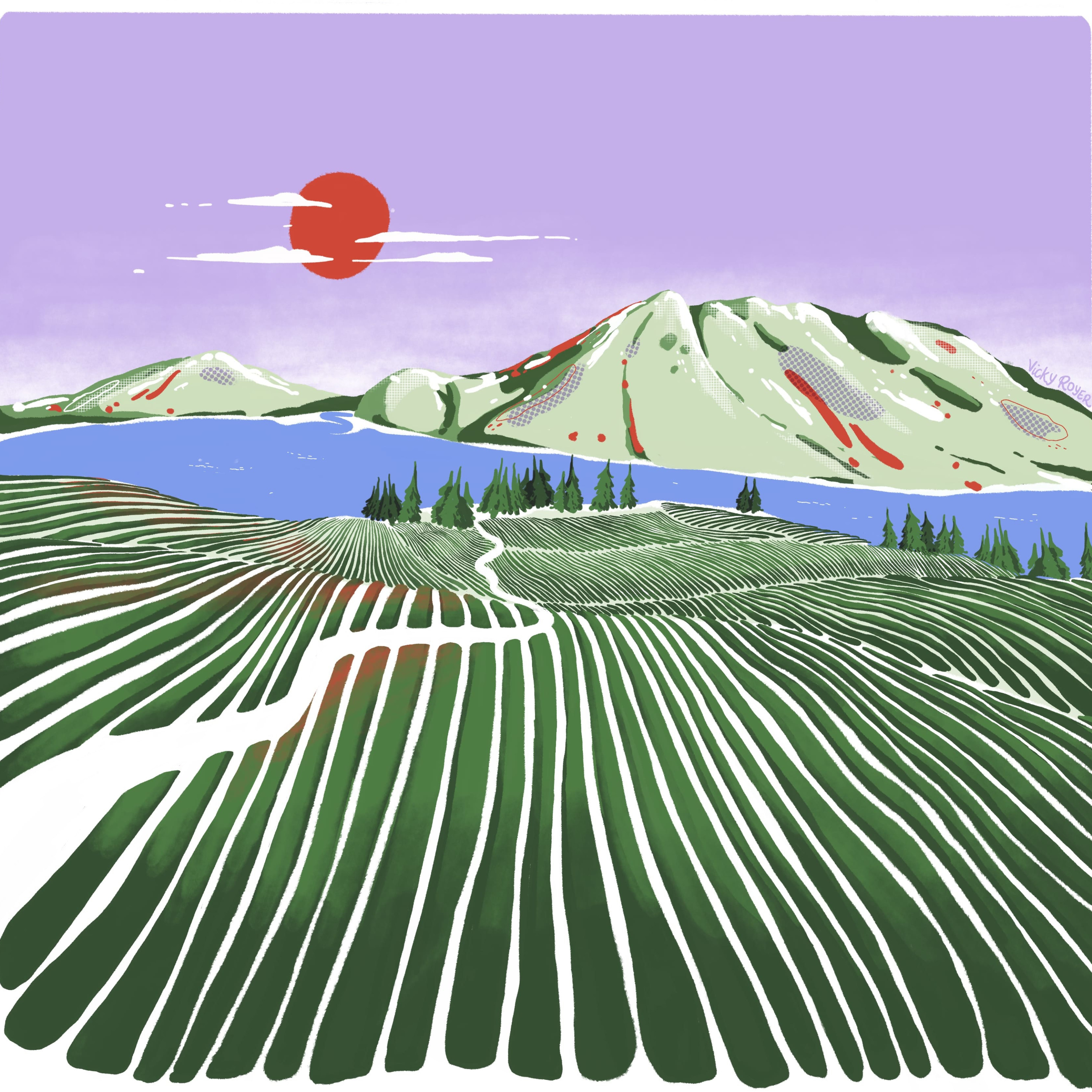 [ WINES ]
My wines for exploring the vineyards of Western Canada.
by Leagh Barkley (The Vancouver Club, Vancouver)
"Over the past ten years, the quality of Canadian wines has come on in leaps and bounds. This is particularly true in British Columbia, the country's most westerly province. The region is most notably home to the Okanagan Valley wine region. From Vancouver, the drive here is fairly easy. But when you get there, it's a completely different world – part of the Okanagan is a desert! As for the vineyards, they grow on soils of sand and sandstone and several grape varieties thrive here. Cabernet Franc is perhaps my favourite – the wines it produces remind me of Chinon in the Loire Valley".
Leagh Barkley is a sommelier. After a stint in Bordeaux, where he worked with Gordon Ramsay and Pierre Gagnaire, he is now the director of the bars and restaurants of the Vancouver Club, Canada's oldest private club which dates back to 1893. For this thirty-something Canadian, who is as comfortable speaking French and Italian as he is English, it's a return to his homeland.
In his Top List of wines from Western Canada, there are a lot of bottlings from the Okanagan Valley, the wine region set in the foothills of the Rocky Mountains where the sunny, dry climate promotes slow, gradual ripening of the fruit, teasing out delicate aromas in the wines. But other regions are also highlighted because British Columbia is home to several VQAs or Vintners Quality Alliance wines as appellation-designated vineyards are known locally.
01.
West Kelowna, Okanagan Valley
Quails' Gate, « The Boswell »
02.
Skaha Bench, Okanagan Valley
Painted Rock, « Cabernet Franc »
03.
Naramata Bench, Okanagan Valley
Naramata Bench, Okanagan Valley
04.
Similkameen Valley
Clos du Soleil, « Estate Reserve »
05.
Oliver, Okanagan Valley
Le Vieux Pin, « Équinoxe »
06.
Osoyoos, Okanagan Valley
LaStella Winery, « Allegretto »
07.
Okanagan Falls, Okanagan Valley
Stag's Hollow, « Renaissance »
08.
Okanagan Falls, Okanagan Valley
Synchromesh, « Thorny Vines Vineyard »
09.
Oliver, Okanagan Valley
Hester Creek, « Block 3 »
10.
Lake Country, Okanagan Valley
O'Rourke's Peak Cellars, « Grüner Veltliner »
11.
East Kelowna, Okanagan Valley
CedarCreek Estate, « Block 4 Aspect Collection »
12.
Oliver, Okanagan Valley
Mission Hill Family Estate, « Terroir Collection Bluebird Passage »
13.
Osoyoos, Okanagan Valley
Moon Curser, « Dead of Night »
14.
Okanagan Falls, Okanagan Valley
Blue Mountain, « Blanc de Blancs Brut »
15.
Fraser Valley
Vista d'Oro, « Vin de Garde »
16.
Lillooet
Fort Berens, « Red Gold »
17.
Cowichan Valley, Vancouver Island
Averill Creek, « Pinot Noir »
18.
Salt Spring Island
Kutatás Wiunes, « Whole Cluster »
19.
Pender Island
Sea Star Vineyards, « Ortega »
The Vancouver Club
915 W Hastings St, Vancouver, BC V6C 1C6 (Canada)
+1 604-685-9321 - vancouverclub.ca
Illustration - Vicky Royer
Born under the sign of Taurus, Vicky's epicurean nature makes her the epitome of her zodiac sign. After studying graphic design in Paris, followed by fine arts in Brussels, this Savoy-born artist is now self-employed and works with major ski resorts in the Alps – Tignes, Val d'Isère, La Plagne and Sainte-Foy Tarentaise – along with prominent names in the world of wine.
Prolong the experience
Discover the profiles of creative and influential personalities explaining their relationship with wine, the secrets of sommeliers or legendary establishments.
When you subscribe to the magazine, your email address is only used to send you our content newsletter. You can unsubscribe at any time by clicking the unsubscribe link included in each newsletter. To find out more about management of your data and your rights, click here .