[ PORTRAIT ]
Australia // TV presenter & designer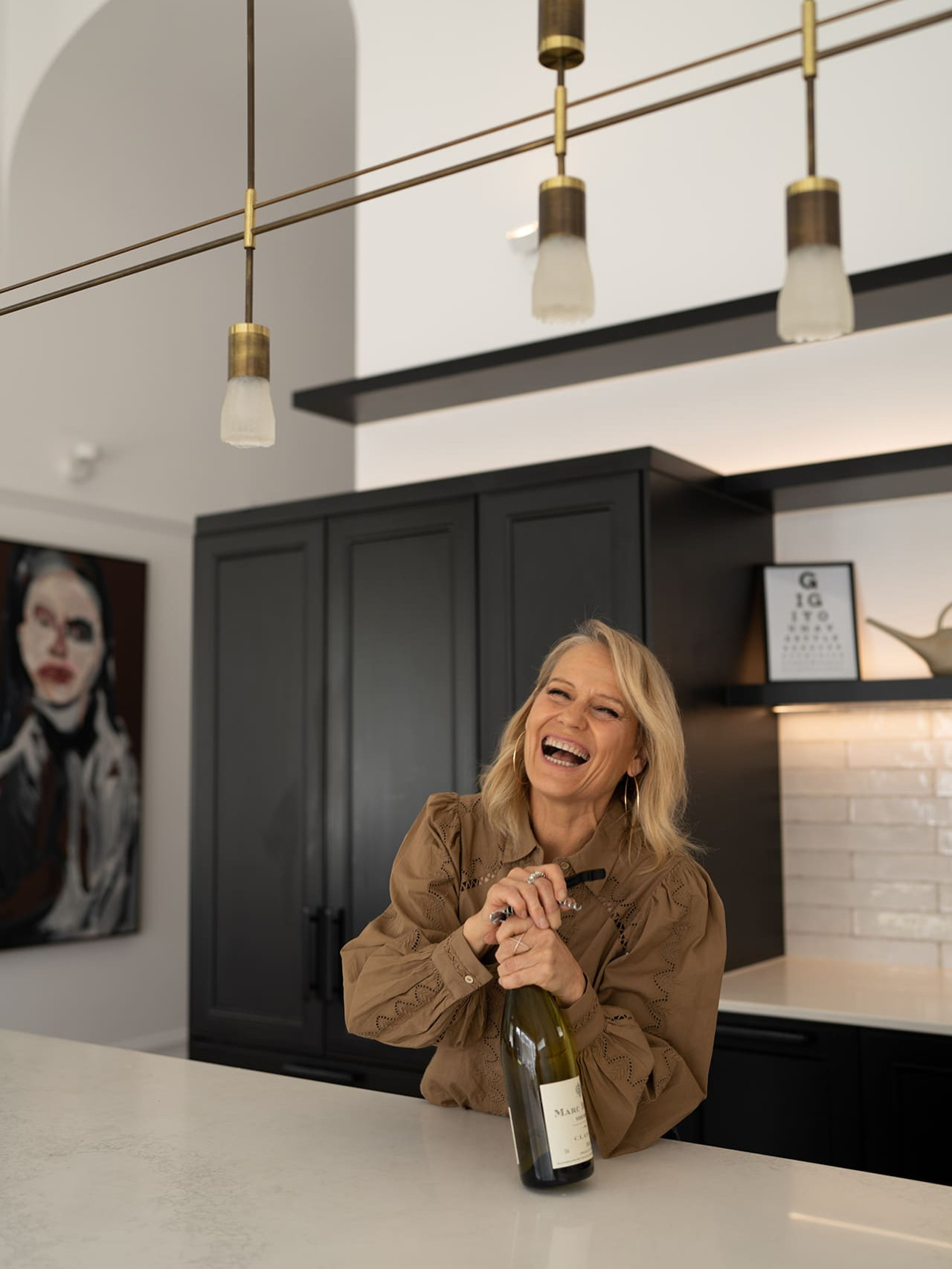 _
Talk with Shaynna Blaze
"My first Loire Chenin was a real eye-opener that I have never forgotten, a blend of freshness and exuberance."
Interior decorator and designer Shaynna Blaze is an Australian television star from the State of Victoria, which just happens to be the cradle of winegrowing in Australia. Aged 20, she developed a real passion for wine after an encounter with a Loire Chenin blanc. She agreed to give us her accessible, bubbly take on the subject in a conversation full of enthusiasm and laughter.


How important was wine to your family?
Not at all! My parents organised an alcohol-free party for their wedding, which just goes to show! The only bottles they bought were awful German sweet wines sold by a door-to-door salesman. Also, Australians drink a lot of beer and cans of wine cooler, a mixture of wine and fruit juice, usually sparkling and sweet. So it didn't bode well!

So how did you ultimately get to enjoy wine?
To earn some money, I waited tables in restaurants. There were no sommeliers so I had to learn about wine for the customers. I was 20 and I realised that the wine world could be fantastic. It was at this time that I drank my first Loire Chenin. I was lucky because in Australia in the mid-1980s it was still rare to find it. It was a real eye-opener that I have never forgotten, a blend of freshness and exuberance. I would compare all the white wines I subsequently drank to this particular wine. I was not able to go visit the vineyards of the Loire until 2017, but it was wonderful.

Australia's also a great land for wine…
It's true. I was born in Melbourne and I have always lived in the State of Victoria. In my 20s, I was 30 minutes away from the Yarra Valley, renowned for its Chardonnay and Pinot noir-based sparkling wines, like Chandon, Australia's best traditional method sparkling wine. I would often go and do tastings at weekends, and I'd also go to Macedon Ranges, less than an hour North-West of Melbourne which is famous for its mineral water springs and red wines that enjoy a really cool climate. Southern Australia is really magnificent – there are some fantastic hotels and very good restaurants there for drinking wine.

Who do you share this passion with?
With my friends, work colleagues and kids. My son Jess has started collecting wine – he has a great palate. My daughter Carly Anne has worked in restaurants and could probably have become a sommelier. We like going to places together where the owners really know about wine, like the restaurants belonging to my friend Matt Moran (Ed. a chef who is very often featured on Australian television). We enjoy some share plate meals and let ourselves get carried away with the pairing suggestions. This is also true of one of my favourite restaurants in Melbourne, Hazel, which has an incredible wine list.

I have no French wine in my EuroCave wine cellar because… it's all been drunk! (laughs)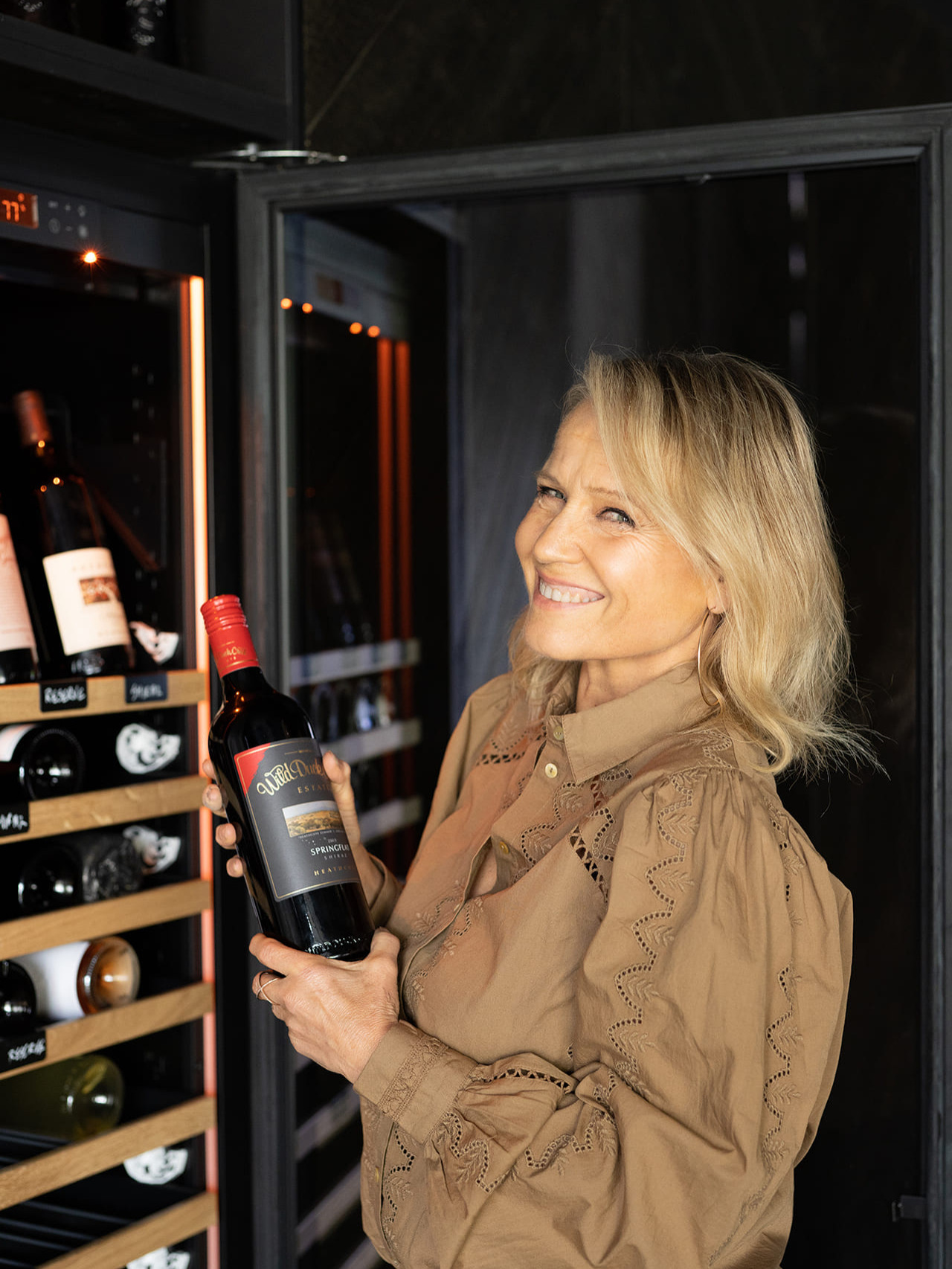 A little bird told me you have a EuroCave wine cabinet…
I have two! (laughs), one large, one small. The largest one is in my garage which is also a space that has been designed for welcoming friends and having fun. We take the cars out, open the door and, in a lovely wooden setting, I host tastings, I am looking forward to doing them with local sommeliers and wine makers.

Mainly local wines, especially red wines from the Beechworth area, another wine region in Victoria State. These are Shiraz (Syrah), Grenache, Cabernet Sauvignon and my favourite, Pinot noir, wines. There are wine bars where you can sit down for a bite to eat, discover wines and take them home. I don't have any French wine, though, because…… it's all been drunk! (laughs)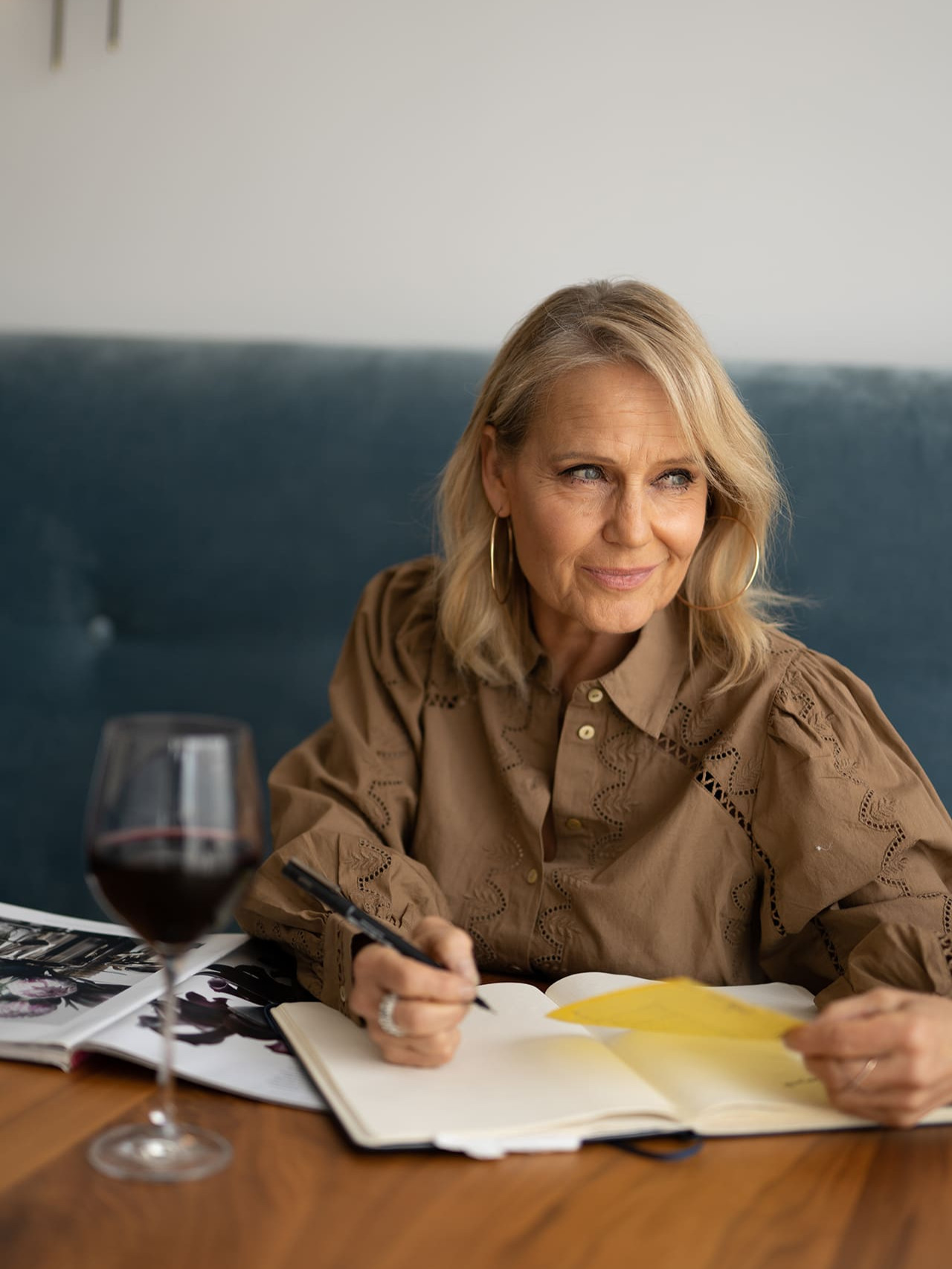 My survey on Instagram asking people if they preferred stemware or stem-free glassware unleashed lots of very passionate reactions!

How did you come to design wine glasses?
I regularly work with Harris Scarfe, a retailer selling household goods founded in 1849. I have designed bed linen and tableware for them, including a series of stemless and stemmed wine glasses, "Lorne" and "Criss Cross", the later comes in two in two colours. I wanted glasses that were accessible to everyone's style.

The fact that they were not stemware sparked a national debate…
It's true! I posted a survey on Instagram to ask people if they preferred stemware or stem-free glassware. It unleashed lots of passionate reactions, with a lot of articles in the newspapers, it was completely crazy! I realised that it was very generational through my own daughter, who voted for glasses with no stems, whereas I only like stemware. The world was divided into two, the under and over 35s! (laughs)

I recently discovered orange wines and loved them.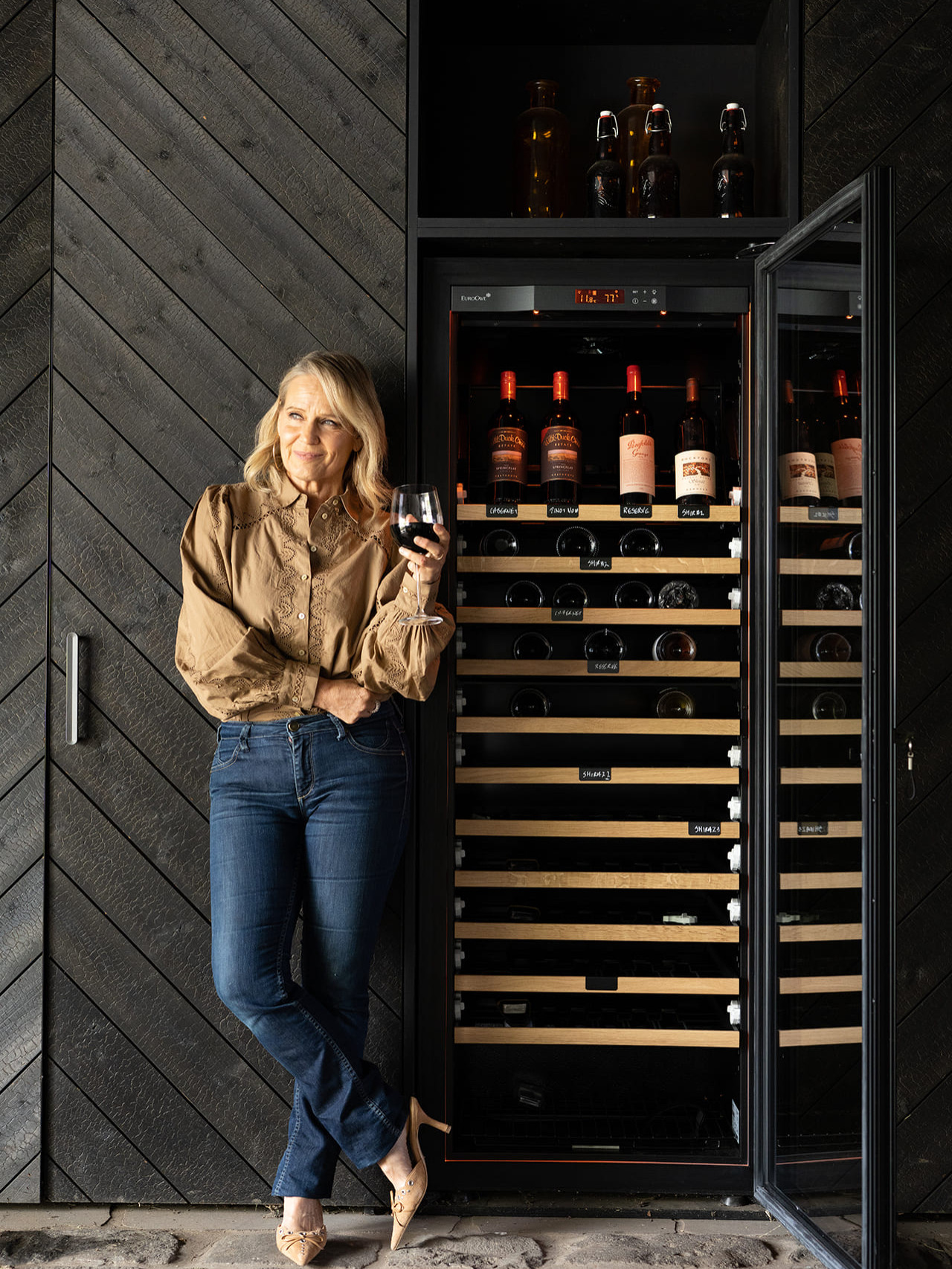 What are your favourite wines?
I prefer white wines because I like to drink nicely chilled wine. I also recently discovered orange wines and loved them. I also like Champagnes when they have low sugar content, like Bollinger. I struggle a little with natural wines because they are not very widespread in Australia and in my opinion, they are not very good, with that quite distinctive barnyard smell.

If you could only take three bottles to a desert island, what would they be?
A Loire Chenin blanc as a reminder of my first aesthetic wine shock. A rosé by Château Miraval (Ed. acquired in 2008 by Angelina Jolie and Brad Pitt, now at the centre of a legal battle since the couple's divorce) and the Alta label, a Pinot noir from the Victoria region.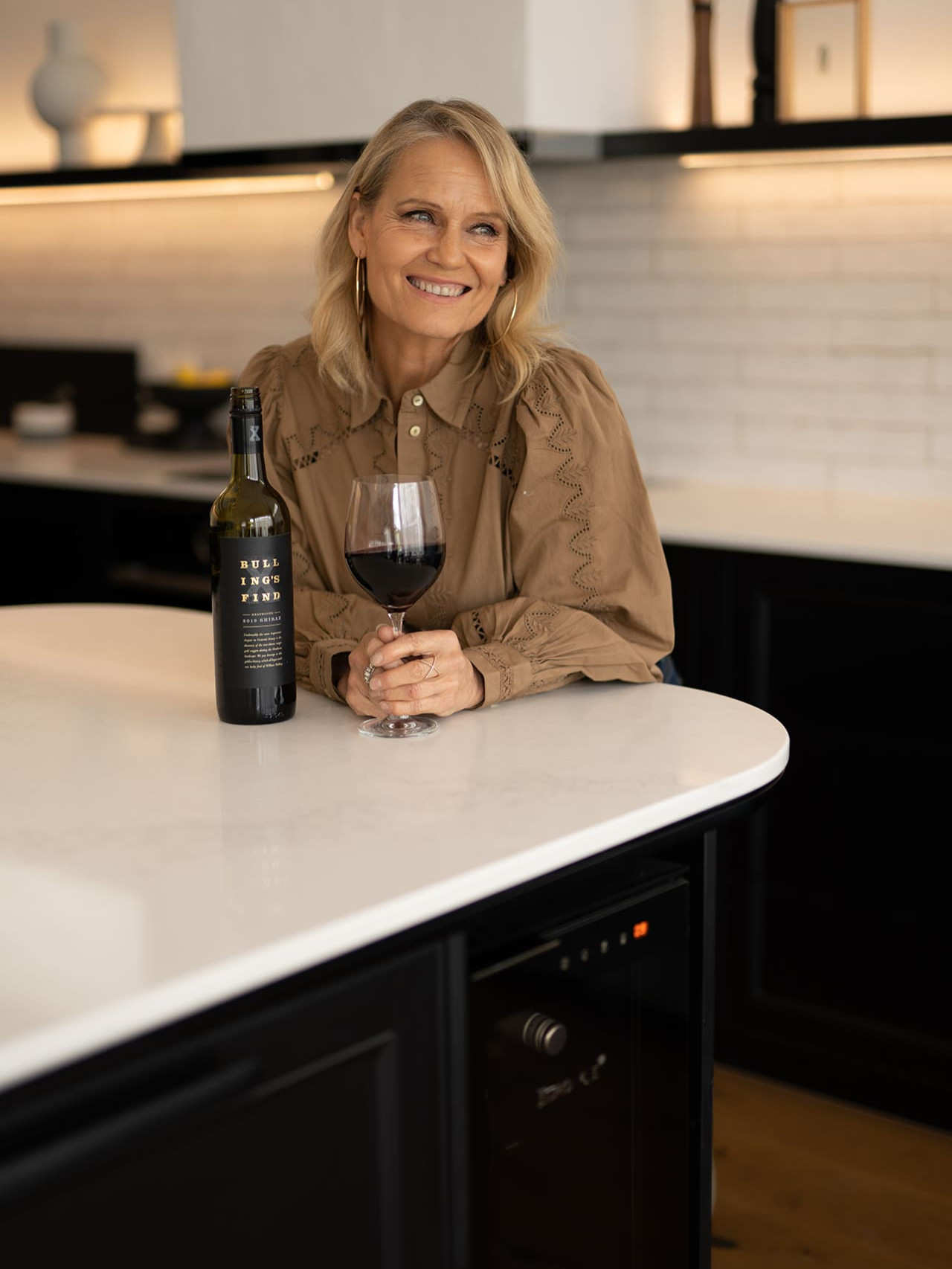 You can enjoy sharing wine intimately, with one other person, when you prepare a meal and dance in the kitchen with a glass in hand.

When is the best time to savour a glass of wine?
At dusk, with friends around a large table for a dinner party. With friendship and laughter as we watch the sun go down. You can also enjoy sharing wine intimately, with one other person, when you prepare a meal, turn the music up loud and dance in the kitchen with a glass in hand.
Prolong the experience
Discover the profiles of creative and influential personalities explaining their relationship with wine, the secrets of sommeliers or legendary establishments.
When you subscribe to the magazine, your email address is only used to send you our content newsletter. You can unsubscribe at any time by clicking the unsubscribe link included in each newsletter. To find out more about management of your data and your rights, click here .