No need for large amounts of space with this built-in wine cabinet.
The flush-fitting wine cabinets in the Compact collection fit perfectly into kitchens since their dimensions are determined by kitchen designers.
Usage
Maturing
single-temperature
Serving
multi-temperature
Size
Flush-fitting
Large
Small
Capacity
38 - 167 bottles
All bottle sizes
Country of production
Origine France Garantie label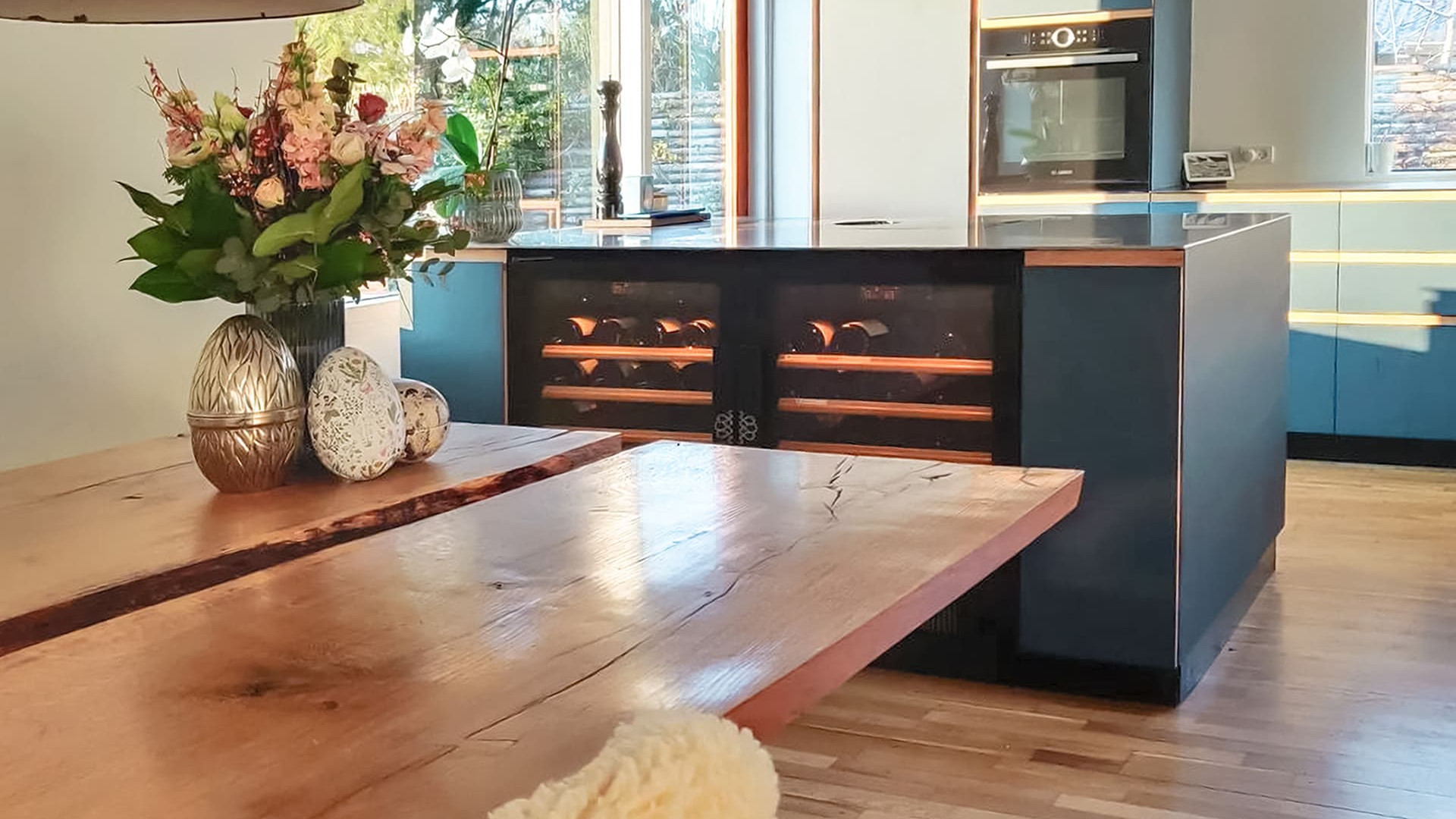 Quick and easy to flush fit.
Our small wine cabinet in the Compact collection is specifically designed to be flush-fitted, so they have optimal ventilation of your appliance.
Flush fit your cabinet in complete confidence, with no compromise on your wine's storage.
H818-834*W594*P555mm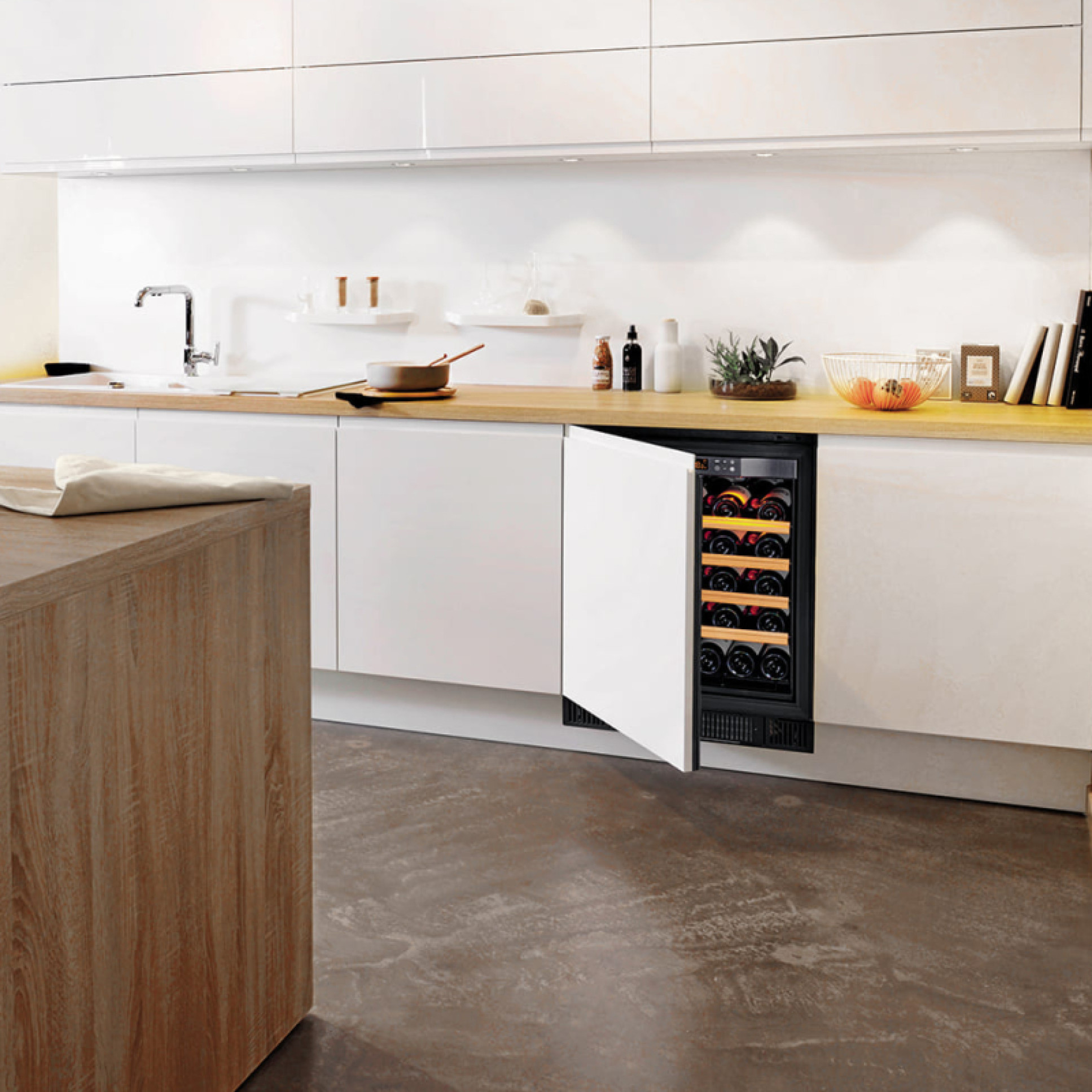 Perfect harmony.
Compact is available with full glass door or glass door and black frame or can be completely concealed behind a door which matches the kitchen units, for a minimalist design.
The art of entertaining.
Compact fits perfectly under a work top and in this way enhances the appearance of the kitchen in an understated way to make it a place completely dedicated to conviviality.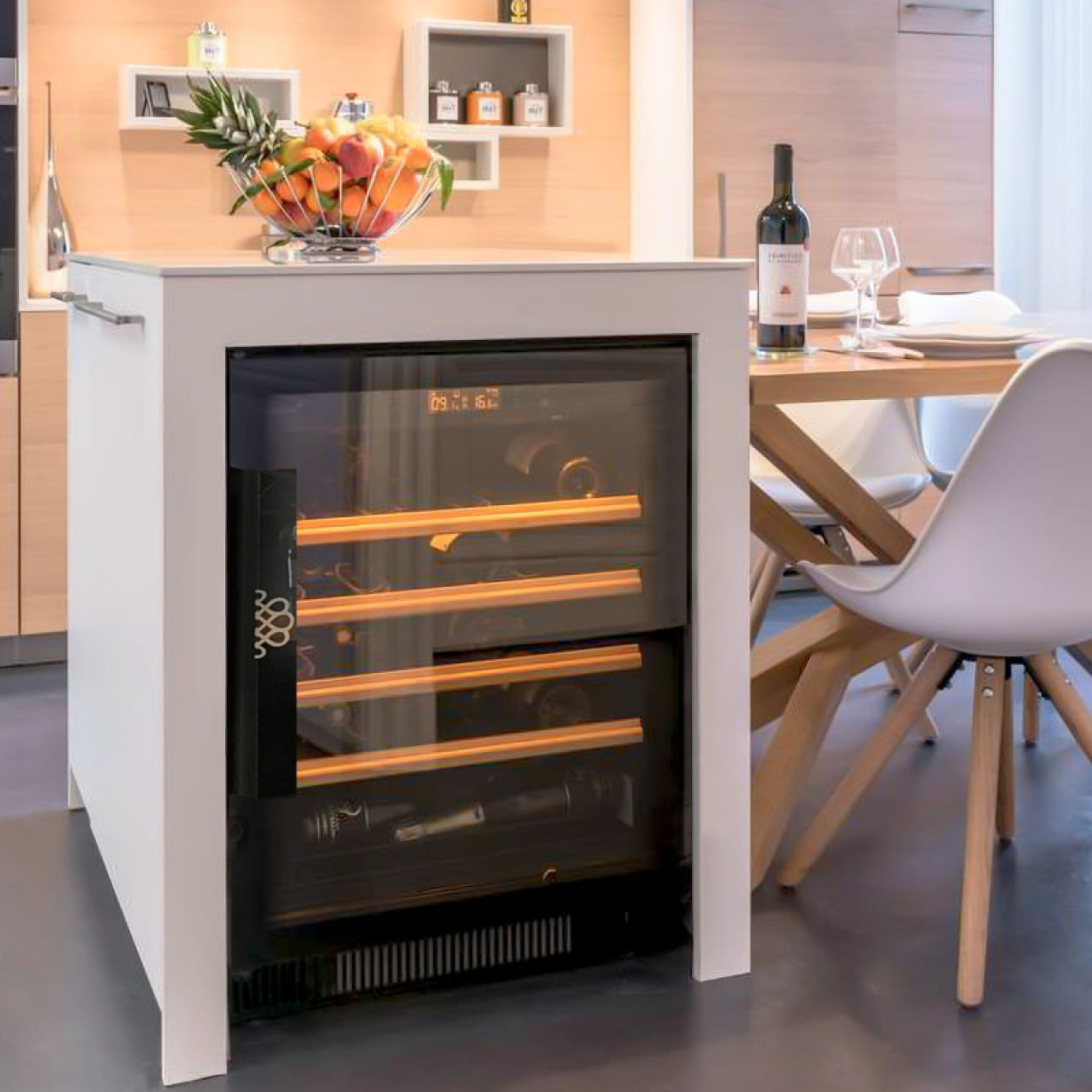 Also available in a large model to store up to 167 bottles, Compact integrates beautifuly with other kitchen furniture.
H1778-1794*W594*D595mm
This model requires an opening to allow air to excape from the back.
Storage
Make way for modularity.
Combine the different shelves in your wine cabinet to suit your requirements: storage shelves for maximum capacity or sliding shelves for easier access to your bottles.
To display a few of your best bottles, opt for the display kit, combining storage and inclined bottle display, all on a sliding shelf.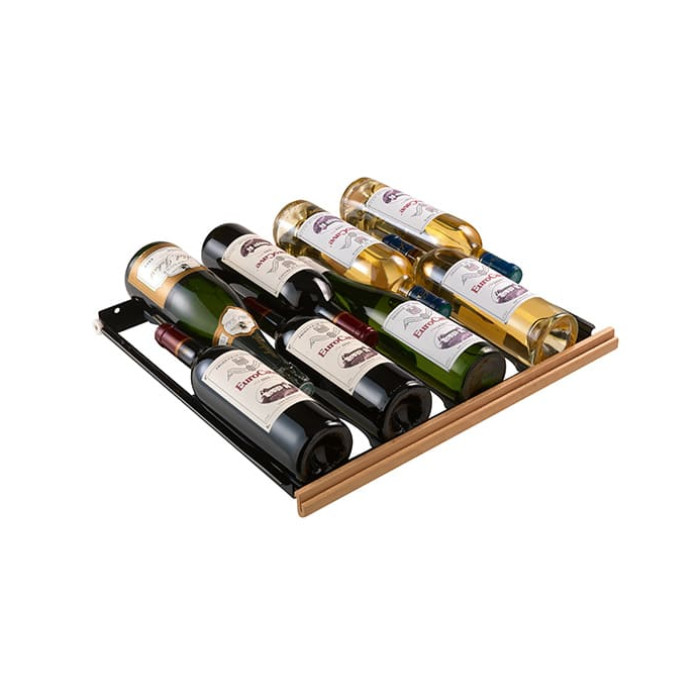 Sliding
8 bottles or 6 champagne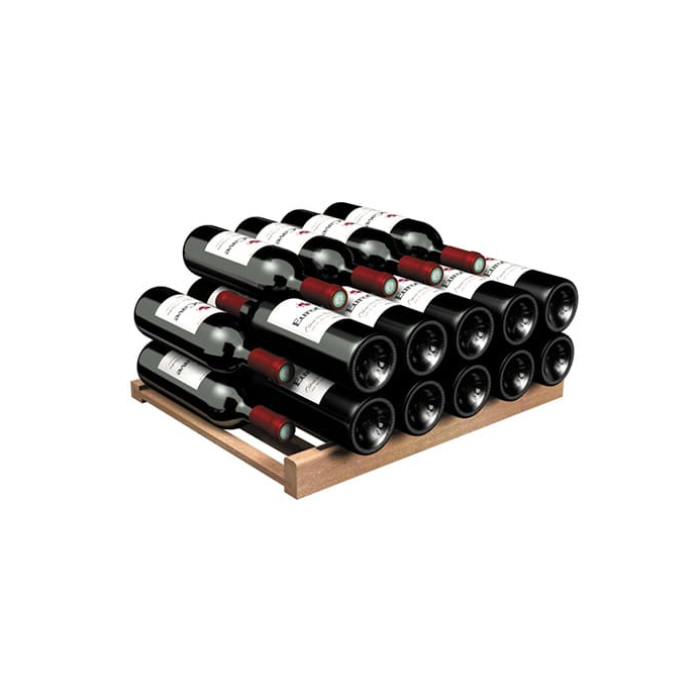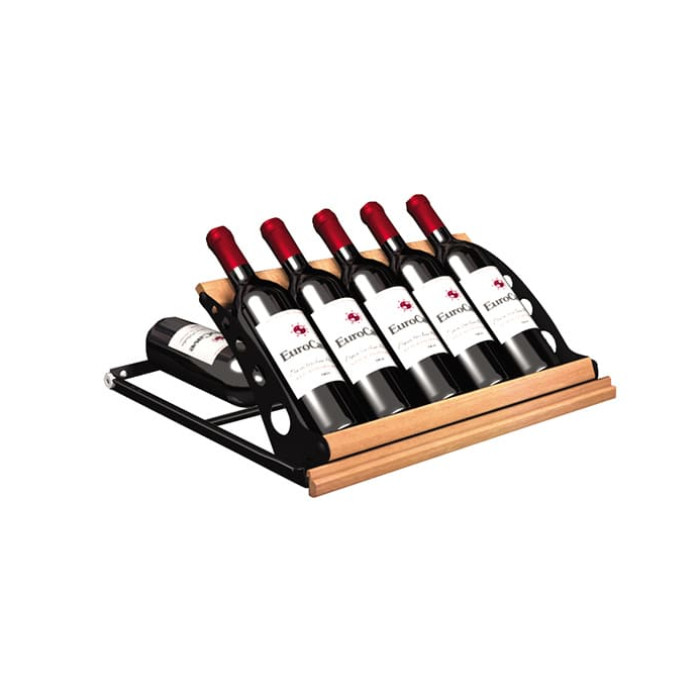 Functions
Your wine's best friend.
Compact 1-temperature.
This model can be set from 5-20°C / 41-68°F. Compact recreates the exact same conditions found in a natural cellar to mature your wines in the best possible conditions: controlled temperature , suitable humidity thanks the walls in embossed aluminium, constant ventilation, UV protection, extra protection from vibration owing to the actual design of the cabinet.
Compact multi-temperature.
The multi-temperature Compact model maintains your red, rosé and white wines at an ideal serving temperature, all inside one same cabinet.
Temperature staggered from 5-22°C / 41-72°F covering up to 10 temperature zones. (5-12°C / 41-54°F for the bottom and 15-22°C / 59-72°F for the top).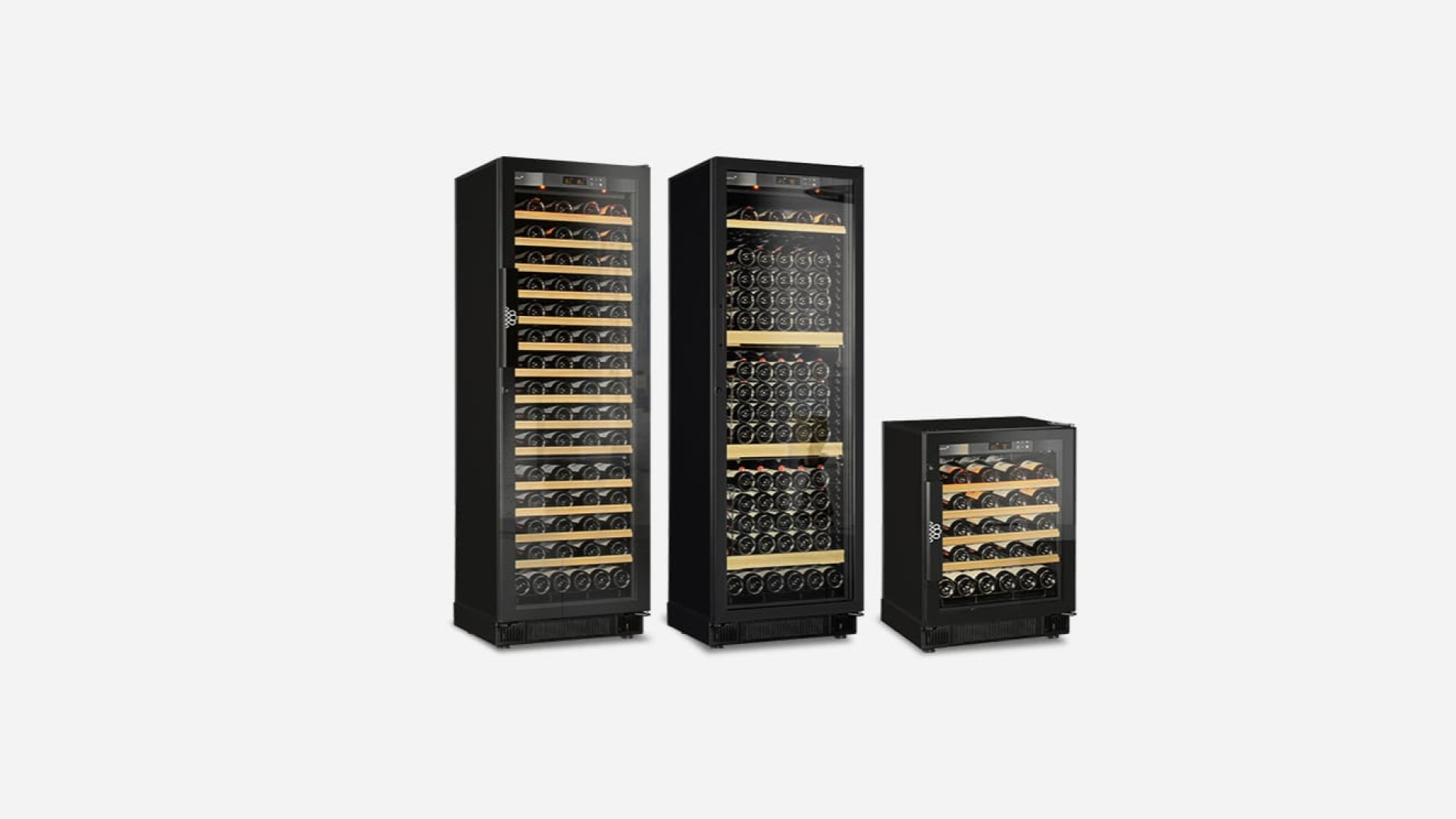 Because choice is a luxury.
For all cabinets in the Inspiration collection, it is possible to choose the size and door finish. With a high degree of customization possible, Inspiration also allows you to select and position the racking inside the cabinet according to your requirements.
Safety
Peace of mind.
The display of the actual temperature and humidity inside your cabinet, together with 5 visual alarms, are there to warn you if something is not right.
Controlled temperature
controlled humidity
UV-screened door
sensor fault alarm
temperature alarm
open door alarm
charchoal filter alarm
humidity level alarm
41dB noise emission
wintering function
lock
flush-fitting
individual bottle support
Raise your expectations.
Discover Inspiration, our other flush-fitting wine cabinet collection.