Purchase guide
How to choose a wine cabinet?
Usage, functions, size, capacity or design, now it's up to you to configure the wine cabinet of your dreams.
EuroCave, creator of the wine cabinet, designs cabinets which meet your needs and adapt to all locations. To find your ideal wine cabinet, it is important to ask yourself seven essential questions.
1 - How do you want to use your wine cabinet?
Wine maturing cabinet.
You are a serious wine collector and you only want to store your fine wines until they reach their prime: the single-temperature maturing cabinet is the ideal solution. It has a constant temperature of 12°C* and controlled humidity.
*Temperature gradient of 0.5°C - 3°C according to the ranges and their technology.
1 temperature
One single temperature for maturing your wines, regardless of their colour, in the same conditions as a natural cellar: controlled temperature and humidity, solid or glass doors with highly effective UV screening, constant ventilation and solid bases to reduce vibration... Nothing is left to chance for optimal wine storage.
Wine-serving cabinets.
You love wine and good food with friends and you want to celebrate important moments in your life (birthdays, christenings...). The wine-serving cabinet is made for you. It allows you to drink your wine regularly in the best possible conditions.
2-temperature
White wine is not served at the same temperature as red wine. This wine cabinet has two separate temperature compartments, each dedicated to its wine colour.
Before serving, red wines can be stored at 15 - 20°C. Whites, rosés and champagnes at 5 - 13°C.
3-temperature
Everything is possible with this wine cabinet equipped with 3 separate compartments for storing, cooling and bringing your different wine colours and champagnes to the correct temperature.
- Upper zone settable from 15°C - 22°C,
- Central zone settable from 9°C - 15°C,
- Lower zone, the temperature of which is determined by the temperature of the storage zone.
Multi-temperature
Store, in one same wine cabinet, all your bottles as close as possible to their ideal serving temperature.
The temperature, staggered over the entire height of the cabinet and settable from 5 - 20°C, allows you to serve a Bordeaux stored at the top of the cabinet at 17°C, a Burgundy stored just below at 16°C and a Pinot Gris at the bottom of the cabinet at 11°C.
Key information
You can also store all whites OR all reds inside the single-temperature cabinet, settable from 5 - 20°C, in order to have your preferred wine colour as close as possible to its ideal serving temperature.
2 - How many bottles do you want to store in your wine cabinet?
Determine the ideal size of your wine cabinet.
Depending on whether you are a serious collector or a new wine lover, EuroCave offers several cabinet sizes allowing you to store 28 - 234 bottles*. Whatever selection of bottles you have - Bordeaux, Burgundy, Alsace or Champagne – our individual, detachable "Main du Sommelier" bottle supports and our repositionable shelves allow you to store all sizes with no restrictions.
*the capacities given are calculated based on Bordeaux bottle sizes.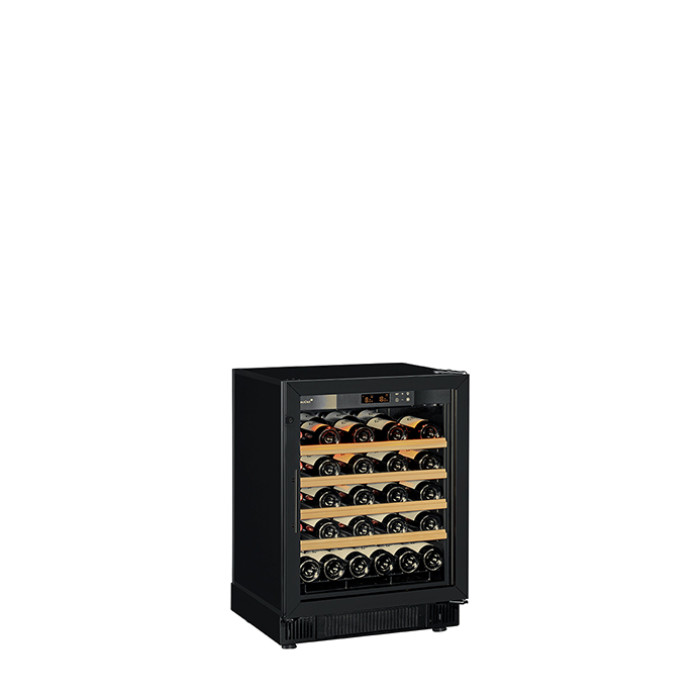 Small wine cabinets for storing up to 92 bottles according to the collections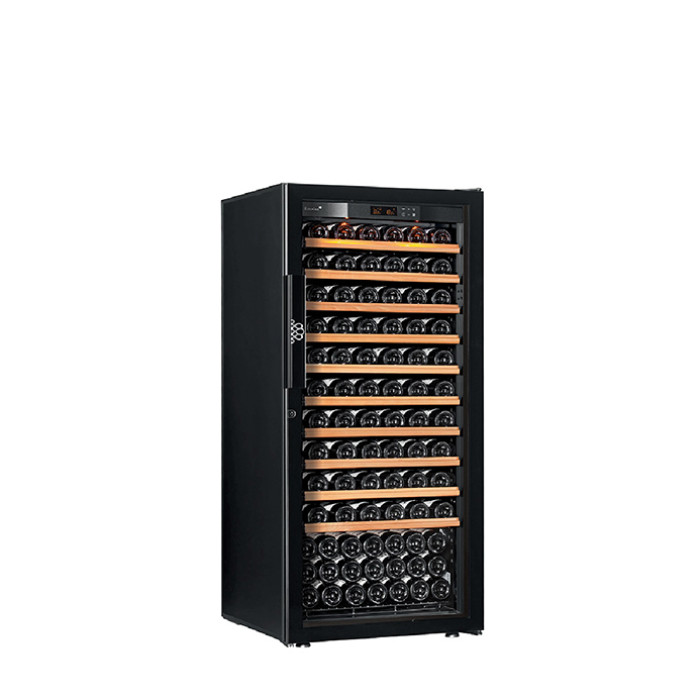 Medium-sized cabinets
for storing up to 169 bottles according to the collections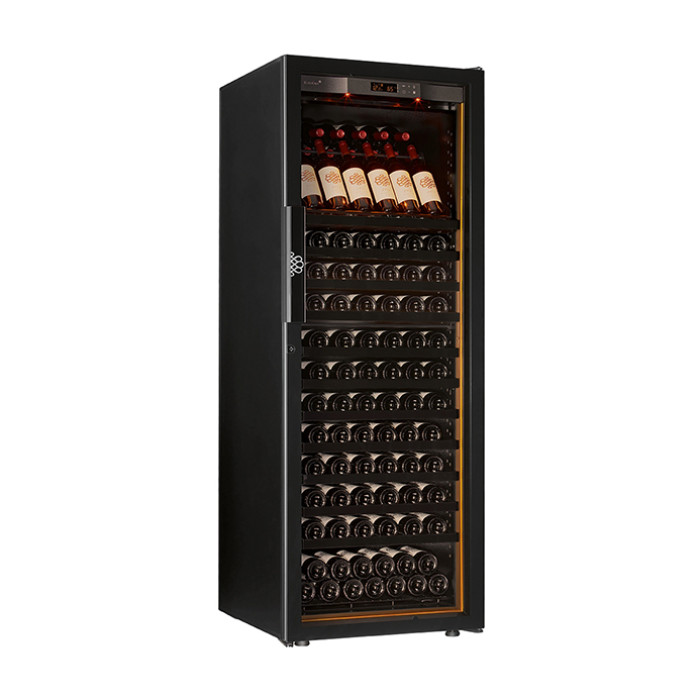 Large wine cabinets
for storing up to 234 bottles according to the collections
Key information.
We recommend you fill your cabinet to at least 75% of its capacity for optimal performance. Storing too many bottles wastes unnecessary energy in the long term.
3 - Where am I going to install my wine cabinet?
An aesthetic and also a functional decision.
The design of your wine cabinet depends on which room you are going to install it in, according to whether you want to display your bottles or keep the cabinet out of sight. EuroCave offers you the possibility of configuring your cabinet so that it best corresponds to your requirements in terms of finishes, doors, interior layout. The temperature of the room in which your wine cabinet will be installed also effects performance. EuroCave wine-maturing cabinets are all fitted with a frost-protection device.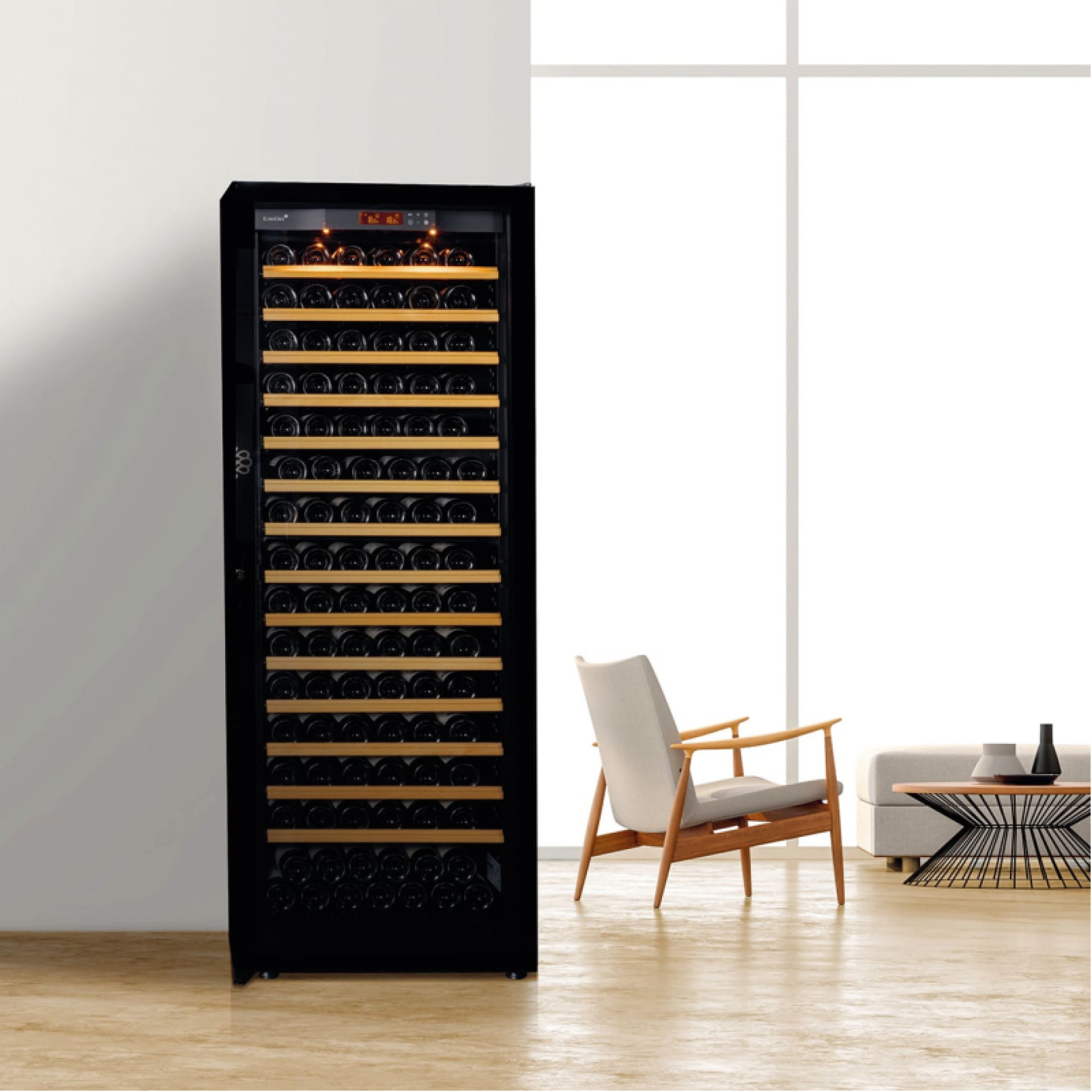 In a living area such as a living room, dining room or office.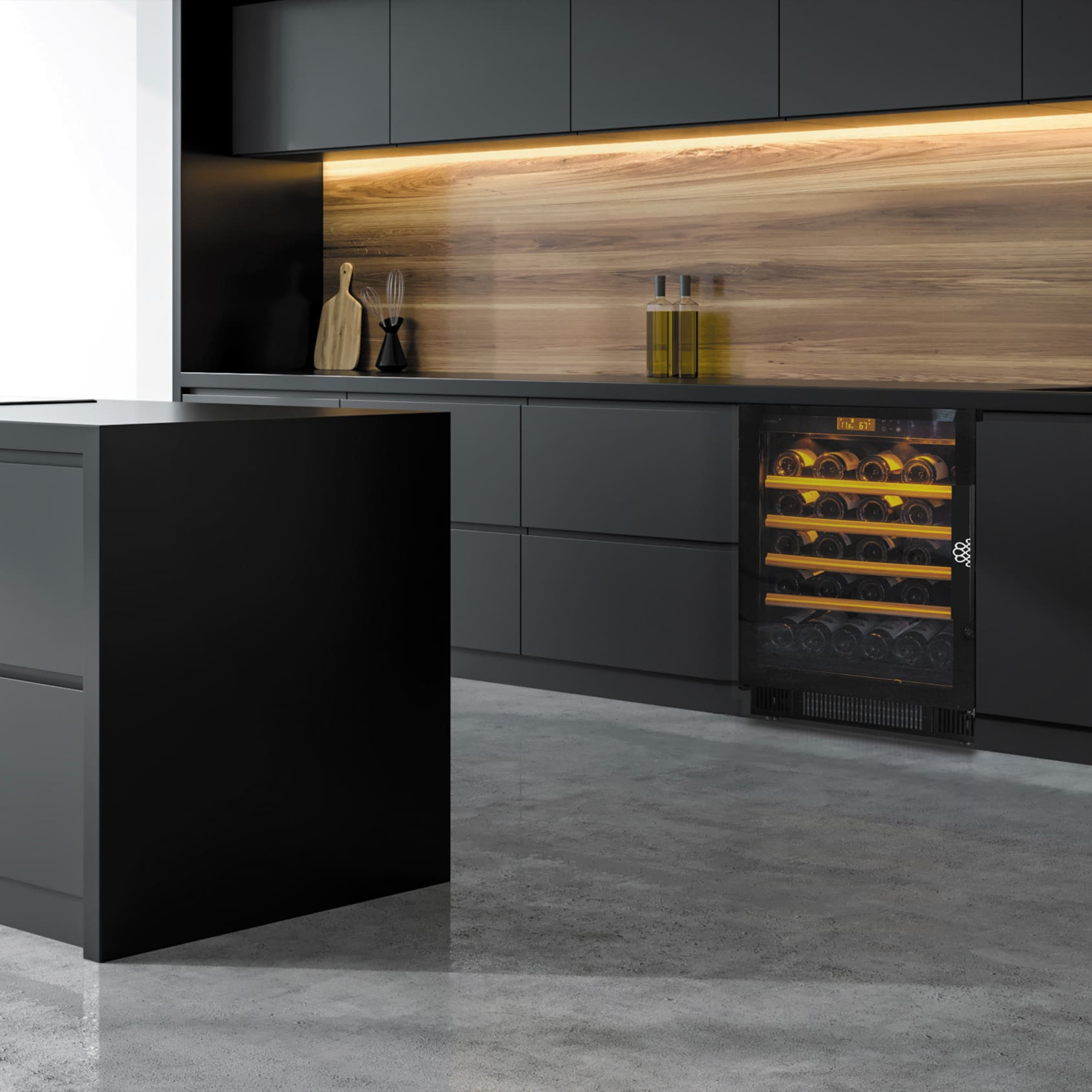 In a fitted kitchen or in an island in a living room.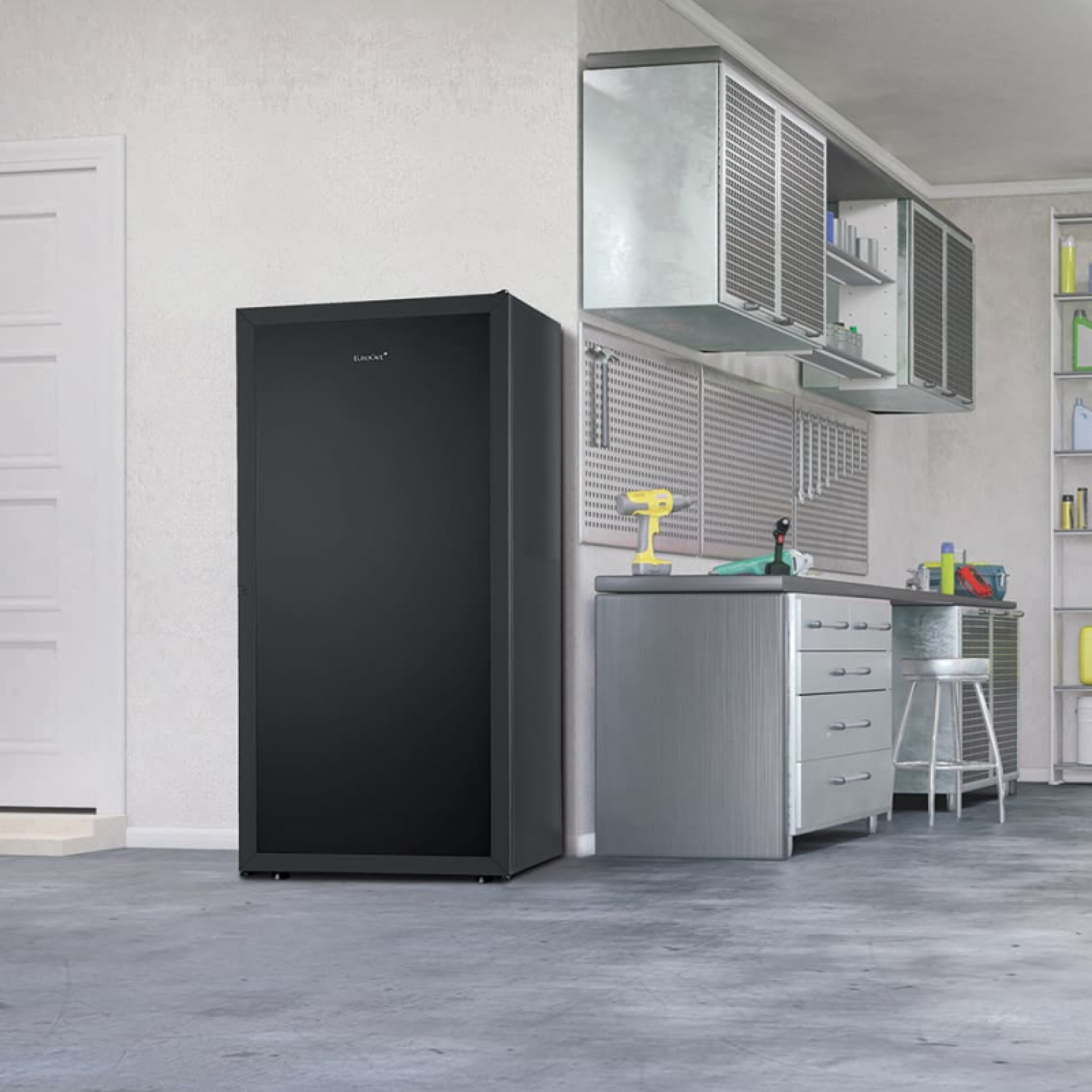 In a non-living area such as a garage, cellar, utility room or store room.
Key information.
It is important not to place your wine cabinet in an area close to a source of heat or subject to direct sunlight, for optimal performance.
4 - Free standing, flush fitting or built-in? What type of installation is suitable for my space?
EuroCave wine cabinets adapt to your layout and space constraints.
According to the living space you have chosen and the layout of the premises, you will need a flush-fitting wine cabinet for your kitchen, for example, a wine cabinet built into a custom-made unit for your living room or a free-standing cabinet for simply installing in your storeroom.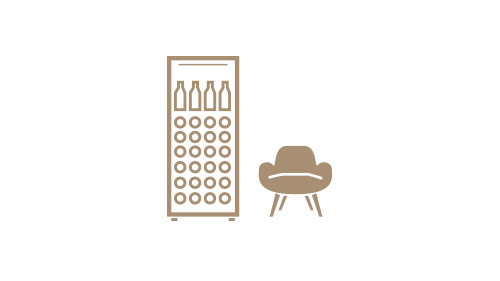 Key information.
Our "free standing" cabinets can also be flush fitted but some rules must be observed, notably with regard to electrical installation and air circulation. Please contact your store for further details.
5 - Which wine cabinet door should I choose?
Your wine cabinet's door must meet two essential criteria.
- A design suited to your decor.
- UV protection, since prolonged exposure to light can break down tannins and eventually alter the taste of wine.
- Effective insulation to guarantee a stable temperature and reduce energy consumption.
Our solid doors for complete UV protection.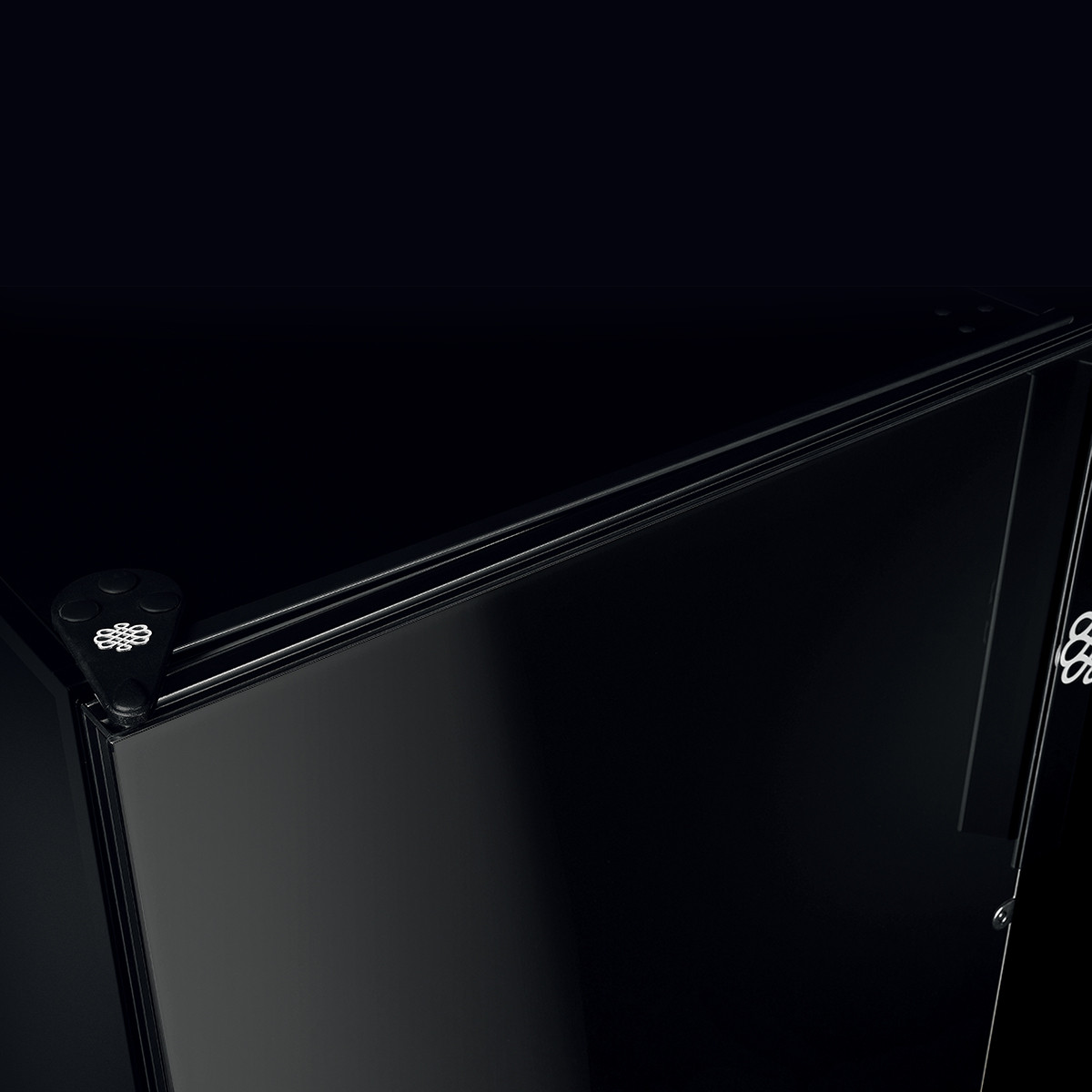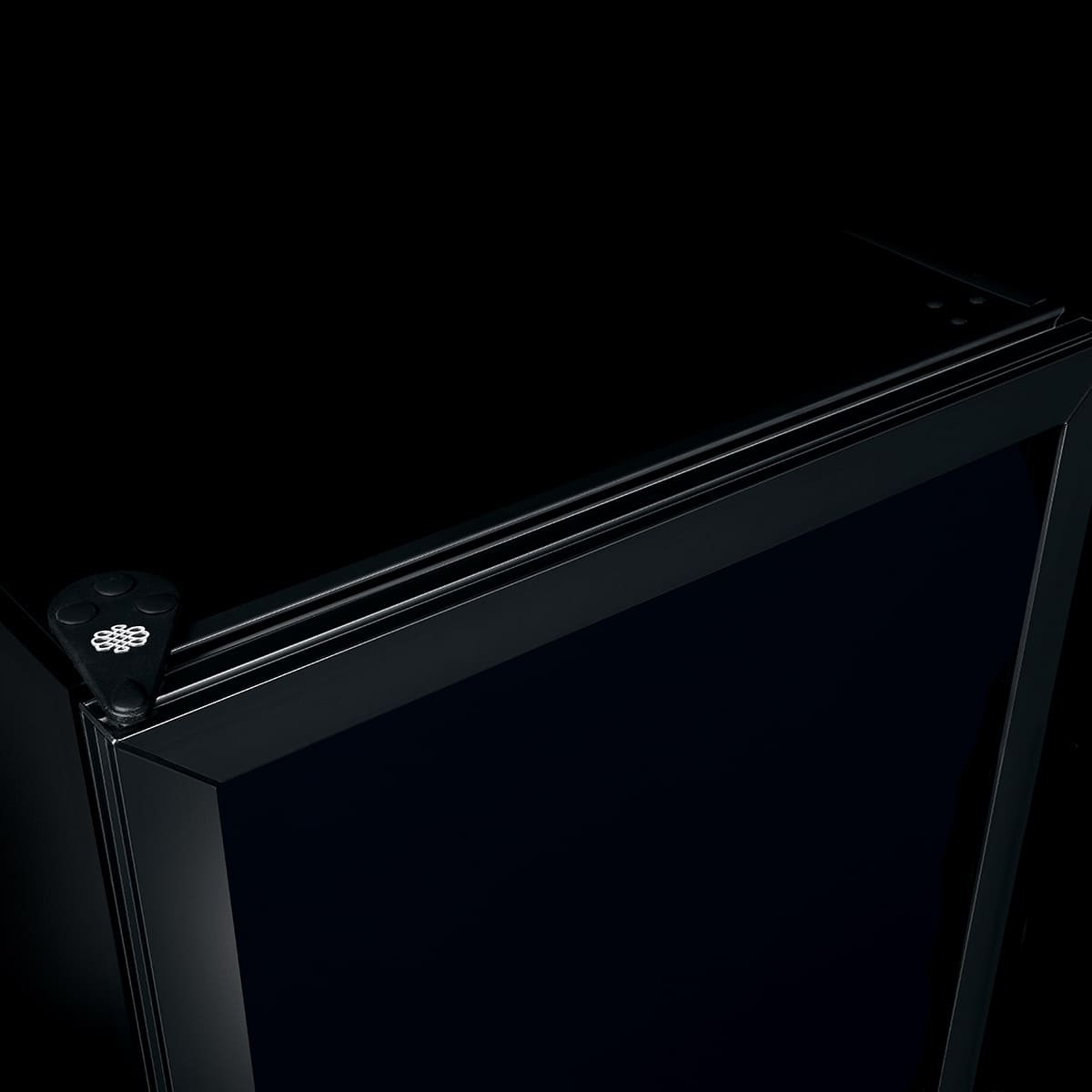 Solid door
black frame with or without a handle
Our solid doors guarantee complete UV protection. Reinforced insulation also allows significant temperature fluctuations to be controlled.
Our glass doors screen out up to 99% of UV rays.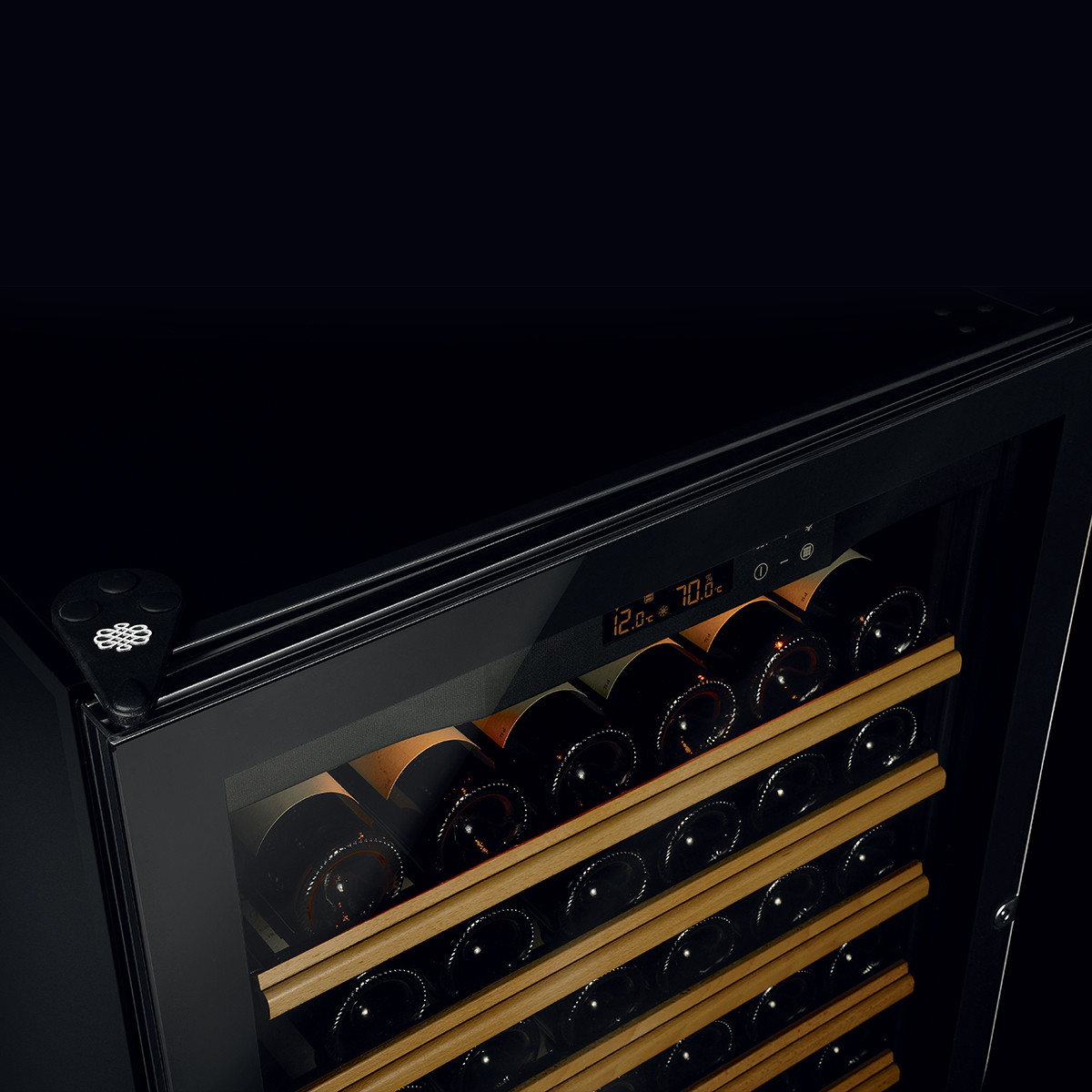 100% glass door
Full Glass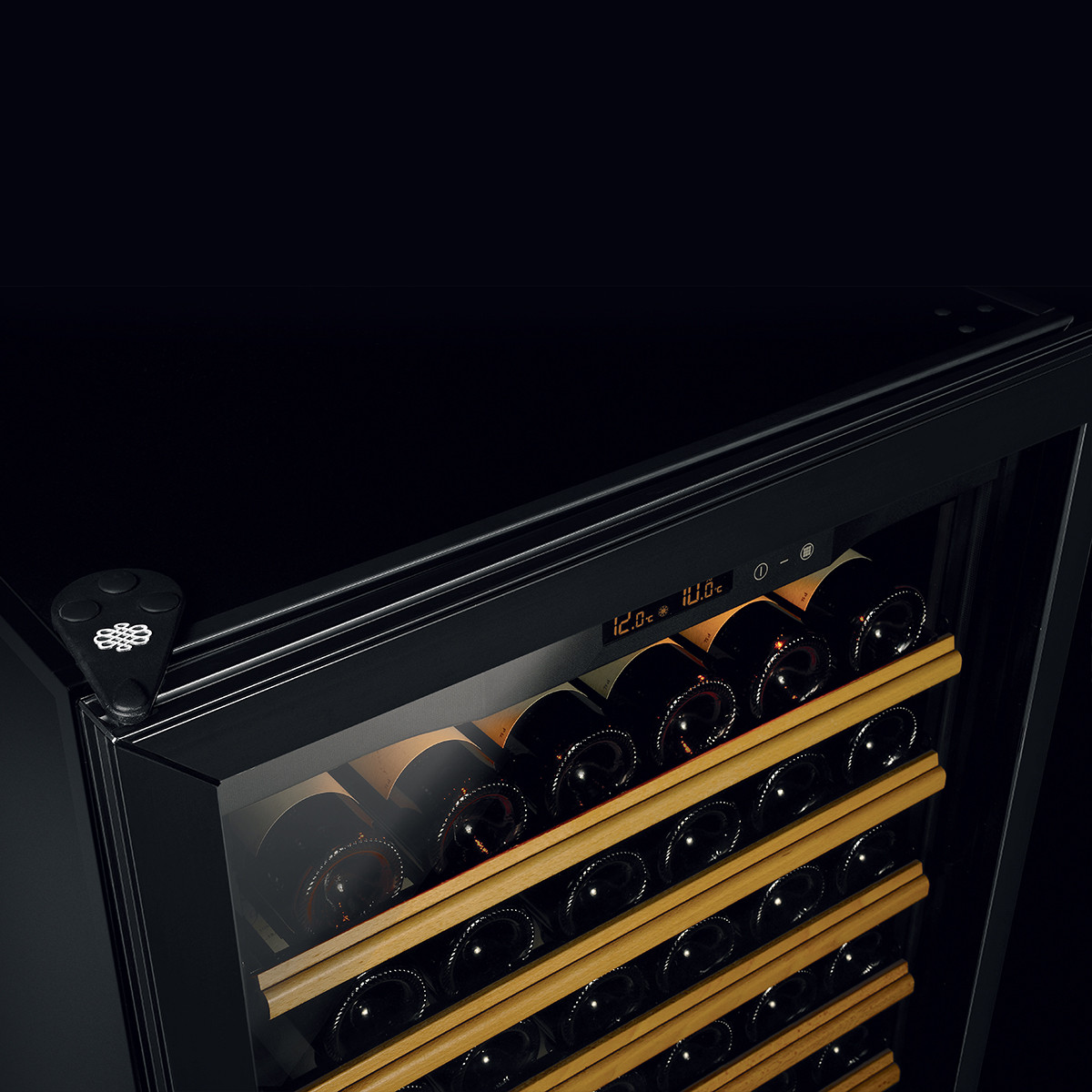 Glass door
black frame with or without a handle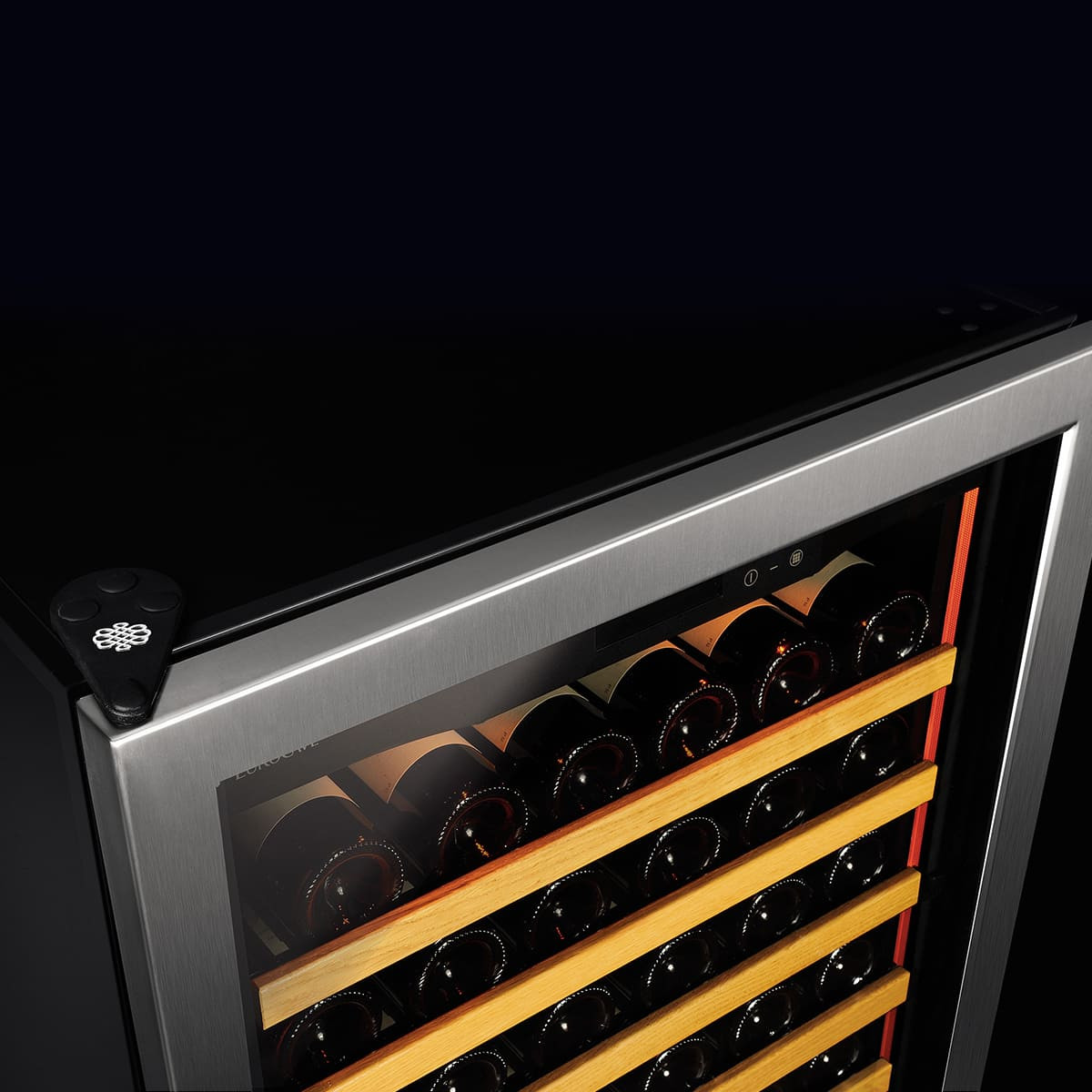 Glass door
stainless steel frame with handle
Double or triple-glazing, reinforced with argon or krypton gas, our glass doors screen out up to 99% of UV rays.
Our technical doors for a harmonious effect.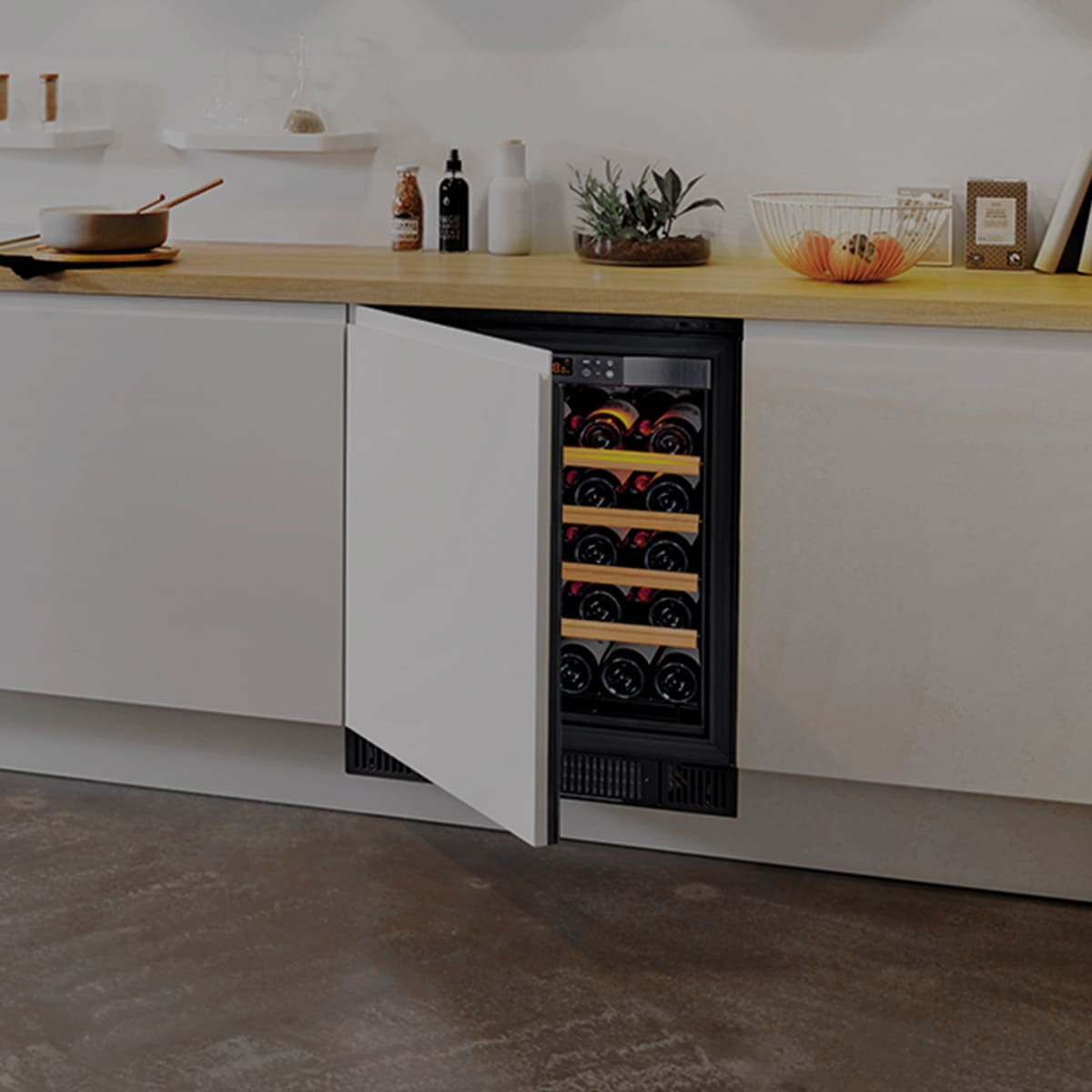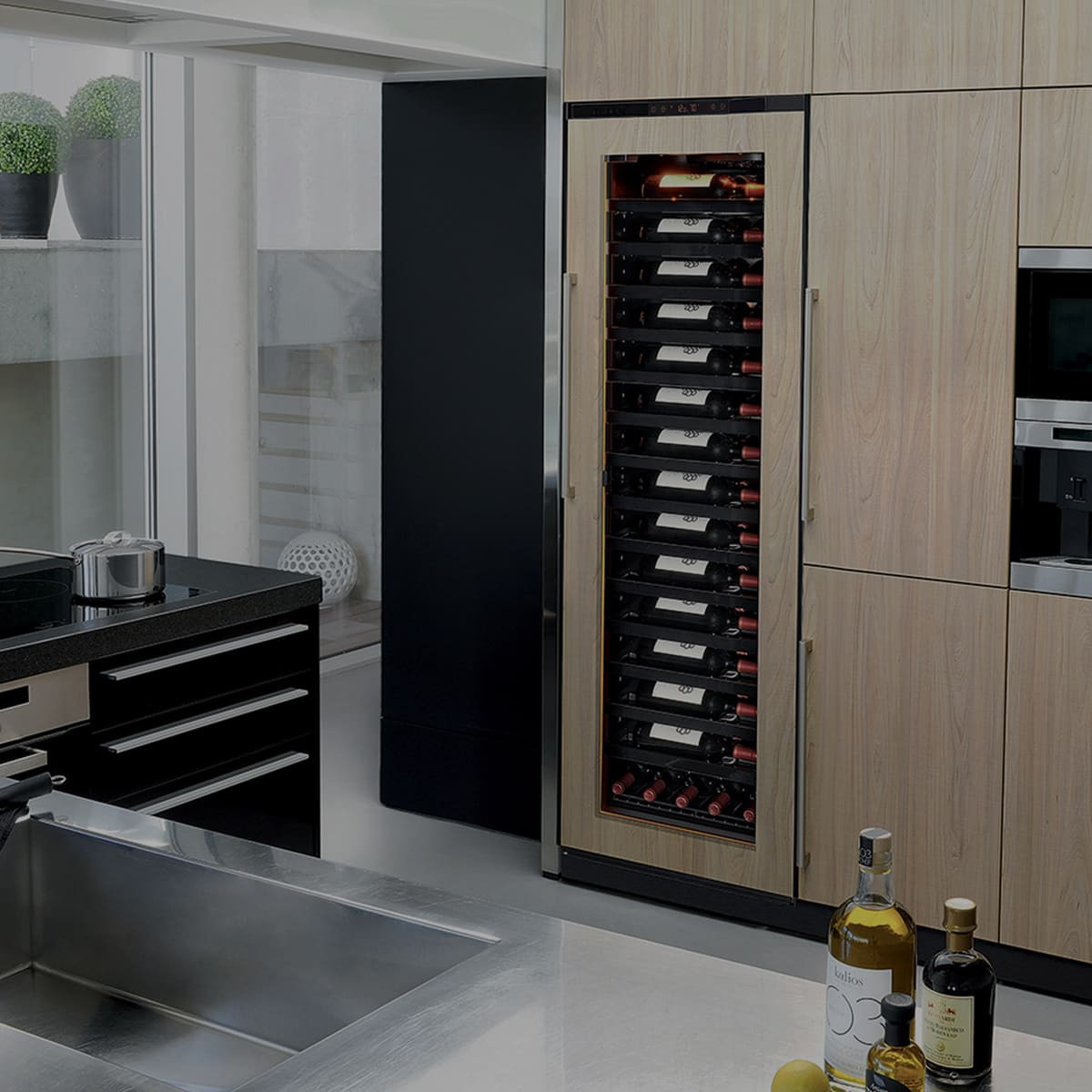 Our technical doors allow you to affix your own aesthetic panel so that your wine cabinet fits in perfectly with your kitchen units or custom-made unit.
Key information.
EuroCave doors are fitted with a lock. Depending on where you are going to install your cabinet, it can be useful to be able to choose the direction of opening of the door. EuroCave doors are either reversible or the door's direction of opening can be chosen when ordering.
6 - Which interior layout should I choose?
Suitable bottle storage, something which should not be overlooked.
Storage designed specifically for wine is one of the criteria for effective wine storage, regardless of the type and shape of your bottles. EuroCave shelves, fitted with patented, individual and detachable "Main du Sommelier" bottle supports, allow you to store all bottle sizes - Bordeaux, Burgundy, Alsace and Champagne - without restrictions and in complete safety.
Shelves for all your needs.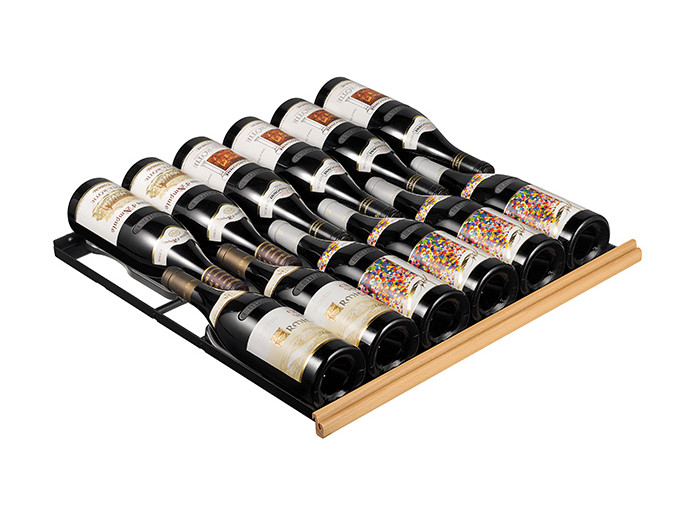 Sliding shelves
Organise your cabinet for easy bottle access.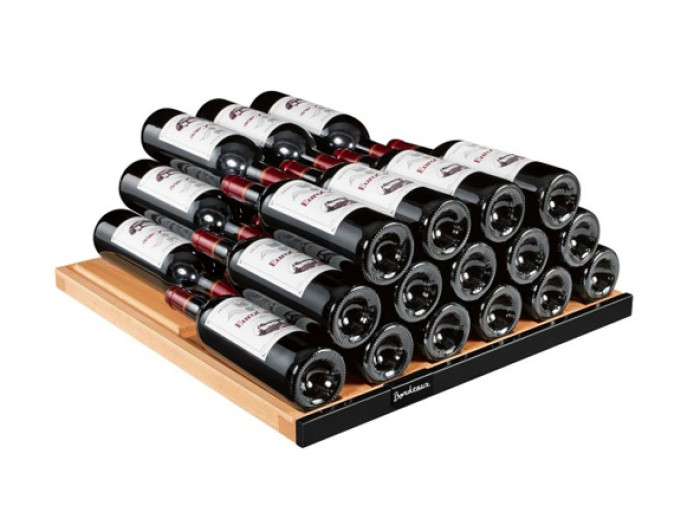 Storage shelves
Store a maximum number of bottles whilst retaining optimal stability.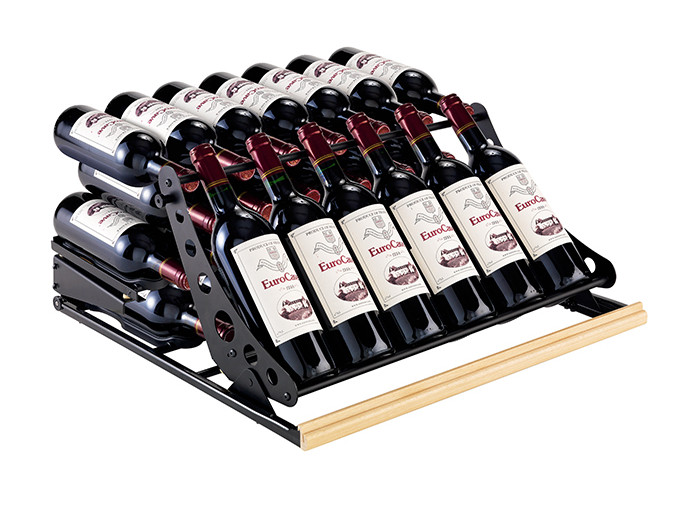 Display shelves
Display your bottles to highlight your best labels whilst retaining storage space at the back.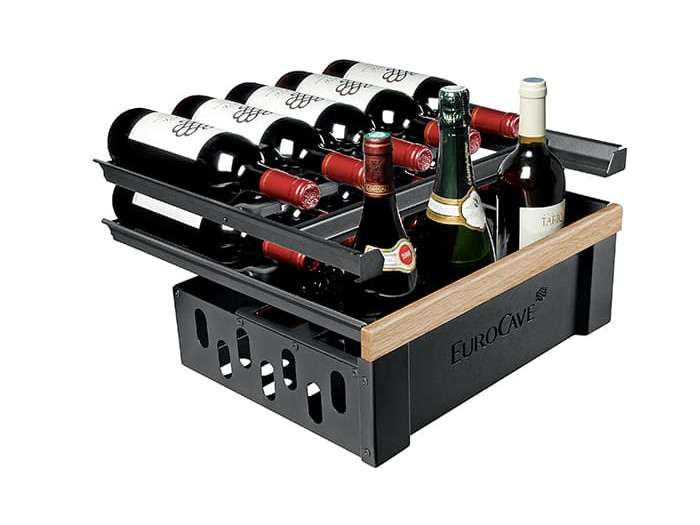 Serving shelves
Store your open bottles upright in your cabinet.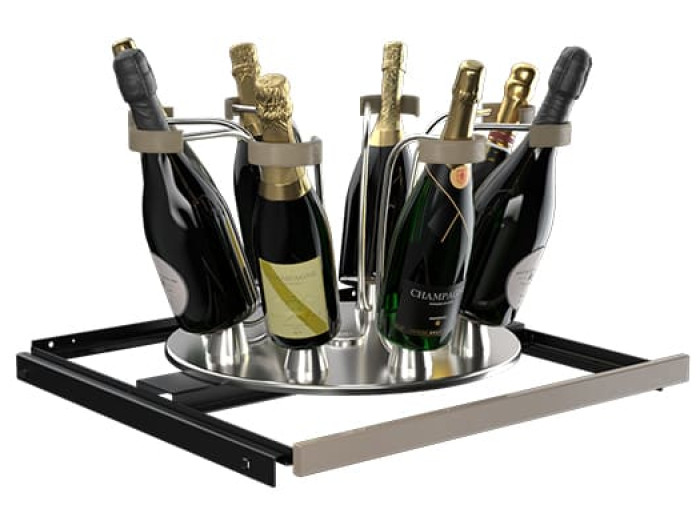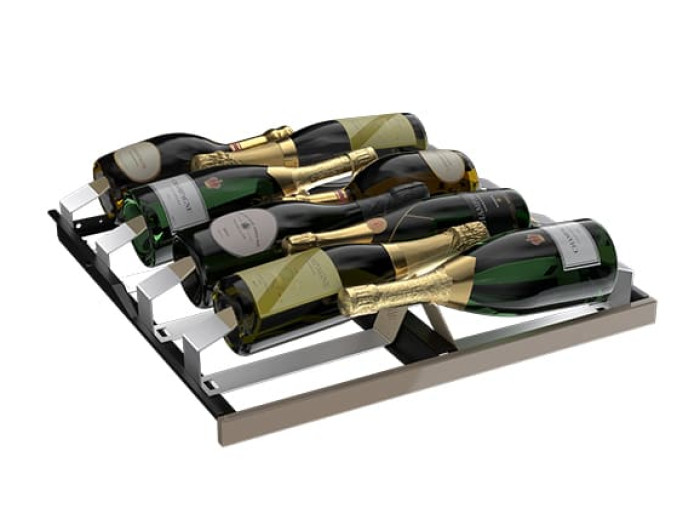 Meticulously designed details and luxury finishes for outstanding presentation.
Key information.
The actual design of EuroCave wine cabinets allows you to combine different types of shelves, reposition them inside the cabinet and even change and add to your storage over time.
7 - Which lighting should I choose for my wine cabinet?
Illuminate your finest wines.
LED lighting enhances the appearance of your wine collection. How great to be able to display your best labels!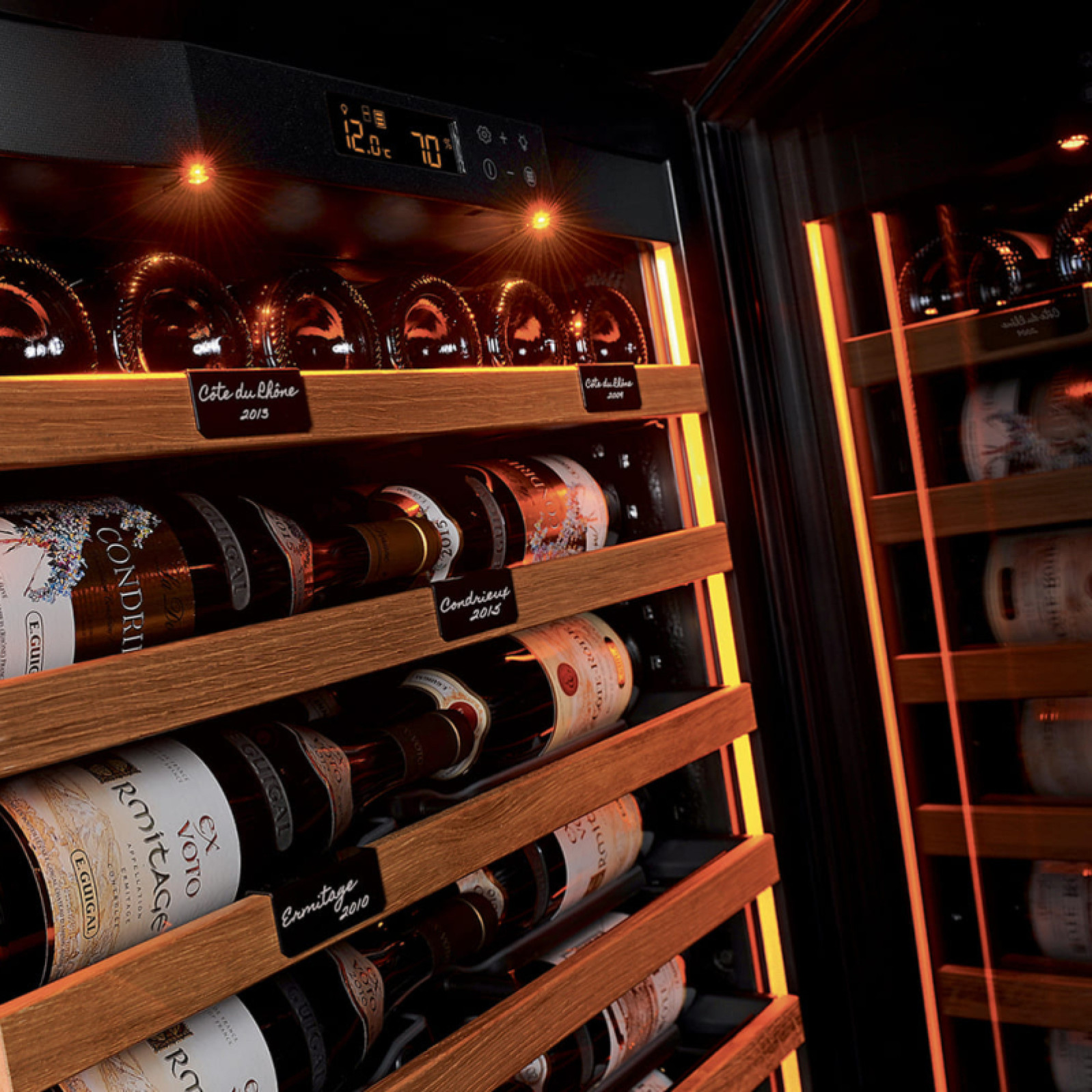 Mood lighting over the entire height of the cabinet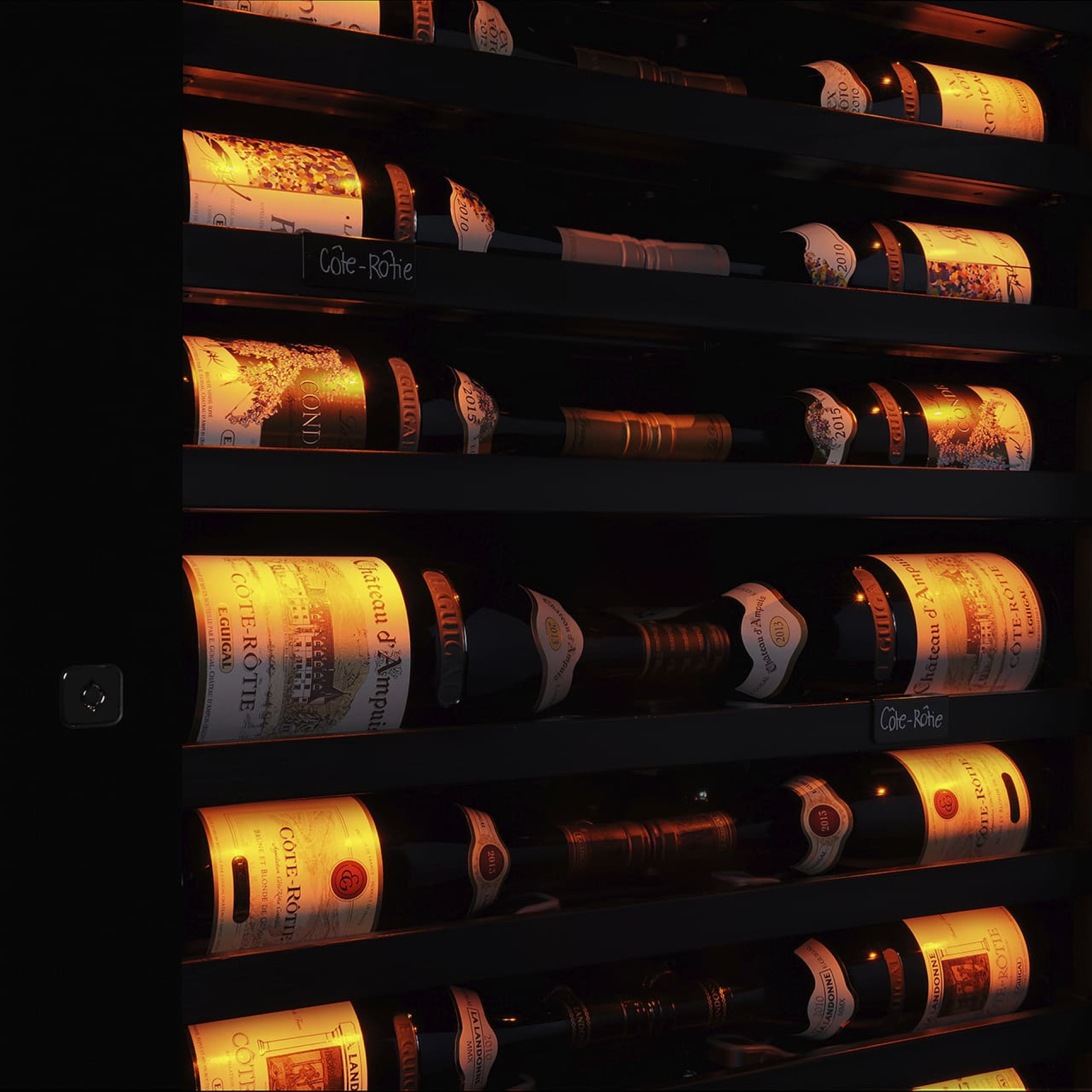 Discover all our wine cabinet collections.