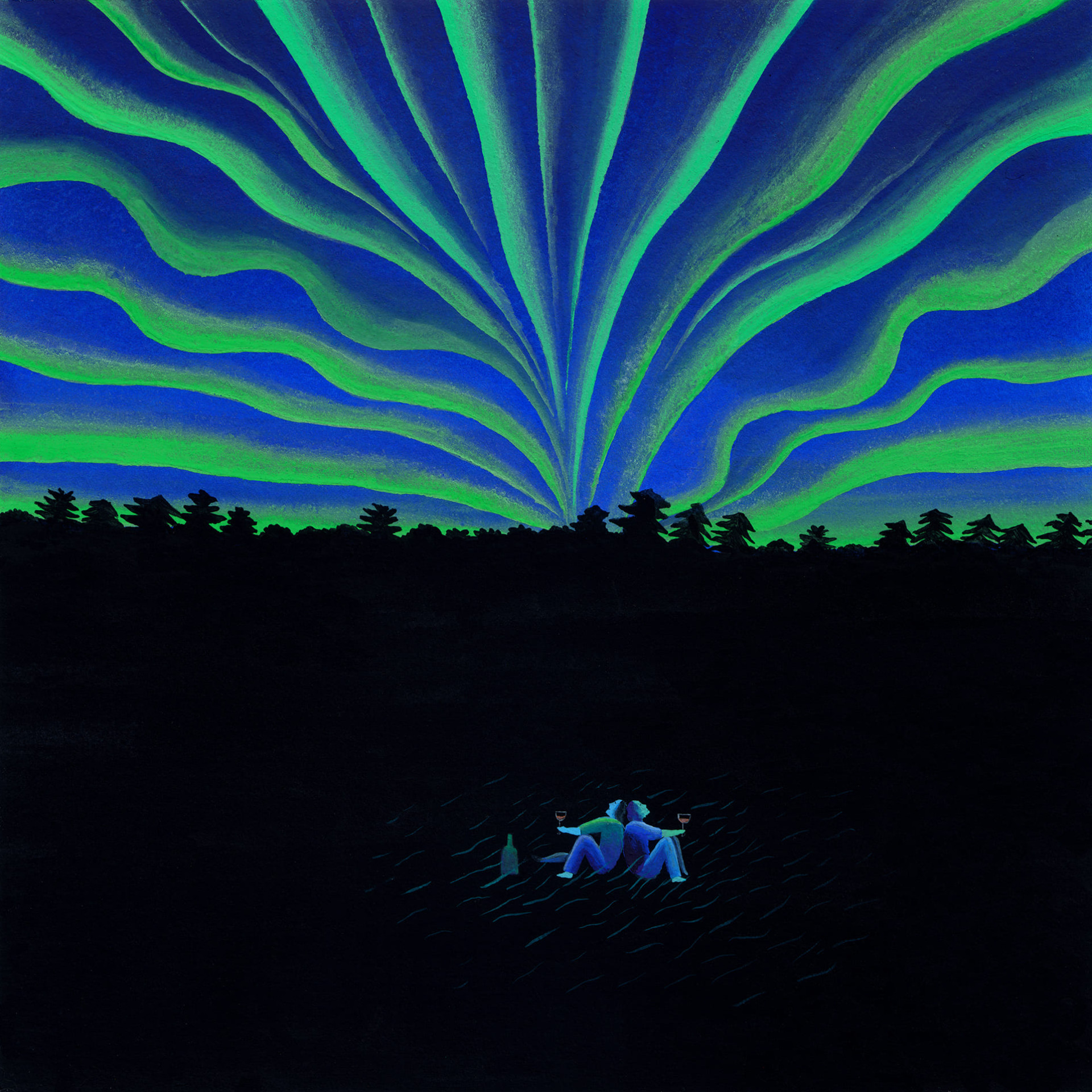 [ WINES ]
10 wines to drink while watching the Northern lights.
by Francesco Marzola (Ambassaden, Oslo)
The Northern lights is a spectacular show that you may experience in Norway between late September and late March, more common the further north you go. It appears when charged particles from the sun are dragged into the atmosphere by the earth's magnetic field and collide with nitrogen and oxygen atoms. This collision releases flashes of coloured lights and amazes both tourists and norwegians every year. It is described as a celestial ballet of light dancing across the night sky, with a colour palette of green, blue, and sometimes even pink and violet, and watching it is on many people`s bucket list.
Francesco Marzola is a well konwn Sommelier in Norway, he is the former Wine Director at the famous Park Hotel Vossevangen, has won many wine competitions and are currently working on a new project called Ambassaden in Oslo, plus pursuing a Master Sommelier title! Marzola has kindly recommended 10 wines to enjoy while watching the Northern lights.
01.
Pierre Gimonnet, Champagne - Œnophile 2008
"A crisp 100% Chardonnay wine made in a Brut Nature style, ideal to drink under the cool circumstances of watching the Northern lights with its freshness and elegance."
02.
Dog Point, New Zealand - Section 94 2018
"A Sauvignon Blanc from Marlborough which I associate with the green colours of the Northern lights."
03.
Grace Wine, Japan - Koshu 2019
"This is a floral and aromatic wine from Japan that creates a combination between what`s in the glass and in the air, beautiness the whole way."
04.
Egon Muller, Scharzhofberger - Riesling Kabinett 2019
"Acidic, sharp and complex with herbal notes, together with the floral and citrus notes makes this a great meditation wine for a great occasion as the Northern lights."
05.
François Raveneau, Chablis - Grand Cru Les Clos 2016
"Here you have something in the glass that is as beautiful as the skies, a pleasure for all senses."
06.
Clarendon Hills, Australia - Astralis 2017
"A Shiraz from McLaren Vale who has a fitting name (Aurora australis is the southern version of Aurora Borealis) and gives you the warmth you need in which the cold environment the Northern lights exist. Also because of the fresh mint in the aftertaste that can remind you of the cool air."
07.
Elisabetta Foradori, Trentino - Granato 2015
"Made of the Teroldego grape in Trentino, it is an elegant and round wine which goes well with the lights, it also reminds you of the cool climate the wine is from."
08.
Littorai, Savoy Vineyard, California - Pinot Noir 2018
"Anderson Valley often makes more savory and spiced Pinot Noir than other regions in California, a great wine to have in the glass when you enjoy the show of the Northern lights."
09.
Château Latour, Bordeaux - Grand Vin de Château Latour, 2000
"To watch something as beautiful and intense as the lights, you deserve an elegant, consentrated and powerfull wine. A experience to both watch and drink."
10.
Domaine Bruno Clavelier, Chambolle-Musigny Premier Cru - La Combe d'Orveaux Vielles Vignes 2010
"This is a aromatic, subliminal and etheric wine, that together with the calming feeling you get watching the Northern lights gives you a sense of peace and beauty in the world."
Illustration - Jean Mallard
Born in Paris in 1997, this fan of Moebius comic strips and Miyazak films would soon fall in love with drawing and decide that it would always be a part of his life. He joined the School of Decorative Arts in Paris in 2015, where he studied comic strips, cartoons, silk-screen printing and etching. His favourite techniques are watercolours and gouache. He has used them since childhood and works with them to create worlds with no boundaries that can be accessed by all. He creates his own world by drawing inspiration mainly from popular Russian artists, Indian miniatures, Japanese prints and Henri Rousseau, aka Le Douanier.
Prolong the experience
Discover the profiles of creative and influential personalities explaining their relationship with wine, the secrets of sommeliers or legendary establishments.
When you subscribe to the magazine, your email address is only used to send you our content newsletter. You can unsubscribe at any time by clicking the unsubscribe link included in each newsletter. To find out more about management of your data and your rights, click here .