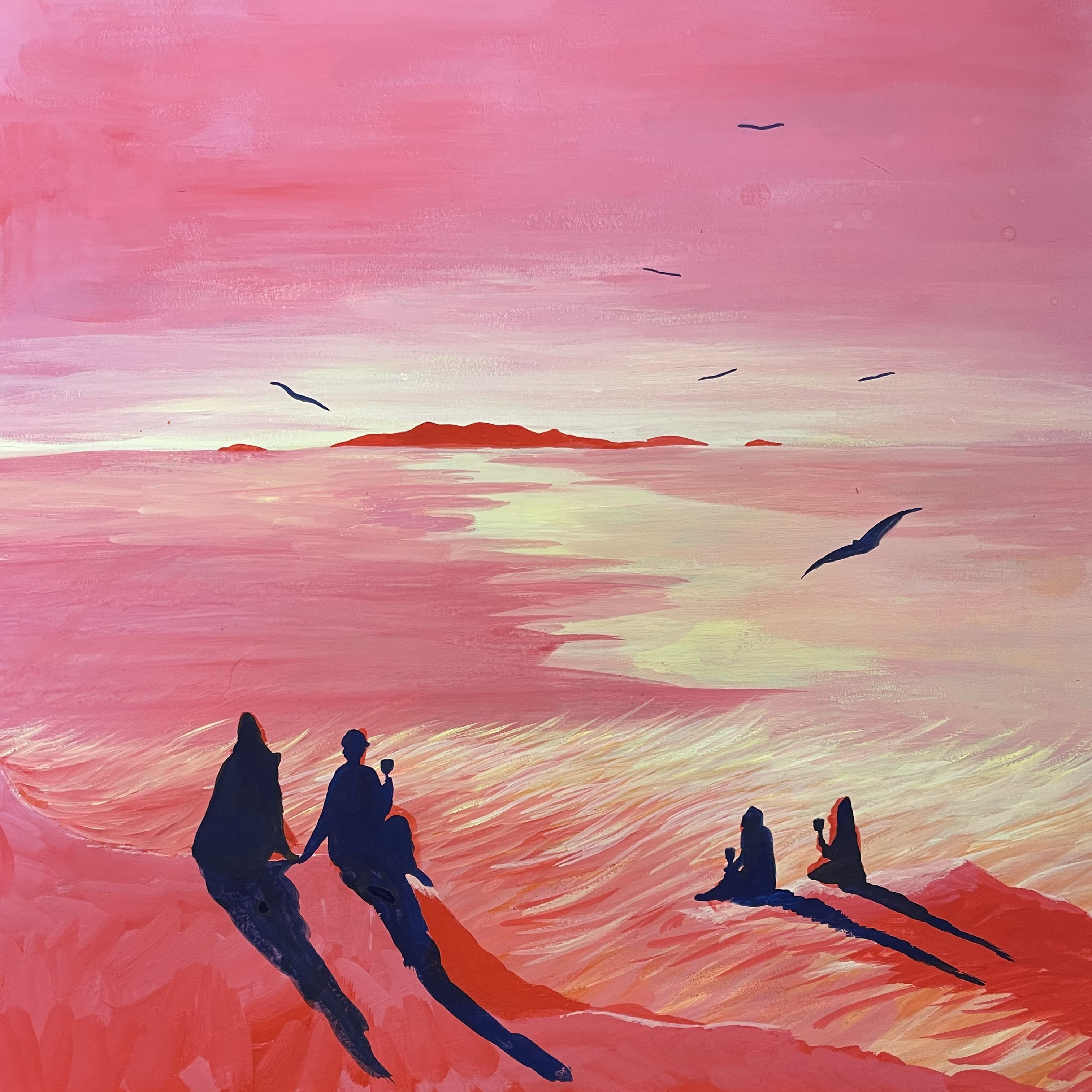 [ WINES ]
My ten free-spirited wines.
by Catherine Bourdon (Le Petit Hôtel du Grand Large*, Brittany)
"Our cuisine is full of life, so we cannot serve wines that are not full of life too!"
In 2006, Catherine and Hervé Bourdon left their jobs in advertising in Paris to open their Petit Hôtel du Grand Large in Saint-Pierre-de-Quiberon. They have had a Michelin star since 2011 and have been awarded a green star by the Michelin Guide. Their restaurant is the mirror image of their setting, serving seafood from the sea right opposite, plants picked or grown in their different gardens and a wine list with virtually all biodynamically farmed wines.
Catherine Bourdon is a gifted, self-taught restaurateur who believes in the purest expression of grapes by winegrowers who are at one with their land in their quest for the quintessence, in the Rabelais sense of the word. She has even switched to the other side, planting half a hectare of Chenin on the peninsula, with help from Lise and Bertrand Jousset. The first wines for friends and family are due out in 2023. In the meantime, she presents ten of her favourite picks.
01.
Champagne, Françoise Bedel - Âme de la Terre 2005
"If I had to take just one bottle to a desert island, it would be this Extra Brut single varietal Pinot Meunier matured for nine years in enamel-coated tanks then in oak barrels. It's an absolute delight, it fills me from head to toe and electrifies me. It gives me an opportunity to pay homage to a lady who has pioneered biodynamic winegrowing. She took over the estate from her father over thirty years ago and was brave enough to say where she wanted to go and take a difficult route to get there".
02.
Savoy, Dominique Belluard - Le Feu 2019
"This is the last vintage by this tremendous winegrower who chose to leave us in 2021. It's a double tribute to a man who was extremely creative, and everything he did was good. This single varietal Gringet is a great example. It is a native grape that was apparently brought back by monks from Constantinople, but subsequently fell out of favour. It is matured for twelve months in oval-shaped concrete tanks and it just glides across the palate. It goes well with salty foods. I would have loved Dominique to come and drink it here looking out over the ocean".
03.
Loire Valley, Sylvie Augereau - Pulpes 2019, Vin De France
Sylvie is a great lady with a very strong personality. She experiments, she has fun and she produces wines with a commitment that express her vineyard site. These are free-spirited wines, one of which is this single varietal Chenin, matured for two years in used barrels. It engages perfectly with our seaside location. Our cellar is 50 metres away from the water and the salty air has a crazy effect. It makes sense not to serve it with meat, which we don't cook anyway".
04.
South-West, Domaine Plageoles - Ondenc 2016, IGP Côtes du Tarn
"For five generations, the Plageoles have been the custodians of the forgotten grape varieties of Gaillac. I am really interested in their approach, particularly with this single varietal Ondenc, matured for twelve months in stainless steel tanks. At the moment, it is slightly oxidised and lush with nut flavours. This is an unusual wine that works very well with our kitchen garden platter which constantly changes with the seasons".
05.
Loire Valley, Marie Thibault - Le Grolleau 2021, Vin De France
"I discovered Marie Thibault through the son of a friend of Lise and Bertrand Jousset, who did a cookery placement with us. I was gobsmacked to see just how good the Grolleau grape variety could be when the wine was well made. Hers is insane, after short whole-cluster soaking and a year's maturation in oval-shaped concrete tanks. There are no bad grape varieties, only bad winegrowers".
06.
Vendée, Thierry Michon - Le Haut des Clous 2019, Vin De France
"Just like Belluard, Michon is the Rolls Royce of wine for me, in a small wine region which is all too often under-the-radar. This single varietal Chenin, matured for ten months in large oak barrels from the Austrian cooperage Stockinger, is honeyed with great oxidation. It drinks equally well with an entire meal as on its own, which is its strength. Often, wines are too rich and you feel as if you've eaten twice. Wines by the top winegrowers are made in their image – humble, magnificent and pure".
07.
Loire Valley, Noëlla Morantin - Le Bois Lucas 2019, Vin De France
"Noëlla Morantin is one incredible woman. She ditched marketing to make wine in challenging weather conditions with frequent frost and hail, initially with no sulphites. Years ago, I bought some bottles from her that didn't go the distance and she replaced them all. She never gives up. This single varietal old-vine Sauvignon is matured for a year in demi-muids. It offers an unfamiliar rendition of this grape variety, slightly oily, precise and marvellous".
08.
Loire Valley, Lise and Bertrand Jousset
Premier Rendez-Vous - Version Longue 2019, AOC Montlouis-sur-Loire
"Lise and Bertrand are friends and they have taught us so much, both for wine and cooking. It's a journey they have greatly influenced. It's thanks to them that we have a kitchen garden and with them that we are going to make wine. Whatever they do, it always has their signature style on it. They are the kings of free-spirited, uncompromising wines. This single varietal Chenin matured for a year in stainless steel tanks then two years in barrels was released only a few years ago. It is gorgeous and very rich".
09.
Roussillon, Domaine Danjou-Bannessy - Coste 2019, IGP Côtes Catalanes
"Two brothers, Benoît and Sébastien Danjou, took over their grandfather's estate over twenty years ago. They have to cope with soaring temperatures but are maestros at producing impressively light wines, just like this single varietal Maccabeu matured for twelve months in barrels. Maccabeu is a mysterious grape variety, almost religious with its perfumes of incense".
10.
Alsace, Mathieu Deiss - Un Instant sur Terre 2019
"This is one of Mathieu Deiss' skin-contact wines at the Vignoble du Rêveur. It is the only blended wine in my selection, a Gewurztraminer and Pinot gris with a trace of Riesling. It is macerated for a lengthy six months then matured for just three months, in both cases using amphorae. Originally, I didn't understand orange wines, but their low acidity is mind-blowing with our cuisine. This one is pure, palatable and complex and shows pinpoint precision".
Illustration - Lili Wood
An illustrator based in Cancale, between Saint-Malo and the Mont Saint-Michel, Lili Wood uses textures and materials to perfection. She has a talent for her offbeat combinations of gentle, poetic worlds and spectacular perspectives with unpredictable framings. Her designs are therefore sensitive, impactful and dizzying all rolled into one. She excels in the specific tones of book covers and festival posters where her style mixing dreamlike impressions and the power of attraction is incredibly effective.
Prolong the experience
Discover the profiles of creative and influential personalities explaining their relationship with wine, the secrets of sommeliers or legendary establishments.
When you subscribe to the magazine, your email address is only used to send you our content newsletter. You can unsubscribe at any time by clicking the unsubscribe link included in each newsletter. To find out more about management of your data and your rights, click here .