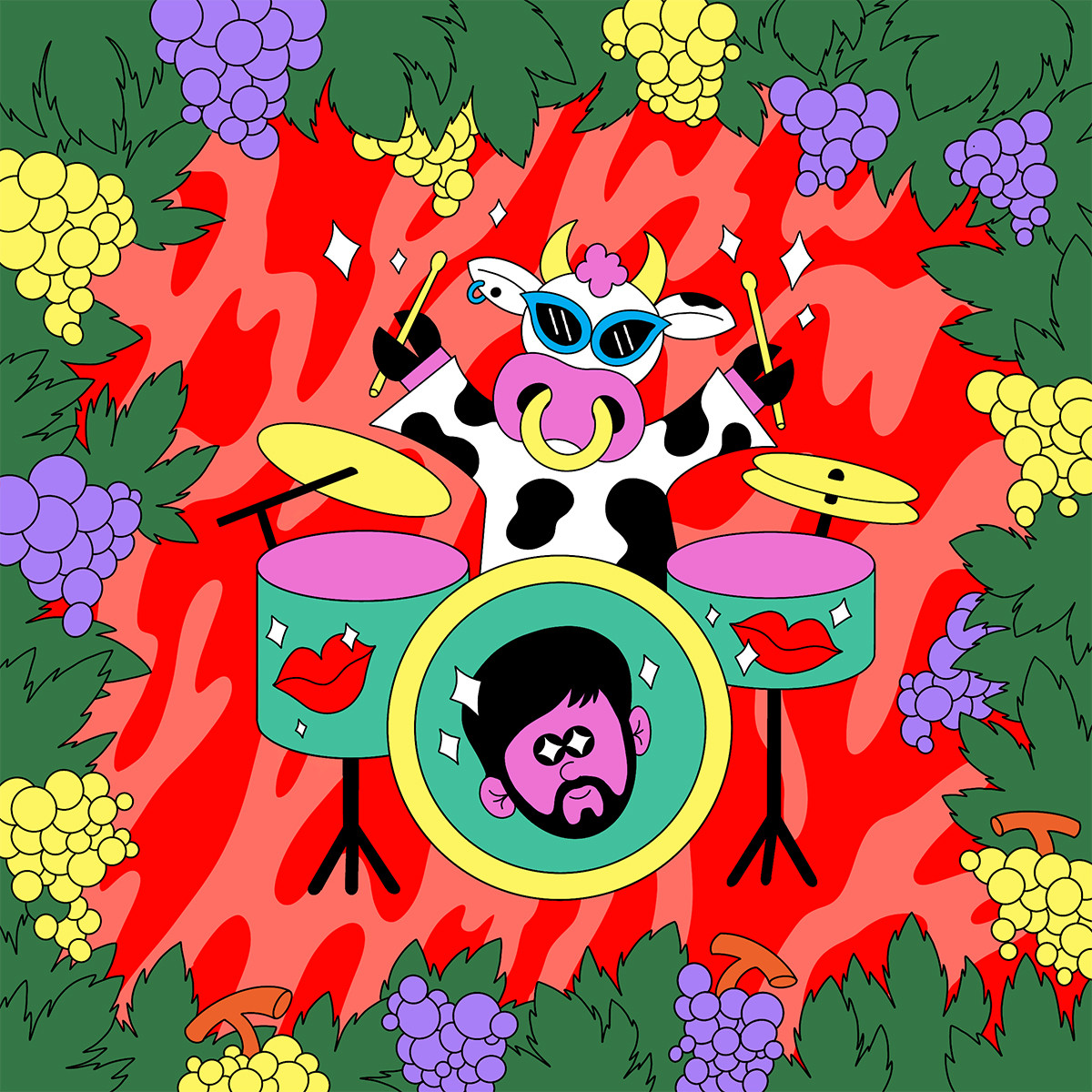 [ WINES ]
My 4 wines for dry-aged meats.
by Kris Maccotta (Bouche, Bordeaux)
Before becoming a practitioner of the butcher's block, young butcher-maturer Kris Maccotta previously led a double life. As a musician, he left his home city of Marseilles and moved to Paris where he took part in several artistic projects. At the same time, he was also a keen photographer, notching up multiple shoots for chefs and prominent Champagne houses in particular.
But after he and his partner Marjolaine Patureau very nearly ended up vegetarian due to the amount of poor quality meat they had eaten, he chose to swap his guitar and his camera for a carving knife. Together, they opened Bouche in a busy Bordeaux street.
Bouche is a new-look butcher's with floor-to-ceiling windows, echoing its ethos of transparency. Here, local-sourcing, partnering with committed farmers and showing respect for the product are prioritised.
After passing a vocational diploma, Kris started to work with whole carcasses carved using a method known as the Parisian technique where the meat stays tender. The house speciality is the maturation cellar where Kris puts the meat in a variety of temperatures, humidity and ventilation levels.
In its cabinets, customers can find dry-aged meat from Galicia, French Wagyu and occasionally some Aubrac along with free-range chicken from the Landes, lamb, duck and pork from Cantal or Corrèze. Each type of meat fully reveals the typicity of its breed or provenance. The product is in its natural state with fibres removed, it is tender with outstanding flavour. A fact sheet is provided with each purchase to ensure each cut is properly cooked.
Bouche also offers a selection of wines to take out so who better to ask than Kris about his favourite pairings?
01.
With a dry-aged prime rib of beef.
Beaujolais, AOP Morgon
Domaine Nicolas Chemarin, 'P'tis Grobis'
"This is a really amazing Gamay. It is appetising and fairly dense but stays fresh which counterbalances the fat of the prime rib"
02.
With dry-aged Thai pork sausages.
Vin De France
Domaine Matassa (Tom Lubbe), Blanc
"A skin-contact white wine made in Roussillon. It is fresh but has fairly pronounced tannin presence with a jasmine edge. I love it with our Thai sausages made with red curry paste, ginger and garlic."
03.
With dry-aged duck breast roasted on the bone.
Val de Loire, AOP Coteaux du Vendômois
Domaine de Montrieux (Ariane Lesné), 'Picrochole'
"A single varietal Pineau d'Aunis, which is kind of an oddball grape variety. It is not easy to describe but occasionally you can pick out the white pepper, liquorice or black fruits. Sometimes I drink it whilst I'm lighting the wood fire on a Sunday before lunch because you can drink it without food too".
04.
With a dry-aged Cantal pork chop.
Vin de France
Domaine Fond Cyprès, 'La Syrah de la Pinède'
"I love winegrowers who work with unblended grape varieties because there's an educational aspect to it. This Languedoc Syrah by Rodolphe Gianesini and Laetitia Ourliac is incredible as it is – it's both rich and clean".
Illustration - Groduk & Boucar
Both graduates of the highly renowned Ecole Estienne School of Arts and the Printing Industry, Margaux Hauduc and Océane Carbou form a duo of illustrators and silk-screen printers whose inspiration is fanciful and creates a brilliant, idiosyncratic style that can often be found on walls in Paris. The pair have also found favour with brands such as Apple, Ralph Lauren and Snapchat, as well as the electro-pop group Agar Agar which commissioned them to design the sleeves for its albums.
Prolong the experience
Discover the profiles of creative and influential personalities explaining their relationship with wine, the secrets of sommeliers or legendary establishments.
When you subscribe to the magazine, your email address is only used to send you our content newsletter. You can unsubscribe at any time by clicking the unsubscribe link included in each newsletter. To find out more about management of your data and your rights, click here .