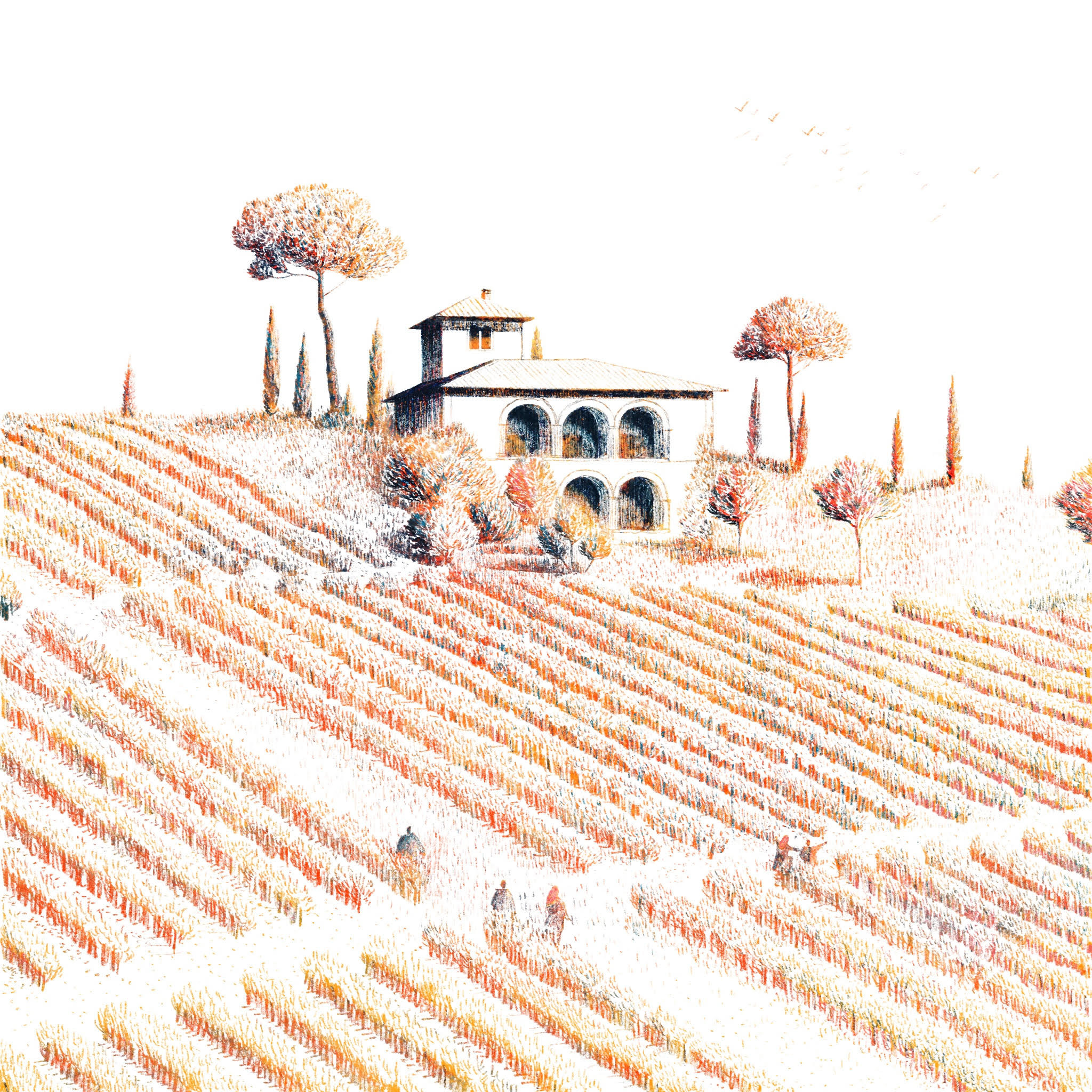 [ WINES ]
Sustainable Sips: A Personal Journey through Eco-Conscious Wines.
by Chiara Soldati, La Scolca, Italy
La Scolca was founded in 1919 in the Gavi area, and the family immediately focused on the native vine of the place, Cortese, to create a Piedmontese white wine able to compete with the great whites of the world.
"Sustainability wise," Chiara Soldati highlights, "We can say that it has always been part of the DNA of my family, which has been leading the winery for five generations, to respect the environment and to be socially responsible."
La Scolca has been pursuing its glocal philosophy for years, in the sense of thinking globally and acting locally. In 2023, the approach is based on four fundamental principles: sustainability, internationalization, connection with the territory, and lifestyle. These elements are combined into projects that will develop over the next few months based on all-around innovation: a new bottling line, renewal of agricultural vehicles, new water purification plant, doubling of photovoltaic panels.
Chiara's favorite sustainable wines :
01.
Sagrantino di Montefalco 25° Anni Arnaldo Caprai 2003
Caprai, winner of the Gambero Rosso 2023 Sustainable Winery Award
"Sagrantino di Montefalco 25° Anni Arnaldo Caprai 2003 is a wine that holds a special place in my heart. As an Italian red wine enthusiast, I am captivated by this prestigious wine produced in the enchanting Montefalco region of Umbria. It embodies the essence of excellence, reflecting the unwavering commitment of Arnaldo Caprai to crafting wines of unparalleled quality.
What sets Arnaldo Caprai apart is not only their dedication to producing exceptional wines but also their steadfast commitment to sustainability in all its forms — environmental, economic, and social. They embrace a holistic approach that extends beyond their vineyards, becoming advocates for the wines of Umbria and champions of the region's unique terroir.
At the heart of Sagrantino di Montefalco 25° Anni Arnaldo Caprai, 2003 lies the Sagrantino grape, a variety indigenous to the area and renowned for its deep color, bold tannins, and full-bodied character. The 25° Anni label adorning this wine signifies its creation in honor of the 25th anniversary of the winery's founding. It is a true testament to the passion and craftsmanship that go into every bottle, often crafted with meticulous attention to detail and using the finest grapes available."
02.
La Cruus, Valtellina Superiore Inferno DOCG, Mamete Prevostini
Lombardy's first CasaClima Wine-certified winery, designed to process grapes by natural drop over three floors, with a total area of 3,000 sq m
"La Cruus, Valtellina Superiore Inferno DOCG, is a special wine emanating from the esteemed Italian winery, Mamete Prevostini, which is nestled in the picturesque Valtellina region of Lombardy. Valtellina Superiore, a designated subzone within the larger Valtellina DOCG, is renowned for producing wines of exceptional quality from the Nebbiolo grape, locally known as Chiavennasca.
Being a flagship wine of Mamete Prevostini, La Cruus, Valtellina Superiore Inferno DOCG, beautifully showcases the unique character of the Inferno subzone. It is crafted meticulously using 100% Nebbiolo grapes sourced from carefully selected vineyards within the Inferno area. The name "Inferno" evokes a sense of mystique and allure, alluding to this subzone's distinctive charm, thanks to the region's remarkable terroir and winemaking traditions.
Mamete Prevostini, a family-owned winery, takes pride in its commitment to sustainable and organic practices in its vineyards. They understand the importance of preserving the integrity of the land and strive to harmoniously express the Valtellina region's unique terroir through their wines. With each sip of La Cruus, one can truly appreciate the winery's dedication to honoring the natural environment.
The wine itself is a true testament to the craftsmanship of Mamete Prevostini. It reveals a captivating bouquet of flavors that are distinctly Valtellina. The Nebbiolo grapes bestow the wine with elegance, structure, and complexity."
03.
2020 Batàr, Querciabella, Chardonnay, and Pinot Bianco
"I am truly captivated by the remarkable 2020 Batàr by Querciabella. This white wine, crafted by the esteemed winery in Tuscany, Italy, exemplifies their unwavering commitment to biodynamic and organic farming practices. With over 100 hectares of organic certification spread across the Chianti Classico and Maremma regions, Querciabella is a true pioneer in sustainable viticulture.
Batàr stands as one of the flagship wines proudly produced by Querciabella, and it is a blend that pushes boundaries and exceeds expectations. Combining Chardonnay's elegance and Pinot Bianco's character, this wine showcases the incredible potential of these two grape varieties.
What sets Querciabella apart is not only their dedication to crafting exceptional wines but also their unwavering commitment to sustainable practices. With a 100% vegan biodynamic agricultural approach, they harness the power of nature to create wines that are of the highest quality and reflect their respect for the environment.
As I savor the 2020 Batàr, I am transported to the sun-drenched vineyards of Tuscany, where the grapes are nurtured and carefully cultivated. Each sip reveals the complexity and harmony of this unique blend, a testament to the artistry and passion of Querciabella."
04.
2020 Casòn Bianco Viognier, Petit Manseng, Alois Lageder Winery, Alto Agide
Awarded in 2021 by Robert Parker among the three best sustainable wineries - Turriga Argiolas
"I am delighted to share my experience with the exceptional 2020 Casòn Bianco Viognier, Petit Manseng. This white wine is lovingly crafted by the esteemed Alois Lageder Winery, nestled in Italy's breathtaking Alto Adige region. Alois Lageder has earned a well-deserved reputation for their unwavering commitment to biodynamic and sustainable viticulture practices, which truly sets them apart.
As I indulge in the 2020 Casòn Bianco Viognier, Petit Manseng, I am greeted by a wine that embodies the craftsmanship and passion of Alois Lageder. Its medium to full body delights the senses, while vibrant acidity enlivens the palate. The wine unfolds with a rich and aromatic profile, showcasing the harmonious marriage of floral and tropical fruit notes. Each sip invites me to explore its nuances.
The 2020 Casòn Bianco Viognier, Petit Manseng is a testament to the artistry of Alois Lageder and their dedication to sustainable viticulture. It is a white wine that encapsulates the essence of Alto Adige, capturing the beauty of the terroir in every sip. With each glass, I raise a toast to the vineyards, the winemakers, and the incredible flavors that have been gracefully united in this remarkable blend."
05.
Regaleali Bianco 2022, Grape varieties: Inzolia (41%), Catarratto (33%), Grecanico (21%), Chardonnay (5%) Azienda Tasca Conti D'Almerita, Sicily.
Awarded by Robert Parker in 2021 among Italy's top 3 sustainable wineries
"The exquisite Regaleali Bianco 2022 is a remarkable white wine skillfully crafted by Azienda Tasca Conti D'Almerita, a prestigious winery located in the captivating region of Sicily, Italy. Tasca Conti D'Almerita has long been revered for their dedication to producing exceptional wines that embody the essence of the land. The Regaleali Bianco 2022 is a captivating blend that harmoniously combines four grape varieties: Inzolia, Catarratto, Grecanico, and Chardonnay. It is truly a testament to the winery's commitment to embracing their surroundings and preserving their heritage.
For the past 12 years, Tasca d'Almerita has actively participated in the SOStain and VIVA programs, which have allowed them to deepen their understanding of the impact of their actions in the vineyards, winery, and organization. Through data-driven decisions and a multidimensional approach, they strive to avoid waste and protect the precious gifts bestowed upon us by our planet.
The Regaleali Bianco 2022 is a true testament to the artistry and passion of Azienda Tasca Conti D'Almerita. Through their dedication to sustainability and their careful selection of grape varieties, they have created a wine that captures the essence of Sicily. With every sip, I raise a glass to the harmony between nature and craftsmanship that is beautifully reflected in this exceptional blend."
Article - Courtney Brandt
Courtney Brandt is an author and journalist living in Dubai, UAE. Her work has been published in Vogue Arabia, Destinations of the World, Forbes Middle East, Elite Daily, The Forward Feed, and Food&Wine, among many other publications.
Illustration - Thibault Marcilly
Thibault Marcilly is an architect and illustrator who lives in Annecy. He works with a range of media, including ink, watercolours, pastels and graphite, to illustrate towns and landscapes, most of them imaginary, and to attempt to reveal the poetry wherever it occurs in ordinary places as well as the sensitive balance between architecture, life and the many layers within a region.
Prolong the experience
Discover the profiles of creative and influential personalities explaining their relationship with wine, the secrets of sommeliers or legendary establishments.
When you subscribe to the magazine, your email address is only used to send you our content newsletter. You can unsubscribe at any time by clicking the unsubscribe link included in each newsletter. To find out more about management of your data and your rights, click here .