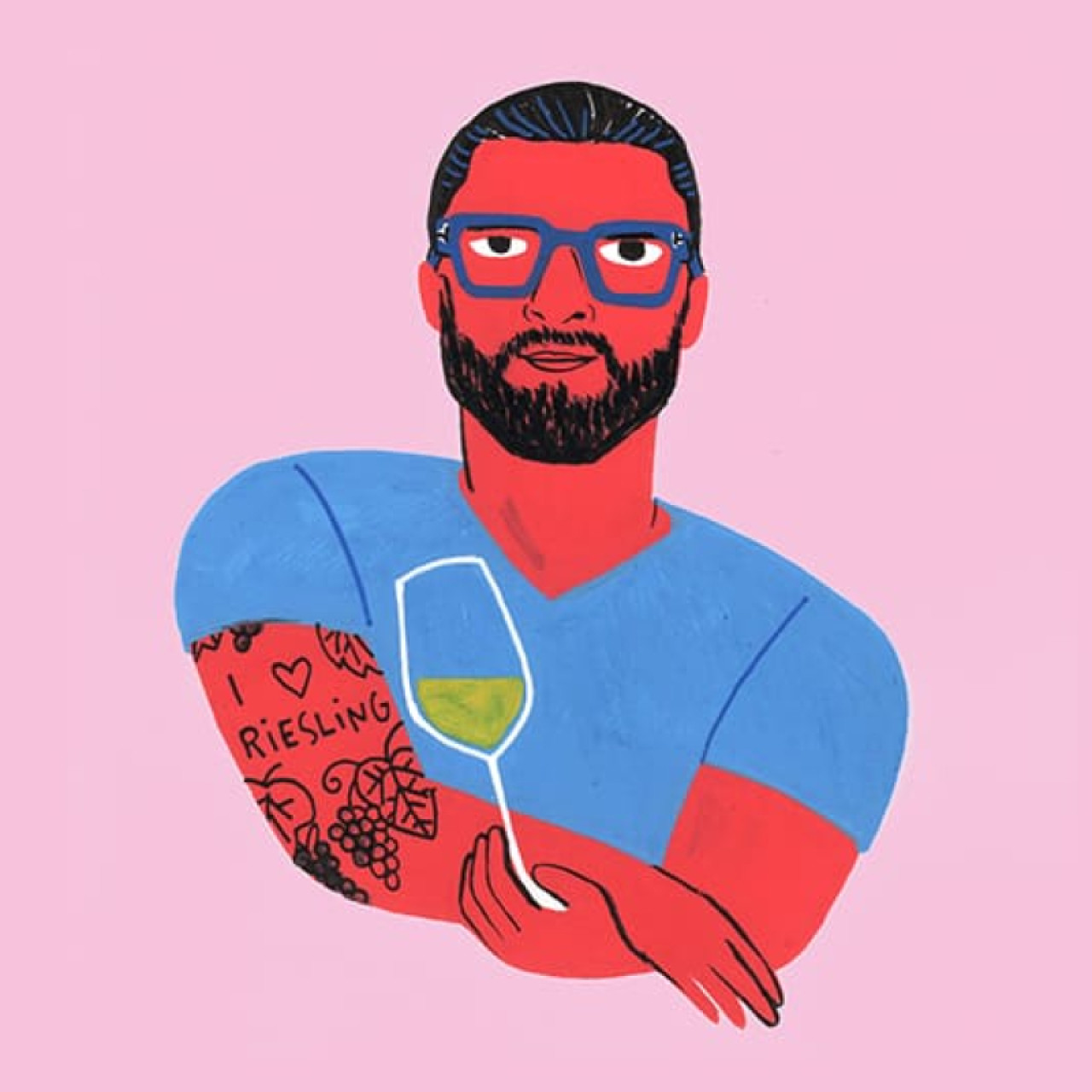 [ WINES ]
The 10 Rieslings I cherish.
by Willi Schlögl (Freundschaft, Berlin)
Ten years ago, the Austrian sommelier established his first business, the Cordobar, by dipping into his personal wine cellar to put together a list of 700 wines, turning it into a Berlin hot spot. Since then, the Cordobar has been superseded by the Cordo, a gastronomic restaurant (which was awarded a Michelin star in 2022), and Willi Schlögl left to open a new wine bar – the Freundschaft – in the city's student district of Mitte.
The project was rolled out in tandem with his Austrian friend Johannes Schellhorn (former sommelier at Nobelhart & Schmutzig*), who joined the venture. Befittingly, Freundschaft means 'friendship' in German.
The spirit is mirrored in the 26-metre-long oak bar where patrons from all walks of life mingle.
The wine list is over 60 pages long with half of the wines hailing from Germany and Austria. In fact, the Freundschaft is brimming with wines made from Riesling, the northerly grape variety that epitomises the German wine regions. So we thought Willi Schlögl would be the ideal sommelier to put together the following list, mixing dry and sweet Rieslings.
01.
Rheinhessen (Germany)
Klaus Peter Keller, "G-Max", 2004
02.
Rheinhessen (Germany)
Wittmann, "Morstein", 2010
03.
Wachau (Austria)
Alzinger, "Hollerin", 1993
04.
Mosel (Germany)
JJ.Prüm, "Wehlener Sonnenuhr Spätlese", 1996
05.
Mosel (Germany)
Ernst Loosen, "Erdener Prälat Auslese", 1993
06.
Mosel (Germany)
Julian Haart, "Schubertslay Kabinett", 2017
07.
Nahe (Germany)
Schäfer-Fröhlich, "Felseneck", 2019
08.
Rheingau (Germany)
Breuer, "Schlossberg", 2019
09.
Nahe (Germany)
Diel, "Goldloch Kabinett", 2019
10.
Wachau (Austria)
Knoll, "Schütt", 1993
Freundschaft
Mittelstraße 1, 10117 Berlin (Germany)
istdeinbesterfreund.com
Illustration - Camille de Cussac
Camille de Cussac, a young illustrator and member of the Parisian illustrators' collective Jaune Cochon, puts colour everywhere, especially where you're not expecting it. Her world is a joyful parody of ours and is packed full of fancy-free characters with violet skin and turquoise hair! And Camille can write as well as she can draw – her children's books are often written by her too!
Prolong the experience
Discover the profiles of creative and influential personalities explaining their relationship with wine, the secrets of sommeliers or legendary establishments.
When you subscribe to the magazine, your email address is only used to send you our content newsletter. You can unsubscribe at any time by clicking the unsubscribe link included in each newsletter. To find out more about management of your data and your rights, click here .