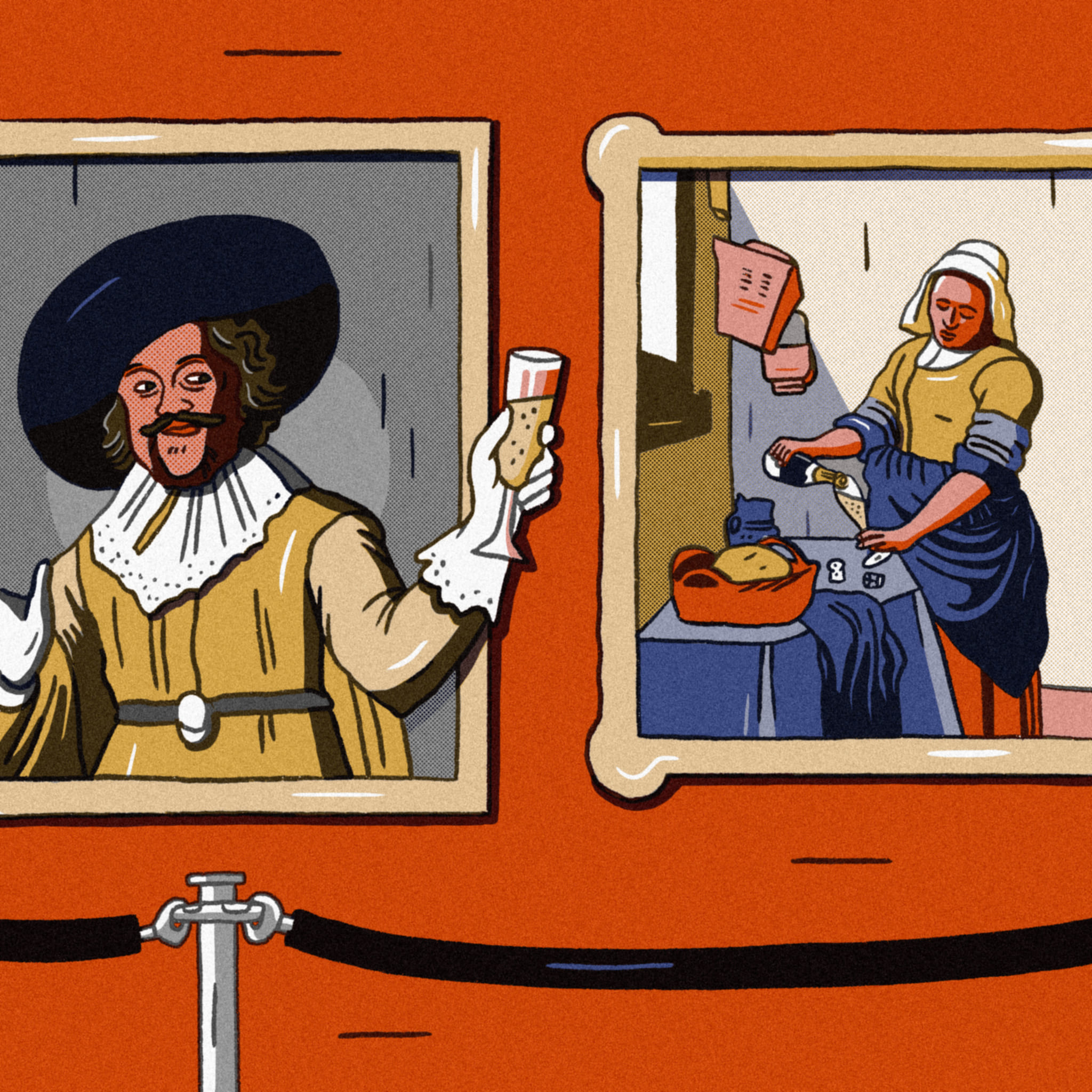 [ WINES ]
The 10 sparkling wines of my life.
by Joris Bijdendijk (Rijks*, Amsterdam)
Few museums around the world can boast a Michelin-starred restaurant in their midst. The Rijksmuseum, Amsterdam's huge fine arts museum, is one incredible exception.
The kitchen is helmed by the charismatic Joris Bijdendijk. The friendly giant is an inveterate Francophile who earned his stripes in the South of France with the recipients of multiple Michelin stars, the Pourcel brothers.
His very idiosyncratic cuisine is a real tour de force – it is both accessible yet incredibly enterprising. This is even more of a feat when you send out over 130 covers a day, and his achievement has now been endorsed by Michelin.
Designed along with sommelier Isabelle Chow, the wine list is similarly successful – Chow herself was singled out for distinction by the Wine Spectator. From felicitous and prestigious listings to its local flavour (this is without doubt the world's most extensive list of Dutch wines!), it demonstrates a genuine curiosity for wines from different climes… The list ticks many boxes, including those for sparkling wines, Champagnes and other styles of that ilk.
"I have a special bond with France so Champagne is very dear to my heart. That being said, I get as much pleasure from all sorts of sparkling wines, provided they're well-made. In the Netherlands, Prosecco has long been the most popular of them all, but tastes are changing, and that's a good thing". Joris Bijdendijk also agreed to draw up his list of top sparkling wines, which were tasted one day but remain forever in his heart. And he even gives us a short presentation for each wine!
And he even gives us a short presentation of each wine!
Ulysse Colin, 'Les Enfers', Extra Brut 2014
"Ulysse Colin is one of Champagne's new stars. His 'Les Enfers' are divine, showing incredible complexity and packed with heady flavours. Beware though, they come in very short supply".
02. Champagne
Pierre Peters, "Les Chétillons Grand Cru", Brut 2008
"An absolutely classic vintage Chardonnay that has only been released half a dozen times since the turn of the century. 2008 is a superb year and the first to use partial malolactic fermentation. The minerality on the finish, with its fruit accents, takes your breath away".
03. Cava (Spain)
Recaredo Corpinnat Gran Reserva, "Turo d'en Mota", Brut Nature 2004
"Over the past few years, Cava has experienced some ups and downs. The Corpinnat endorsement, which groups together organic producers who harvest by hand and produce their own wines, is a reliable choice. The Recaredo family makes one of the finest wines in the Penedès region, and the Turo d'en Mota is a brilliant example".
04. Crémant du Jura (France)
Domaine Tissot, "BBF", NV
"Bénédicte and Stéphane Tissot are among Jura's most impressive winegrowers. Their still wines need no introduction but their Crémant is also most definitely worth a try. It is bright, lush, crisp and appetising, with that unique typicity displayed by the local Chardonnays".
05. Sekt (Germany)
Reichsrat von Buhl "Reserve Sekt", Brut NV
"Sekt is perhaps not the most widely known style of sparkling wine outside German-speaking countries, but it really deserves to be discovered. Reichstrat von Buhl is a benchmark in Germany. The wine is toasted, appetising and fresh. Sheer pleasure!"
06. Champagne
Krug, "Grande Cuvée", 164e Édition Brut
"Embracing a philosophy that strives to produce an almost fantasy iteration of Champagne, Krug sets the bar very high. With this label, the art of blending reaches even greater heights. And when the leading houses do things well, why would you not indulge?"
Olivier Horiot, "Sève", Brut Nature NV
"Olivier Horiot is a million miles away from the image of blingy Champagnes. His are pure, unfiltered, biodynamic and totally natural wines. And this particular one, a rosé made by saignee, is aptly named 'Sève' or sap, for the blood of the earth".
08. Champagne
Égly-Ouriet, "Les Crayères", Brut NV
"This is most probably the finest rendition of the Montagne de Reims. It is from Ambonnay, Pinot noir heaven, and is a very mature Grand Cru, masterfully vinted by Francis Égly. Pure magic".
09. Champagne
La Closerie, "Les Béguines" Brut Nature 2017
"Probably one of Jérôme Prévost's most successful wines. Not just accessible and surprising, it is, more importantly, the epitome of uncompromising standards. Pinot meunier is showcased in all its glory, with a delicate counterpoint of Chardonnay and Pinot gris".
10. Champagne
Jacques Selosse, "Les Carelles Grand Cru", Extra Brut NV
The third generation of Champagne geniuses. After Jacques and Anselme, Guillaume Selosse is now shaping the future of the Avize-based house in the Côte des Blancs. With its purity and precision, this is quite simply one of the greats".
Rijks
Museumstraat 2, 1071 XX Amsterdam (Holland)
+31 20 674 7555 - rijksrestaurant.nl
Illustration. Louise Laborie
Born in 1996, Louise Laborie grew up in Nantes, western France, where she developed a distinct taste for industrial landscapes and fanzines. After exhibiting her first drawings at the Bologne fair in 2018, she travelled to New York to study comic strip art where she fell in love with American cartoonists. On returning to France, she produced an album – Sans Nuage – published by Patayo. Fascinated by screen printing, Louise also designed and printed prints with melancholic atmospheres and intriguing light. She graduated from the Paris School for Decorative Arts in 2020. Her diploma project, Morgane Fox, a 140-page comic book, was published by the Sarbacane publishing house.
Prolong the experience
Discover the profiles of creative and influential personalities explaining their relationship with wine, the secrets of sommeliers or legendary establishments.
When you subscribe to the magazine, your email address is only used to send you our content newsletter. You can unsubscribe at any time by clicking the unsubscribe link included in each newsletter. To find out more about management of your data and your rights, click here .